Rob DeRocker may be one of the best-paid consultants working for the city of Carmel, but it's unlikely that many who live there know his name.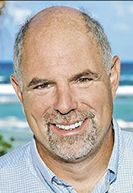 DeRocker
DeRocker, 58, lives outside of New York City and runs a company called Rob DeRocker & Associates—although there aren't actually any associates.
He's been quoted in The New York Times, CNN and Christian Science Monitor. But his website says nothing about working with the media.
He spent more than two decades working for a New York-based economic development and travel marketing firm and served as a speechwriter for New York City's deputy mayor of finance and economic development. And he's helped communities like Salt Lake City and Oklahoma City with marketing strategies, but until 2010, he didn't know anything about Carmel, Indiana.
Yet for the past seven years, DeRocker has been the man pitching the northern suburb and its six-term Republican mayor, Jim Brainard, to national and international media outlets and site consultants.
He's the one explaining the difference between Carmel, Indiana, and Carmel-by-the-Sea, California, and pumping up the appeal of the Midwestern city.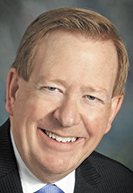 Brainard
He's traveled with Brainard to Chicago, New York and Washington, D.C., to sit in on interviews and meetings he arranged, and he's visited Carmel nearly 20 times—all on the city's dime.
In all, the city has paid DeRocker $809,900 in base contract fees, plus nearly $40,000 for travel expenses since 2010, for a total near $850,000.
The expenses include big-ticket items like hotel rooms and flights, but also small items like a strawberry milkshake at the McDonald's in the Indianapolis International Airport, a smoothie in Union Station and chocolate almonds at the InterContinental Chicago hotel.
While the total may sound like a lot of money, Paul Helmke, former three-term Republican mayor of Fort Wayne and professor at Indiana University's School of Public and Environmental Affairs, said it doesn't seem out of line. He said communities regularly hire consultants to help tell their stories.
"Particularly to folks in Indiana, the numbers always seem outrageous, regardless of what you're doing," Helmke said. "It seems like a lot. But when you put that over seven years and when you look at what ads would cost (instead) … it's probably appropriate."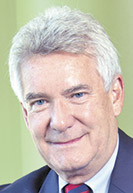 Helmke
Brainard said he hired DeRocker because he realized the city needed more national attention to gain the interest of corporate leaders.
"We know from research that we're not going to get people to move a headquarters to a place they've never heard of," Brainard said. "So I thought it was very important to not only get our name out among the decision makers across the country but have a good association with that name."
Carmel appears to be unique among Indianapolis suburbs. Its neighbor, fast-growing Fishers, doesn't use a national consultant to boost its image, but it does work with the Indy Chamber's Accelerate Indy program, which promotes the entire region.
Out of the blue
DeRocker said he was not looking for this job.
Len Simon, president of Washington, D.C.-based Simon and Co., called him out of the blue to gauge his interest in the opportunity. Simon's intergovernmental relations and federal affairs firm has been working for Carmel since 2002.
DeRocker knew Simon through his work with the U.S. Conference of Mayors and his time with Development Counsellors International. After visiting Carmel and meeting Brainard, he decided to seize the opportunity.
The Carmel Redevelopment Commission approved the contract with DeRocker in 2010. According to that document, the city agreed to pay DeRocker up to $128,800 annually, and the one-year contract would automatically renew every Jan. 1.
Because the deal is considered a professional services contract, it did not require a public bidding process, according to city spokeswoman Nancy Heck.
In 2013, the city took over the contract, which had been amended to authorize up to $125,000 annually. In 2016, the city paid DeRocker $125,839.28, but Heck said that was due to rollover expenses from 2015.
The mayor says the city is getting a great deal working with DeRocker. More than 50 articles or news segments have been published since 2013, and Brainard has been featured in media including The Washington Post, The New York Times and Bloomberg.
"Here's a guy with big-firm experience who's gone out on his own," Brainard said. "It's, in my opinion, the perfect situation for us."
DeRocker lists the stories in reports he gives the city. Some have a stronger Carmel angle than others. A review in Elmore Magazine about Michael Feinstein, who serves as artistic director for The Center for the Performing Arts, doesn't mention Carmel, Brainard or the Palladium. Several articles around the 2016 presidential election quote Brainard because he was a co-chair for Ohio Gov. John Kasich's campaign in Indiana.
Helmke said any mention of the city and its mayor could help.
"At a certain stage, any mention of your city that's not a negative mention … can help reinforce it," Helmke said.
"Now if all it's doing is quoting Brainard on political stuff or whatever, at a certain stage, that's not going to be enough."
According to the monthly progress reports DeRocker submits to the city, his work has generated an ad equivalency (the cost of what an advertisement in that media outlet would have cost) of $1.13 million and editorial impact (the ad equivalency multiplied by five) of $5.56 million.
But a New York media expert said calculating the impact that way is a "totally screwed up metric."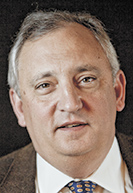 Rockland
"The whole approach has been discredited by like everyone who has worked in this field," said David Rockland, partner and CEO of New York-based Ketchum Global Research & Analytics.
Rockland said it's wrong to assume editorial content has a bigger impact than advertising does because repeated studies have shown "sometimes editorial is more valuable than advertising, sometimes it's not."
"It's an incredibly naive way to look at it," Rockland said.
DeRocker acknowledged that the method is outdated because in the digital age, stories can be shared in a variety of ways and may never end up in print.
"It's imprecise," DeRocker said. "It's just an effort to say there is value in this."
Helmke said he would look at what an ad would cost in the publication and how often stories are being placed to determine whether it's worth the cost, but there's no standard to go by.
"And then the long-range thing you look at if you're a council member or a citizen is: What has this done for us long range?" Helmke said. "And that's always hard to quantify."
Brainard credits DeRocker for drastically improving his meetings with site selectors.
"These meetings that used to take 10-15 minutes are now taking the full hour and it's the site selector asking all sorts of questions," Brainard said. "I've noticed the difference in how we're perceived nationally because of the publicity and marketing."
Provocative pitches
Sometimes DeRocker focuses on pitching Brainard as much as the city—and he'll exaggerate to get a reporter's attention.
One of the most recent pitches DeRocker sent to national media outlets in Washington, D.C., described Brainard as an "Indiana Republican who opposes Trump."
The email goes on to say that Brainard "has stood out in his party for his vocal opposition to all manner of moves by the Trump Administration." The quoted part is underlined in the email for extra emphasis.
Brainard does disagree with Trump's views on climate change, but he doesn't oppose the Republican administration.
"When you want to get in with the Wall Street Journal or CNN or whoever, there's so many competing voices out there, you use what you can, and that's why I was being somewhat provocative, at least in the subject line," DeRocker said. Brainard is "certainly not out there with a pitchfork."
It's not the first time he's used an attention-grabbing subject line to catch a reporter's attention.
In 2016, when the International Roundabout Appreciation Society named one of Carmel's intersections the "Roundabout of the Year" and added it to its annual calendar, DeRocker sent a pitch that said his client had been named Miss December.
"The one thing I can guarantee is the thing got opened," DeRocker said.
He said the pitch generated several interviews and stories. One reporter responded and told him he wouldn't do a story on it, but it was certainly interesting and worthy of cocktail hour conversations.
"You never know how something like that softens the ground, because you know he'll open the next email from me and maybe that's something more relevant," DeRocker said.
The recent pitch touting Brainard as the out-of-the-ordinary Republican says little about the city of Carmel, even though that's technically DeRocker's client.
DeRocker said he uses the mayor and his views to grab the attention of the media, and then the mayor can talk about the city.
"You've got the story, and you've got the storyteller. And the mayor—or the governor of the state—is typically the most notable storyteller," DeRocker said. "Carmel, Indiana, is still not on the tip of everyone's tongues. But when you have a mayor that's willing to get out there, that certainly helps."
Helmke said it's appropriate for the consultant to pitch stories about the mayor.
"Especially when you have a long-term mayor, a lot of people see that person as the spokesman for the community," Helmke said.
One story that did give Carmel a lot of national attention came in 2012 when Money Magazine named the suburb the Best Place to Live, but DeRocker is not taking credit for it.
"I didn't have anything to do with that," DeRocker said.
Pay and expenses
On top of his monthly base fee, which started at $9,150 and has increased to $10,000, DeRocker has submitted 35 expense reports detailing the travel he's done for the city.
Helmke said it makes sense for DeRocker to travel for the city and with the mayor, especially when he's arranging meetings with individuals the mayor has never met. He said the trips to Carmel also seem appropriate because DeRocker should know the community he's promoting.
"If I've got someone who's trying to sell my city, I want them to see my city sometimes," Helmke said. "That gives them more credibility, too. If the person you're talking to says, 'Well, have you ever been to Carmel?' and you say, 'No,' you lose all credibility there."
An IBJ review of the claims revealed issues with receipt record-keeping, overlapping expenses with Brainard and the city overpaying DeRocker.
Heck said claims are reviewed by the mayor's administrative assistant or herself as well as by the clerk-treasurer's office. Claims are also approved by the Carmel City Council.
The city requires receipts with expense reports, but on at least three occasions, receipts are missing for items the city reimbursed DeRocker for. Heck in part blamed city recordkeeping for their absence. She said receipts were not always scanned into the city's public document portal, and despite attempts to locate original receipts in storage, some could not be found.
"While staff that processed the majority of the claims no longer work at the city, the one staff member that did process a few of these claims is certain that he did not process claims without original receipts, as is our practice," Heck said in an email.
Receipts are also sometimes illegible on the city's public document portal, but Heck said that's a result of poor scanning and that the originals were clear.
During the more than 40 trips DeRocker has taken, sometimes he pays for only his meals, while other times he foots the bill for the mayor and whomever they're meeting.
At least six times, when the city reimbursed DeRocker for a meal in which he paid for Brainard's meal as well, the mayor also claimed a $65 per diem food expense.
Heck said the city's policy is to pay $65 per day for food regardless of how much is actually spent.
"A person could spend $0 or $300 and they would still only receive $65 per diem," Heck said in an email without addressing the fact that in these circumstances, the city appeared to pay twice for the mayor's food.
In January 2014, DeRocker filed an expense report totaling $1,631.12, but the city paid him $3,262.24—double the amount he actually spent.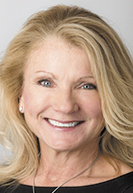 Pauley
Heck said the overpayment "appears to be an error that was missed by our staff and the staff of the previous Clerk-Treasurer's office."
"As diligent as we try to be, occasional errors do occur and are corrected when found," Heck said, adding that the error will be corrected on a future reimbursement.
Carmel Clerk-Treasurer Christine Pauley said her office handles thousands of claims, so it's difficult to track each one and then compare it to others.
But she said she might start going through each one with a fine-tooth comb. Pauley has also recently voiced concerns about the City Council approving a claim for $220,000 to fund a not-for-profit that will run the city's proposed Christkindlmarkt.
"I'm going to be more cognizant of what's being provided in the claims," Pauley said.•
Please enable JavaScript to view this content.