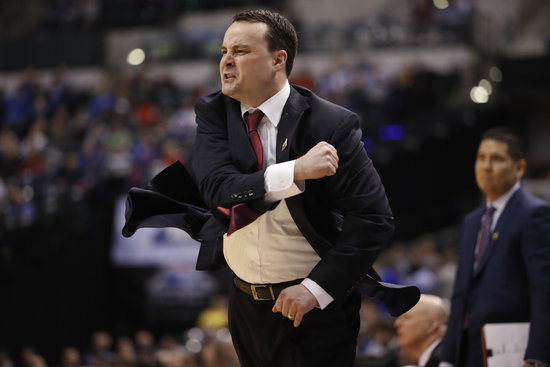 Archie Miller is cashing in on one of college basketball's top-paying jobs.
The new Indiana University coach's seven-year deal is worth $24 million and it could go significantly higher with performance bonuses.
School officials released details of Miller's new deal Tuesday, three months after he took the job following his run at Dayton. Miller's annual average of $3.35 million through the 2023-24 season is slightly more than Tom Crean earned in guaranteed money during his final season as the Hoosiers' coach.
Next season, the 38-year-old Miller will earn at least $2.9 million thanks to a base salary of $550,000, outside income of $1.65 million and a prorated deferred income total of $772,602.
But with a little luck and some strategy, Miller could quickly close the pay gap with his older brother, Arizona coach Sean Miller.
The younger Miller will receive $125,000 each year the Hoosiers produce a multiyear Academic Progress Rate score of 950 or higher. He can double that total by scheduling one or fewer opponents with an RPI rating of 300 from the previous season. And performance bonuses could push Miller's take-home pay even higher.
Miller will get $25,000 each season the Hoosiers make the NCAA Tournament, $50,000 each time they reach the Elite Eight, $125,000 for a Final Four appearance and $250,000 if he brings Indiana its first national championship since 1987. A Big Ten regular-season title would trigger another $125,000 bonus clause while a Big Ten Tournament title would give Miller an additional $50,000.
If he's named conference coach of the year, by either the media or the coaches, Miller collects another $50,000. He'd add another $50,000 for being selected national coach of the year by The Associated Press, USA Today or the Naismith voters.
Indiana also agreed to pick up $500,000 to help buy out Miller's contract at Dayton. Miller went 139-63 in six seasons with the Flyers and led them to four NCAA tourney appearances.
But the big deal comes with some strings attached.
If Miller takes another job before the end of 2018-19, he would be on the hook for all of the guaranteed money "through the normal expiration date." That percentage drops to 50 percent in 2019-20, to $1 million from 2020-22 and to $500,000 for the final two years of the deal.
Not all of Miller's benefits are measured in cash.
Indiana will pay the travel costs for Miller's wife and children to all basketball games not played at Assembly Hall, pay for two loaned automobiles and for as many as eight season tickets and two parking passes to each game in men's basketball and football. Miller can request up to 20 additional tickets to all home basketball games and could have eight tickets to each road game, too. His family also will be given unlimited use at the university's golf course and driving range.
Miller is prohibited from reselling any of the tickets.
The contract includes provisions requiring him to "participate and cooperate" with media, alumni and civic groups in a manner athletic director Fred Glass approves, to make "positive and constructive" public statements about the men's basketball team, athletics program, athletics staff, coaches and the university and maintain discipline in the men's basketball program by "being fair and protective of the student-athletes while motivating them."
If Miller becomes the target of another college or pro coaching job, he also must first notify Glass of his intent before negotiating.
Please enable JavaScript to view this content.