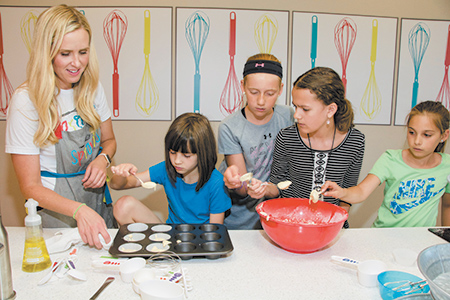 Stephanie Drewry paces among four kitchen islands, each surrounded by four kids who eagerly await her next instruction during the first day of Cupcake Wars summer camp at Sprouts Cooking School.
"It's time for the eggs!" Drewry hollers. She demonstrates how to break them—a gentle tap on the counter and then form a heart with your hands around the egg.
Most of the eggs make it safely into a mixing bowl, but one ends up mostly on the counter.
"That's OK," Drewry says. "We get a lot of broken eggs."
Drewry, a 35-year-old Carmel resident, launched Sprouts Cooking School out of a spare bedroom in summer 2015, mostly because her three kids wanted to learn how to cook.
Since then, demand has ballooned and Drewry has expanded into semester programs, weekend classes, birthday parties and special outings. She recently opened a separate facility for the business near Hazel Dell Parkway and Main Street in Carmel.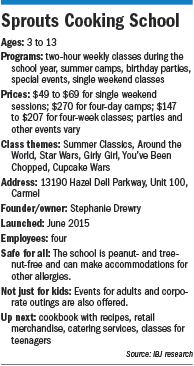 "I don't know how this really happened," said Drewry, who has a bachelor's degree in elementary education from Purdue University. "I was tinkering with recipes and stuff before this, but I really don't know how the universe came together to create a job like this for me."
During a class at Sprouts, kids ages 3-13 receive recipes mostly created by Drewry, follow her safety instructions, and use real—but kid-friendly—kitchen utensils to craft dishes like chicken enchiladas, homemade pasta and iced animal crackers.
The goal is to teach them about proper cooking methods as well as how and why different ingredients work together. Drewry strives to create a menu packed with healthy meals, but acknowledges kids want to make treats, too.
"I think cooks or chefs, they either like one or the other. I'm savory. I'm not sweet," Drewry said. "I like introducing
kids to herbs and different flavor combinations. That's where my passion is."
When Drewry started Sprouts two years ago, she designed it for children ages 3 to 10.
That first summer, she had a couple of kid-size tables and chairs in the bedroom she transformed into a cooking studio and enough space to do six camps with spots for 10 kids in each.
All the camps sold out within weeks after she posted a single ad on Facebook.
"I had no idea, really, what it was going to turn into," Drewry said.
The summer programs, which now cost $270 for four days, were so successful that she decided to continue into the fall with semester-style classes. The kids would come one night a week for several weeks. Every time she posted a new class, it sold out.
"We really couldn't keep up with demand," Drewry said.
By 2016, she started teaching at the Monon Community Center in Carmel in addition to offering lessons at her house. She taught three nights a week between the two locations, plus single-session classes and birthday parties on the weekends. (Single session classes cost $49 to $69, and semester classes cost $147 to $207, depending on the age group.)
In the fall of 2016, she decided she needed a dedicated facility, and by the beginning of this year, she finalized plans for a 1,220-square-foot location at 13190 Hazel Dell Parkway. It's in the same retail development as Cafe Patachou and Pizzology.
Home business
Drewry started classes in the new space at the beginning of June with "You've Been Chopped" and "Summer Classics" summer camps. In "You've Been Chopped," kids cook from a mystery basket and create their own dishes. In "Summer Classics," kids make a variety of dishes including hamburgers, avocado salad and watermelon slushies.
As of June 20, more than 200 kids had signed up for the camps, which run through mid-August. Drewry said her capacity is 288—18 camps with a maximum of 16 students in each. It's a steep increase from the 96 kids that attended the eight camps she had last summer.
She used to be her company's entire staff, but now she has four employees and said she probably needs to hire more.
"Sometimes it's overwhelming; I'm not going to lie," Drewry said. "I think that's part of being an entrepreneur and a business owner—meeting the demands of your customer—and there is so much."
She expects to keep meeting that demand by starting adult classes and programs for teenagers, publishing a quarterly cookbook, adding a catering service, and selling retail food products. Sprouts also could become a franchise someday.
"It's been two years and we scaled really quickly," Drewry said. "There's so many directions this could go."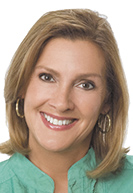 Beery
Barbara Beery, founder of Austin, Texas-based kids culinary school Foodie Kids and author of 17 kids cookbooks, also started her business out of her home in the early 1990s.
She said Drewry should expect a big learning curve for the next few years as she transitions into having a storefront and expanding into retail.
"There is no going from a home-based business to a retail-based business without a lot of growth pain and changes," Beery said. "You're dealing with such a small portion of the population that … to make your business fly, you really gotta be doing a lot of things and doing it well to keep it going."
So what's the key to being successful? Keep it fun.
"It's a lot of fine-tuning," Beery said about the types of classes to offer, determining what's appropriate for different age groups, and how to actually teach a recipe. "Mostly it boils down to offering the kids the most hands-on opportunities, because that's what is the most fun for them."
As seen on TV
Drewry credits popular TV cooking shows for the growth in her business and the overall industry.
Her favorites include "Barefoot Contessa" with Ina Garten, "The Pioneer Woman" with Ree Drummond, and "Giada at Home" with Giada De Laurentiis.
"I don't love the competition shows that everyone else loves," Drewry said. "I love the old-school shows—to actually watch them cook."
The widespread popularity in competition cooking shows started more than 10 years ago when "Hell's Kitchen" and "Top Chef" premiered in 2005 and 2006, respectively. Both still draw millions of viewers. Since then, dozens of other cooking competition shows have come and gone, and the market has expanded into kid-specific series.
Fox premiered "MasterChef Junior" in 2013, and five seasons later, the show is still popular. The Food Network launched two shows aimed at younger viewers in 2015—"Chopped Junior" (based on the well-known "Chopped" series) and "Kids Baking Championship." Both still air today.
"I think I hit the market at exactly the right time," Drewry said. "Kids are watching that and they want to do it."
Her classes based on the TV shows "Chopped" and "Cupcake Wars" are among her most popular.
"My phone rings all day long asking if I'm adding more," Drewry said.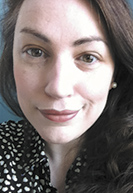 Colella
Jill Colella, founder of Teach Kids to Cook Media and editor of kids food magazine Ingredient, credited former first lady Michelle Obama's healthy-eating initiatives with sparking the kids cooking trend years ago. But she agreed the TV shows have definitely helped get kids' attention.
"Kids love all that kind of programming on The Food Network, and there's just more and more of it," Colella said. "Anything that is competition-based or that is loosely based on the TV shows, like 'Chopped'—kids are very into that."
Nothing like it here
Sprouts appears to be the only cooking school specifically for kids in the state, and that's helped Drewry attract families from Muncie, Terre Haute and even one from Michigan for a summer camp.
"We have quite a reach," she said. "When they come, they're like, 'There's nothing like this.'"
A handful of cooking classes are available at various businesses in the Indianapolis area, but there isn't another dedicated, all-inclusive cooking school for kids.
Panera has a Bakers-In-Training program, but it requires groups of 10-15 plus chaperones and has to be scheduled at least three weeks in advance. It's available at the West 86th Street store near Township Line Road and in Greenwood.
Two area cookware stores—Williams Sonoma at Keystone at the Crossing and Sur La Table at Clay Terrace in Carmel—also offer a few kids classes.
And east of Indianapolis, the city of Greenfield has single-session classes through its parks and recreation department called Kids in the Kitchen, but those are available only once a month.
Beery, who recently sold Foodie Kids and launched an online kids cooking club called Kid Chef Kitchen, said some people still struggle to see the appeal in cooking schools for kids.
"Think of it this way—children take ballet, they play soccer, they do all of these things for years and years to become good enough to have fun doing it," she said. "When you teach a child to cook in 45 minutes to an hour, they've accomplished something from start to finish. They're successful. It's not competitive. What's not good about that for kids?"
"I do think there's a huge value in it. That's nothing to take away from sports or arts, but this is something you can have with you your whole life that you will benefit from."
Colella said the national trend of kids cooking classes trend started about 15 years ago but gained popularity within the last five years. She said it started with cooking classes within other businesses, like those available in Indianapolis, but has become a much more robust industry.
In addition to Beery's former company, Foodie Kids, which bills itself as the longest-operating U.S. culinary school for kids, Young Chefs Academy started in Texas in 2003 and now has more than 20 locations in the United States and Canada.
Taste Buds Kitchen opened in New York City in 2007 and started franchising in 2013. It's up to eight locations.
"These cooking schools for kids are much more dedicated to techniques," Colella said. "Kids are learning in a way that builds on previous knowledge."•
Please enable JavaScript to view this content.