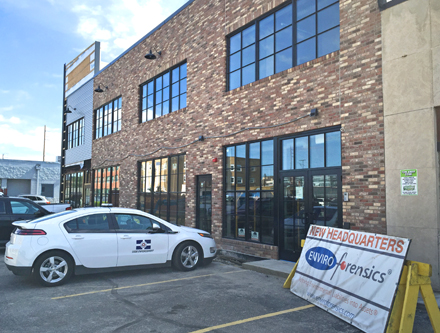 An Indianapolis-based environmental engineering firm that moved into a new downtown headquarters last year has been acquired by two private equity firms, the company announced Wednesday.
Environmental Forensic Investigations Inc., which does business as EnviroForensics, said it made the deal with Chicago-based Woodlawn Partners LLC and Detroit-based Peninsula Capital Partners LLC to help the business grow into new regional markets.
Terms of the transaction were not disclosed.
EnviroForensics founder and CEO Stephen Henshaw will continue to lead the 21-year-old company, which has more than 65 employees in Indiana. Company President Nancy Shields also will stay with the firm.
Henshaw founded the company in 1996 in San Francisco before moving it to Indianapolis in 2001. The company was housed in the Stutz Business Center until 2010 before moving into a 10,000-square-foot space above Deering Cleaners at 602 N. Capitol Ave.
Last August, EnviroForensics moved two blocks north, to 825 Capitol Ave., where the company more than doubled its space, to 23,000 square feet. The firm said it invested $3 million to purchase and renovate the building. The business received approval for an eight-year property-tax abatement from the city that is expected to save it almost $45,000 over the abatement period.
The agreement calls for the company to retain at least 42 employees at the headquarters and add another 42 workers by the end of 2020.
The company also operates small branch offices in Waukesha, Wisconsin, and Louisville.
EnviroForensics has built a niche remediating current and former dry-cleaner sites where solvents caused contamination issues. The company says it has "obtained regulatory closure of environmental matters for more dry-cleaner sites than any firm in the nation." Most of the company's work has been in the Midwest.
The company is on pace to hit the $20 million in revenue this year. Shields said the goal is to double revenue and profit over the next five years.  
"While we had numerous suitors, Woodlawn Partners and Peninsula Capital Partners have Midwestern roots and understand our business and core values," Henshaw said in written comments. "They are committed to supporting our mission of turning environmental liabilities into assets for our clients. This partnership will provide a depth of experience to help strengthen market share in at home and as we expand into new regional markets."
Please enable JavaScript to view this content.