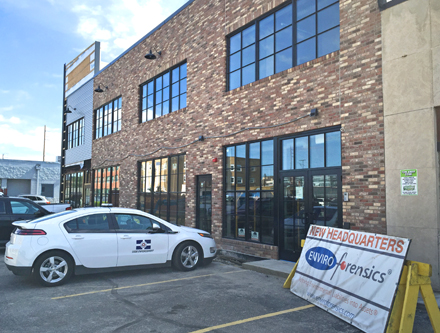 Locally based Environmental Forensic Investigations Inc. is moving next month into a larger headquarters on North Capitol Ave., which is undergoing a steady revival downtown.
The environmental engineering firm, which does business as EnviroForensics, now is located on the second floor of the building it co-owns with street-level tenant Deering Cleaners at 602 N. Capitol Ave.
Early next month, EnviroForensics is set to move two blocks north to 825 Capitol Ave., where the company will more than double its space, from 10,000 square feet to 23,000 square feet.
EnviroForensics has invested $3 million to purchase and renovate the space to accommodate growth plans. The building last housed an Edward's Transmissions and Engines shop on the first floor and Landes Costumes on the second.
"It was just a shell of a building," EnviroForensics CEO Stephen Henshaw said.
Henshaw founded the company in 1996 in San Francisco before moving it to Indianapolis in 2001. EnviroForensics operated from the Stutz building until 2010 and then above Deering Cleaners on North Capitol Avenue.
EnviroForensics isn't totally abandoning the second-floor space, however. Henshaw plans to sublease half of the 10,000 square feet and hold the other half, in case EnviroForensics needs it for future growth.
The company has 57 local employees and expects to grow above 90 over the next five years. It also has offices in Louisville and Waukesha, Wisconsin.
To help offset the cost of EnviroForensics' investment in its new building, the company received an eight-year property-tax abatement from the city that will save it 56.5 percent, or almost $44,900, over the abatement period. The company will still pay about $208,400 in property taxes over the abatement period, plus more than $31,500 annually after the abatement period ends.   
EnviroForensics needs more room for its corporate offices due to increased demand for its services, which include the detection and remediation of soil and groundwater contamination. It also needs warehouse space for equipment and trucks. The company currently leases 4,000 square feet of warehouse space on Saint Clair Street.
EnviroForensics has built a niche remediating current and former dry cleaner sites where solvents have caused contamination issues.  Most of the company's work is in the Midwest, but Henshaw is evaluating expansions into other markets.
"We're really hitting our stride now," he said.
The company has averaged annual revenue growth of 27 percent since 2010, Henshaw said.
EnviroForensics bought the building at 825 N. Capitol in January 2014 and started construction in September. Indianapolis-based Brandt Construction Inc. is the contractor on the project. MAWR Architecture + Interior Design in Carmel designed the space.
EnviroForensics' latest commitment to North Capitol Avenue furthers development along the corridor, which has taken off in the past three years.
The firm's new headquarters sits across from the former Litho Press building, where local developers TWG Development LLC and Ambrose Property Group spent $16 million to transform it into 111 apartment units.
To the north, Peter Brasovan and Jared Byczko, who operate CrossFit NapTown at 609 N. Delaware St., bought the building at 922 N. Capitol Ave. and opened Naptown Fitness.
To the south, local restaurateur Mike Cunningham and contractor Patrick Heitz renovated the former Di Rimini apartment building at 733 N. Capitol Ave. And at 714 N. Capitol Ave., TwoDeep Brewing Co. provides the area with a homegrown beer option.
Next door, at 702 N. Capitol Ave., a second story was added to a building that Rowland Design Inc. moved into. Loftus Robinson Development purchased the building, which formerly housed an ADT call center.
Across the street, the Indianapolis Cultural Trail Inc. renovated its new headquarters—a 3,000-square-foot building it's occupying with the Indiana Pacers Bikeshare program—that originally housed a service station and maintenance garage.
Please enable JavaScript to view this content.