Jodi Golden is bullish on rural Indiana's economic future.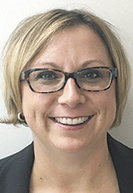 Golden
Only a month into her job, the new executive director of Indiana's Office of Community and Rural Affairs—which oversees nearly $30 million in annual federal and state grants—is eager to "see all the potential and assets that rural Indiana has to offer."
The agency she's leading remains largely under the public's radar, but its mission involves big lifts: supervising efforts across the state to improve small downtowns, clearing housing blight, preserving historic properties, helping coordinate community development efforts, and assisting communities with storm water, wastewater and drinking water issues.
"We're here to help rural Indiana succeed," Golden told IBJ.
But Golden's sunny outlook doesn't blind her to the challenges residents in rural Indiana face. Per-capital income in rural Indiana was $37,566 in 2015, compared to $43,187 in urban areas, according to the U.S. Department of Agriculture. And average education attainment levels for rural residents are also lower.
IBJ spoke to Golden—who recently left her job in Illinois Gov. Bruce Rauner's administration to return to Indiana, where she once oversaw the state's 529 college savings plan program—about opportunities in rural Indiana. The interview has been edited for length and clarity.
IBJ: What are the economic development possibilities for rural Indiana?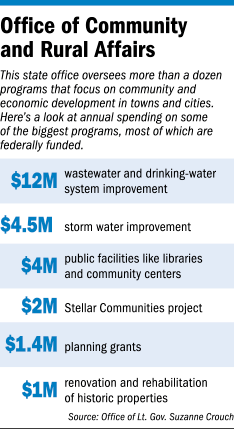 Golden: There's probably a misconception that rural Indiana is a bunch of farm fields. I think the rural areas are the next economic frontier. Rural Indiana does some serious heavy lifting by providing food, water, fuel, energy, jobs. You do have innovative people, innovative leaders that want to bring new and creative ideas to their areas. One of the biggest assets is the people.
I think our job is to provide rural communities opportunities to partner and collaborate that enhances their quality of place and their quality of life. Even remote areas can be places where Hoosiers want to live and work and grow.
Why do you believe rural areas are primed for growth?
While studies have shown that much of rural Indiana, and rural America for that matter, have suffered disproportionately over the past decade compared to their urban counterparts, there is reason for renewed optimism in Indiana.
Through collaborative partnerships such as the Stellar Communities Designation Program and the Indiana Regional Cities Initiative, the state is … focusing on transforming regions into nationally recognized destinations to live, work and play.
That prediction seems counterintuitive to the current narrative. How do you counter longtime trends?
We have to continue—through the two programs I previously mentioned and others—to improve the infrastructure and capacity within our rural communities. Not only are they competing with larger Indiana cities to bring in more business, but with rural and urban cities and towns throughout the country and world. We also have to work closely with our partners at [the Indiana Economic Development Corp.] to ensure the business tax structure continues to be competitive and we create the perfect conditions for businesses to locate in Indiana.
What industries or opportunities are the future for these rural areas?
[The] long-term, significant investment in the state's infrastructure [passed this spring by the Indiana General Assembly] has the potential to support thousands of jobs.
And we need to maximize opportunities for small businesses to thrive as well. Indiana is home to more than 500,000 small businesses that employ 1.2 million Hoosiers. OCRA initiatives such as the Indiana Main Street Revitalization Program help develop and build upon local ecosystems that can benefit small businesses.
And through our sister agencies in the lieutenant governor's family of business, I see great opportunities as well with tourism, agritourism, and [the Agriculture Department's] Indiana Grown program.
What attracted you to the job and what is your vision?
Indiana has always been home for me, even though I grew up in Illinois. I come from a small town, a rural area. I thought this would be a perfect fit to enhance rural Indiana and to craft some solutions to the challenges they face.
I'm trying to hit the ground running. We met with a group of rural and agricultural leaders across the state. We were able to spend a couple of hours with them gathering their expertise and their experiences. We began a 13-stop listening tour in early June. I'm excited about what that can bring, the feedback we get from those efforts and sharing with Lt. Gov. Suzanne Crouch.
What are the main economic development challenges facing rural Indiana?
I'm still learning what Indiana's rural needs are and I'm impressed by what I see here and what's already being done. The challenges vary depending on who you're speaking to: They can range from broadband connectivity to housing to economic development to health care.
I think we can all recognize the importance of having connectivity throughout rural Indiana. It's certainly a challenge at the forefront. Even in areas that may have connectivity, there's still issues on the income level and being able to purchase connectivity.
On housing, [the challenges are] the types of housing, attracting people to housing, funding available to build new housing in those smaller communities. It's a plethora of issues.
If the state can solve the broadband issue, is it technology that can help save rural places?
It is certainly part of the equation. People want and can work from home and conduct everyday personal business that in today's age requires access to the internet like banking, shopping and personal entertainment.
How can the office you're running now be effective in creating change? What are some specific programs that you are excited about?
I want to make sure we're running efficient and effective programs that deliver transformative solutions. I think there's a lot of potential there for the Main Street Program [which involves OCRA supporting groups focused on the development and improvement of downtown areas] to expand and succeed.
Downtowns can be the heart and soul of any small community. Renovating or repairing buildings, encouraging more job growth and more entrepreneurship and more residency is a really unique opportunity here.
The Stellar Communities Program [which supports smaller towns that have identified comprehensive community development projects] is a multi-agency partnership that really encourages collaboration. We want to look at programs that will transform an area.•
Please enable JavaScript to view this content.