Revenue Growth FY 2014 to 2016: 216%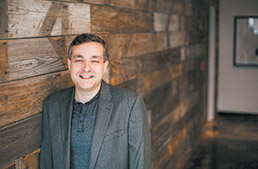 John McDonald says the internet of things is growing exponentially, which is spurring ClearObject's growth. (photo courtesy of ClearObject)
Name change: ClearObject changed its name from CloudOne last fall to better reflect its approach to helping companies get started with the internet of things. "In the past," CEO John McDonald said, "we would get called when a lot of the work had been done, usually by other people, sometimes not so well. We wanted to be in the first chair and engage with companies and help them figure out what to do about IoT."

Same company, same mission: The internet of things— a phrase that describes the emerging world of web-connected devices that are increasingly driving automation, big data and services—is growing exponentially, McDonald said, and that's spurring ClearObject's growth. "As our customers continue to grow, we grow with them. But this new effort and mission and brand around helping new customers uncover what they're doing has fueled our growth."

Fitting in: McDonald said the internet of things will transform the Indiana economy in myriad ways. He said the industries that will be most transformed include manufacturing of all kinds (medical devices, automotive components and process manufacturing), transportation and logistics (tracking, trucking, engines, telemetry), and agriculture—not just farming but food production and distribution. "Those industries are vital to Indiana, and they're also the same industries that are being renovated by IoT right now. That bodes well for our economy in Indiana and for companies like ours that are involved in IoT."

Seeing the future: McDonald said one way IoT will transform our world is through autonomous vehicles, which will lead to automated farming, transportation and distribution. He foresees automated delivery vehicles that will deliver within minutes and computerized cars that can travel far faster than those driven by humans, freeing people to do other tasks. He expects "probably the biggest one-time leap in human productivity ever."

The company's role: And where does ClearObject fit into this new world? "We're going to be right at the head of it," McDonald said. "The companies we're working with now are coming to us and saying, 'Please help us get this project going.' I think our future's bright."•

Check out more of IBJ's ranking of central Indiana's fastest-growing companies.