Revenue Growth FY 2014 to 2016: 194%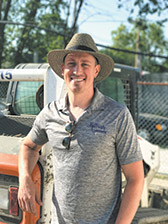 Will Mattingly has been working for the family company since he graduated from high school. Now he owns the business. (photo courtesy of Mattingly Concrete Inc.)
Signs up: If you're out and about in Indianapolis, you've probably seen a Mattingly Concrete sign in front of a house. Last year, the company handled 600 residential customers, which is about 90 percent of its business. The other 10 percent is large commercial projects. "It's hard to drive around town and not see one of our trucks going down the road or see a yard sign somewhere," President Will Mattingly said. "For me, it's hard to drive anywhere without seeing a job that I can remember doing."
New owner: Mattingly has been working for his family's company since he graduated from high school in 2008. He said the business then was a true mom-and-pop operation, with his father, Dan, the CEO, and his mother Liz, the chief financial officer. She did financial ledgers by hand, he said. In 2013, after his mother was diagnosed with breast cancer (she died in 2015), his father left much of the day-to-day operation to Will. He bought the business from his family and became president Jan. 1.
Snowball effect: Mattingly said he's "capitalizing on a brand that's been around" since 1987 and known for customer service. That's how the company differentiates itself from its many competitors. He calls it the snowball effect: "If we can make a good impression on every customer, then every customer is going to lead us to two more."
High-profile projects: Though Mattingly's business is largely residential, it's also done notable projects. One, the new courtyard at Guerin Catholic High School, won an Outstanding Concrete Achievement Award from the Indiana Ready Mixed Concrete Association in 2016.
Continuing to expand: Mattingly said he plans to expand but at a sustainable rate. "I don't think we're done growing. Our next step will be to capitalize on our commercial construction the same way we have on our residential. That's in our five- to 10-year game plan." So if all goes as planned, instead of seeing Mattingly signs in front of houses, you might see them on a high rise or a large stretch of road.•
Check out more of IBJ's ranking of central Indiana's fastest-growing companies.
Please enable JavaScript to view this content.