Revenue Growth FY 2014 to 2016: 153%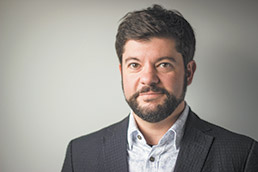 Michael Osborne says consumers don't want to be spammed by retailers but are interested in promotions that are relevant. (IBJ file photo)
What it does: CEO Michael Osborne said Smarter HQ is a behavioral marketing platform that allows business-to-consumer marketers to absorb, process and predict—based on behavioral data of their consumers—outcomes that will drive improved marketing results for retail, financial services, travel and hospitality clients. More simply: "We're trying to make it so when you receive an email from a retailer, it's the right message, it's the right product, it's the right time for you to receive it and it's something that's personalized to you so that you're more likely to open it, more likely to click through it, more likely to engage with the brand and more likely to buy."

History: SmarterHQ started in 2010. The majority of its growth has occurred in the last three years through obtaining high-profile clients—"some of the internet retailing's top 50," Osborne said—and delivering them a return averaging 15 to 25 times their investment. "Our solution is not cheap," he said. "They're spending a decent amount of money, but they're getting an amazing return."

Why it's growing: Osborne said brands need to connect more with their customers, and personalized messaging helps them do that. "Amazon and others are competing in ways that are disruptive, so you have to have a better experience to be competitive," he said. "To the next generation of shoppers, that means messages they want to receive."

No need to worry: Should consumers worry they're being targeted like this? Osborne said no. "If I'm able to give a better offer on a product you want at a price you're interested in at the right time, that's beneficial to you. As a consumer, people like that. What they don't like is being annoyed by someone who's 'spamming' them with offers, products and promotions that are irrelevant."

Promising future: Osborne said that even though there's a lot of doom and gloom in the news about retail having a tough year, many retailers are doing a great job and growing, and there are a lot of new brands that are up and coming and delivering a phenomenal experience. Plus, banks, travel and hospitality continue to do solid business. "All of that points to continued growth for us."•

Check out more of IBJ's ranking of central Indiana's fastest-growing private companies.