Revenue Growth FY 2014 to 2016: 111%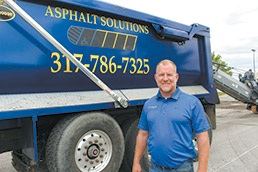 Chad McIntyre is a mechanical engineer who saw an opportunity in concrete and asphalt repairs and paving. (photo courtesy of Asphalt Solutions Inc.)
Surprising start: Chad McIntyre, president of Asphalt Solutions Inc., went to college for mechanical engineering and started his career in that field. Then in 2001, his friend who owns Otto's Parking Marking in Greenwood called and said he was overloaded with work. He recommended that McIntyre get into the field. He started doing maintenance primarily—sealcoating and crack repairs for commercial properties—bringing in a little more than $100,000 that first year. Fifteen years later, revenue had increased to nearly $4.4 million.
Do it all: By 2007, Asphalt Solutions had become a full-service asphalt company. Typically, when property-management groups call, they want one firm that can do paving, sealing and crack repairs, concrete work and striping. McIntyre said 98 percent of his company's work is commercial, from fast-food restaurants, strip malls and apartment complexes to churches and schools.
Fierce competition: McIntyre said Indianapolis has several good paving companies. "All the property-management groups in the city know who the better pavers are, so whenever we're bidding those jobs, you're competing against people who do things the right way." To differentiate itself, Asphalt Solutions has worked to keep prices and overhead low and quality high. Much of its work comes from word of mouth, but last year McIntyre started doing some radio advertising that he said helped boost business.
Good reviews: The company takes pride in its work. "We were very proud to pave the Capitol building in downtown Indianapolis last year [the Bicentennial Plaza]," he said. "This was an example of a larger general contractor getting our name through references of other jobs we completed." He also did a project for Warren Township Schools. "They made the comment that our price came in significantly under some of the others and they were able to add on and do some paving they didn't think they could afford," McIntyre said. "And they were thrilled with the product they got."
Still growing: McIntyre said he's looking to expand and hire quality workers to fuel growth. "We're planning on being around for a long time. You're going to get quality work and honesty, and you're going to get what you pay for. Sometimes the cheapest price isn't always the best."•
Check out more of IBJ's ranking of central Indiana's fastest-growing private companies.
Please enable JavaScript to view this content.