Revenue Growth FY 2014 to 2016: 109%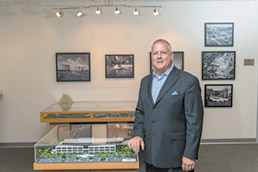 Michael Jones says the shortage of labor and materials is pushing up prices in the construction industry. (IBJ file photo)
Longevity: Lauth Group celebrated its 40th anniversary in May, and CEO Michael Jones credits the real estate development company's success to a decision made years ago to diversify its offerings. While most competitors focused on an individual niche, he said, Lauth went into office, industrial, retail and health care. "It seems like one or two of those is in favor at any given time. We find ourselves where they're almost all in favor—three of them are in favor today; retail's the only one that's a little bit out of favor. And that's just certain segments."

In addition: Lauth has gone back to its roots, which was developing multifamily housing. The company had been out of that sector for decades, but Jones said it's been acquiring multifamily developments over the last three years, which has added to growth. It's also introduced a new product type: athletic facilities. So far, it's built two, 130,000-square-foot facilities that can be used for a combination of basketball, volleyball, soccer, baseball and football—one on Indianapolis' southside and one in southern Indiana. It will be building a third, in Noblesville, in late summer. The athletic projects are built as public-private partnerships with municipalities.

In the works: Jones said Lauth's largest project currently is a combination lab and office facility for Heritage, the environmental-services company, at Intech Park.

Labor and materials: Jones said Lauth, like everyone in the construction business, is dealing with the shrinking availability of skilled laborers, many of whom left the industry during the recession. Similarly, there are delays in getting materials. The shortage of both is pushing up prices. Jones said Lauth is handling those challenges "by managing growth at a sustainable pace."

Going forward: Jones said Lauth plans to stick with what has worked, so the company will continue to focus on "selective, speculative development" on the office and industrial side. "I don't expect us to expand too far outside of the Midwest. There seems to be plenty of activity in and around Indiana, and it's easier to manage those than it is to manage from a regional office or from airplanes."•

Check out more of IBJ's ranking of central Indiana's fastest-growing private companies..