Revenue Growth FY 2014 to 2016: 105%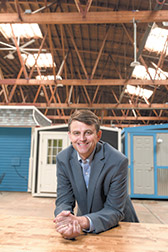 Michael Cloran says people sometimes think the company's trademark tiny houses each hold separate firms. Actually, each employee has a house. (IBJ file photo)
Creating an identity: Michael Cloran, one of DeveloperTown's managing partners, said he's happy with the way the company has been growing. What concerns him is that DeveloperTown still struggles to explain what it is. "We've often gotten people thinking we're some co-working space or we're some kind of incubator," he said. "But our core business is building software for enterprises and for startups. And each little house"—employees get a tiny house rather than a desk—"is not a different business; it's an employee."

Changes: DeveloperTown started in 2010, and through 2012-13 it worked mostly with startups. In 2013, the company had its first chance to build a product for an enterprise client. "We realized we could work with enterprise clients and really take that experience of moving like a startup and apply it to that enterprise market," Cloran said. The enterprise side is now about 80 percent of its business. "That's been really driving the growth."

An example: Indianapolis-based Republic Airways Holdings hired DeveloperTown in late 2014 to build a mobile app for its 4,200 flight crew members. The app allowed crew members to access work itinerary information—flight assignments, lodging reservations—in real time. Before the app, crew members had to call a corporate hotline and wait for someone to read their itineraries. Severe weather and high call volumes made that wait longer.

Discovery days: Cloran said one way DeveloperTown is getting the word out about its services is by holding "Discovery Days," which allows it to brainstorm with senior corporate executives about how technology can help their bottom line. "At the end of the day, you can see strategic initiatives where you have the chance to move like a startup."

Looking ahead: Cloran said that in the next three years, as DeveloperTown grows its reputation, "I think you're going to see hopefully a continuation of that growth as we get more and more people aware of what we do—building rock-solid software that can be strategic and designed strategically to help change your business."•

Check out more of IBJ's ranking of central Indiana's fastest-growing companies.