Revenue Growth FY 2014 to 2016: 101%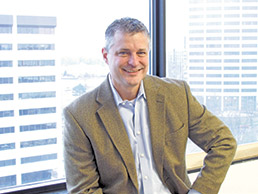 Jason Brown expects 40 percent revenue growth this year for Archway and predicts 50 percent next year. (IBJ file photo)
Its role: Archway Technology Partners provides accounting and investment management software for private capital markets—family offices (the companies that manage the legal entities that oversee the wealth of families with $500 million or more in assets), private banks, hedge funds, private equity funds and large investment advisers.
Across-the-board growth: Archway continues to grow in all its market segments, CEO Jason Brown said. He explains why like this: "We continue to do the little things—investing in everything from marketing and how we're getting the word out about our products and services all the way down to product development, organizational structure and optimizing the business to be able to handle the growth."
Getting the word out: Brown said Archway attracts clients through word of mouth, a strong web presence and by building relationships with influencerssuch as PricewaterhouseCoopers, Deloitte and Ernst & Young. "Maintaining good relationships with the business units within the influencers, we get invited to propose on certain opportunities and that's a very strong channel for us. The ultra-high net worth space isn't a space that tends to talk a lot. That group tends to prefer to not be visible or not be found."
The secret to success?: It's simple, Brown said. "We keep our heads down, we work hard, we try not to get caught up in the pomp and circumstance of what other tech firms get wrapped up in. It's not always about awards; it's about progress and production. That's where we focus, and it seems to be working pretty well for us."
Scooped up: The company's performance caught the attention of a suitor, Pennsylvania-based SEI Investments Co., which announced July 5 that it has acquired Archway for $80 million.•
Check out more of IBJ's ranking of central Indiana's fastest-growing private companies.
Please enable JavaScript to view this content.