Revenue Growth FY 2014 to 2016: 100%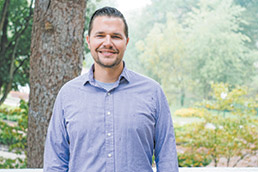 Chris Byers says Formstack's ability to become HIPAA-compliant helped fuel its recent growth. (IBJ file photo)
Continued growth: CEO Chris Byers credits three factors for the growth that again earned Formstack a place among the Fast 25 for the second year in a row: getting its product HIPAA (Health Insurance Portability and Accountability Act)-compliant, "which enabled us to get into a lot more interesting conversations with very large health care organizations who want to protect patient data when it's coming in and also want to improve processes along the way;" improving its processes for creating documents that must pass through multiple users; and adding Dustin Sapp, founder and former CEO of Octiv, as chief operating officer, "which brings some additional firepower to the executive team and is helping us think about growing in the long term."

An example: Formstack lets clients build online forms that help them collect data—survey results, event registration, business leads, patient information—that can be used to make decisions faster. The company has around 15,000 customers, 500 in health care. Byers said Indiana Health Group, a large mental-health practice, implemented Formstack to make patient registration easier. "They have thousands of new patients a year. The ability to send those patients a link to fill out a form or maybe fill it out on an iPad in the office saves everybody significant amounts of time."

Remote workforce: A third of Formstack's team is based in Indianapolis, but the company also has employees everywhere from California to Poland to Argentina. "We have a broad and diverse and unique workforce," Byers said. "We plan to continue to grow our Indianapolis focus, but the global team is important."

The future: Byers said he would like Formstack to continue to build on the features of its forms so that just about any organization, once it begins to see a repetitive process or a busywork process, will think: "Formstack might be able to help solve that or remove that annoying process I have to deal with by automating it."

His goal: "We want to continue to be on the leading edge of helping people think of new ways to collect data. Typically, you type your information into a form and click submit. In the future, you should be able to text that information back to a form, or use your voice and pass that data on. The wide-open door to building those technologies is pretty exciting."•

Check out more of IBJ's ranking of central Indiana's fastest-growing private companies.