Revenue Growth FY 2014 to 2016: 64%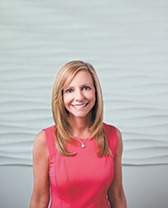 Michele Meyer says most of her company's competitors specialize in either IT or accounting, while Creative Solutions does both. (photo courtesy of Creative Solutions Consulting Inc.)
What it does: Creative Solutions Consulting Inc. specializes in management consulting, enterprise IT and financial management solutions for federal, state and commercial markets. The company "grew up" working in IT inside the U.S. Defense Finance and Accounting Service in Lawrence, which handles financial accounting for the Department of Defense. In 2013, CSCI expanded into audit-readiness. "The Department of Defense has a huge initiative to become audit-ready," President Michele D. Meyer said, "and because we actually understand all the systems that have all this money in it, we have been able to create audit teams that combine IT as well as CPAs. So not only can we help you understand how to be audit-ready, but we can help with data and the problems within it."
Counterintuitive: Federal budget cuts have helped CSCI achieve record revenue. Yes, you read that right. Meyer said that around 2011, her company's revenue dipped because the government cut back Department of Defense spending. But by 2013-14, when $5 million to $10 million deals started eclipsing the $100 million-plus contracts, many of CSCI's larger competitors stopped bidding for the work, creating opportunities for CSCI.
Solid three years: In 2015, Meyer said, CSCI signed $34 million in contracts, by far its biggest year. The company put up strong numbers in 2016, and in 2017 "we're walking into the same type of growth." In the first quarter of 2017, it closed $11 million in new work.
Working locally: In addition to contracting with the Department of Defense, CSCI works for the state of Indiana. For the state Department of Transportation, CSCI runs a business intelligence tool that lets INDOT know how much it's spending on construction projects. For the Department of Corrections, it provides an IT solution for the phone system.
Expansion: Meyer said CSCI got its first U.S. Air Force project this year and is hoping that will lead to more. It's also participating in a mentor-protégé program with Hewlett-Packard. She said that although her company works in a competitive market, it has an advantage. "Most companies are CPAs or IT. We can bring a unique understanding of the entire solution, and that's our sweet spot within the Department of Defense. I don't know any other company that can say that."•
Check out more of IBJ's ranking of central Indiana's fastest-growing private companies.
Please enable JavaScript to view this content.