In early May, a developer won a contentious battle to build a condominium project on an entire city block in downtown's Chatham Arch neighborhood.
One month later, a resident who lives across the street from the site mounted a court challenge seeking to prevent the development from getting built.
While taking legal action might seem extreme, it appears to be becoming more common. Since December, neighbors of proposed condo or apartment projects in Indianapolis have mounted court challenges on three separate occasions.
Two of the challenges have failed, although they at least might have succeeded in delaying the projects.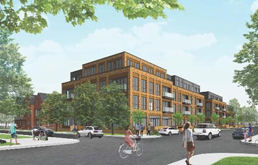 The Vezolles project would include 55 condominiums in two four-story buildings along North East Street. (Images courtesy city of Indianapolis)
In the latest challenge, David Pflugh of 847 N. Park St. is asking a judge to review the variances granted for the Chatham Arch project "due to the negative impact that will occur to the [neighboring] properties," according to the court filing.
Pflugh lives across the street to the east of where Charlotte, North Carolina-based developer Paul Vezolles wants to build his condo project in Chatham Arch. Pflugh filed for judicial review June 2, naming as defendants the Indianapolis Historic Preservation Commission and Vezolles entity 855 North East Street LLC.
"Pflugh and his property rights will be prejudiced … by introduction of commercial use into a residential neighborhood, including the core of the historic neighborhood," his lawyer, S. Gregory Zubek, wrote in the filing.
IHPC in May voted 6-1 in favor of the project. It would feature 55 condominiums in two four-story buildings along North East Street south of Ninth Street, along with seven single-family homes and four townhouses situated on the east side of the block facing North Park Avenue. The project also would include 2,400 square feet of retail space along East Street.
To make way for the development, Vezolles would demolish the one building remaining on the property—a one-story structure at 855 N. East St.
Despite Pflugh's court challenge, Vezolles told IBJ he has no plans to abandon the project.
"Clearly, they're successful in that they're stalling me," Vezolles said of the opposition. "And there's next to nothing that I can do. I had intended to break ground in September. Chances are we'll have to wait until spring now."
Zubek, Pflugh's lawyer, didn't return phone calls from IBJ seeking comment on the case.
He also represented residents in the Meridian-Kessler neighborhood who unsuccessfully opposed a $23 million apartment and retail project along North College Avenue.
Marion Superior Court Judge Michael Keele in June ruled in favor of developer Milhaus Development LLC, which had faced a challenge from Meridian-Kessler residents Andrew Keenan and Anna and Karl Tanner.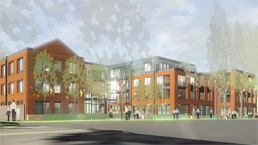 The complex on the west side of the 5800 block of College Avenue is designed to include 100 apartment units. (Rendering by Ratio Architects, provided by Milhaus Development)
Milhaus' plans call for 100 apartment units and 9,200 square feet of street-level retail space on the former AT&T property on the west side of the 5800 block of College, just south of Kessler Boulevard.
Keele, the judge in the Milhaus case, also is considering Pflugh's complaint against Vezolles. In addition, the judge ruled in favor of a development team in yet another challenge, perhaps giving Vezolles more hope that he can prevail.
In that case, the Lockerbie Glove Factory Town Home Owners Association Inc., and Lockerbie residents Andre B. and Julia L. Lacy, Elliot J. and Serena Androphy, Cherri D. Hobgood, James and Cheryl Arnold, and William B. Young, sought to stop a $15 million mixed-use development next to downtown's historic Athenaeum building.
Dan Jacobs of Indianapolis-based Chase Development Inc. is partnering with the Athenaeum Foundation on the Block 20 project, slated for a lot immediately east of the Athenaeum and fronting Michigan Street. The project would include 67 apartments, roughly 10,000 square feet of retail space, and a 229-space parking garage. The Athenaeum Foundation, which owns the historic building, bought the lot in 2001.
The neighbors in January filed for a review, arguing that the project violated a restrictive covenant on the property for only "residential" construction and that the IHPC was obligated to enforce the covenant. They also cited the Historic Area Preservation Plan governing Lockerbie Square and dividing it into two sections: the historic core and the secondary area.  
But Keele on Thursday ruled in favor of IHPC and Jacobs, both named in the complaint.
"Petitioners' arguments, with regard to the [preservation] plan, are not persuasive," Keele wrote. "Notably, the plan provides only general guidelines for new developments, not strict rules that must be followed without thought."
The neighbors' argument that Block 20 does not comply with the restrictive covenant also was unconvincing, Keele said.
"The restrictive covenant addresses only the use of an existing surface parking lot on the property; it does not prohibit the use or construction of a parking garage included as part of a larger retail and residential project," the judge wrote.
Jacobs declined to comment on the judge's ruling or when construction on Block 20 might start.
Please enable JavaScript to view this content.