Corey Wilson's work life has been about helping others. In his current role at the University of Indianapolis, he helps students find jobs, get internships and earn admission to graduate school. At the Indianapolis International Airport—when he was named to Forty Under 40—he aided small businesses. With the Lieutenant Governor's Office, he handled constituent services. At the Marion County Health Department, he helped residents get physically fit. And so on.

"My jobs have always been one where I'm giving back in some capacity," he said.

Three years ago, UIndy hired him for its new Professional Edge Center—typically called Career Services at most schools. "I've worked for Fortune 500 companies, small non-profits, in government and transportation," Wilson said, "and on a daily basis I can be interacting with students who have similar aspirations. So that was my driver for making the change."

Wilson said the role has been challenging, but he's enjoyed the opportunity. He said the office is staffed by seven professionals who have a combined 111 years of experience in the work world.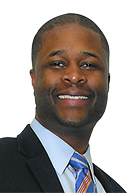 Wilson

"So when we talk to students about different careers, it's not because we've heard it," he said. "We've lived it. Each year, we see nearly our entire student population in different career-advising appointments or events. It's really cool to see students come in and say, 'I got a job at ____' or 'I'm going to graduate school at ___.' I've been here long enough now that many of those students I met as freshmen. To see that progression is always exciting."•

—Marc D. Allan