Noblesville has a slew of design standards for home construction. The trouble is, the city's Architectural Review Board routinely grants waivers—often leading to residential developments that fall short of the aesthetics city officials desire.
Since the Hamilton County seat created its Architectural Review Board in 2001, it has granted more than 500 waivers to deviate from its architectural standards. The waivers have affected homes in 38 subdivisions.
Enough is enough, say city officials. They're working on a plan to eliminate the Architectural Review Board, tweak the design standards, and add those standards to the Unified Development Ordinance. The rules then would be requirements rather than suggestions.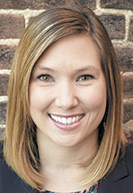 Reed
"Our standards that we use now are only guidelines," said Planning Director Sarah Reed. "They're not codified. They're not set in stone. They're not demanded. So, people look at them as such."
City officials had a hand in fostering the problem they're now trying to fix. The Architectural Review Board includes the planning director, two Noblesville Plan Commission members and two Noblesville City Council members.
Reed, who became planning director in February 2016, said those involved in the process were "comfortable with how it's been" and weren't seeking change. But as a newcomer, she was struck by the "dysfunction" of the process.
The city created the Architectural Review Board in hopes that it would serve as an open forum where members could speak candidly about what they didn't like in a home design. But in practice, it's been a bureaucratic nightmare. Meetings last up to three hours, as members pore through specific house designs and pass judgment on a range of factors, from masonry materials to the size of windows and the front porch.
And the process has led to mistakes. Officials have noticed details like homes with flat rear facades facing main corridors, which they argue isn't attractive.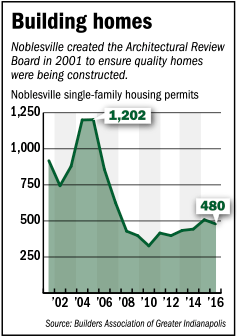 "When you're reviewing 150 sets of plans, you're bound to miss something," Reed said. "Once it gets through … it can be duplicated in that subdivision over and over again. I think that made us realize that something needed to be changed, because we don't want people coming in from Carmel and getting all the way up Hazel Dell [Road] and thinking, 'Where am I? What happened here?'"
More hard-and-fast design rules aren't necessarily a bad thing to builders, as long as there's room for flexibility within those standards, said Kate Collins, director of government affairs for the Builders Association of Indianapolis.
"As far as having an extra step in the process, yes, we would prefer to streamline things as much as possible," Collins said.
The move would put Noblesville more in line with the processes followed in other Indianapolis-area municipalities—it's the only one with an architectural review board, Collins said. The closest equivalent is the Indianapolis Historic Preservation Commission.
Steve Hatchel, vice president of sales and marketing for Indianapolis-based Arbor Homes LLC, said eliminating the Architectural Review Board could save developers six to eight weeks, allowing builders to break ground faster.
"Any shortening of the process would be ideal for developers and builders," Hatchel said.
Identifying the problems
After her promotion from assistant economic development director to planning director, Reed quickly noticed the inefficiencies.
One staff member had to review hundreds of housing plans and create reports for board members before the marathon meetings.
More often than not, the proposals didn't meet the city's suggested criteria. Out of the 38 housing developments that have come to the review board since 2001, seven complied with city standards. The others received waivers for elements like roof pitch, roof overhang and garage-door widths.
The seven developments that initially did comply then included specific home designs that required waivers, causing more work for the city.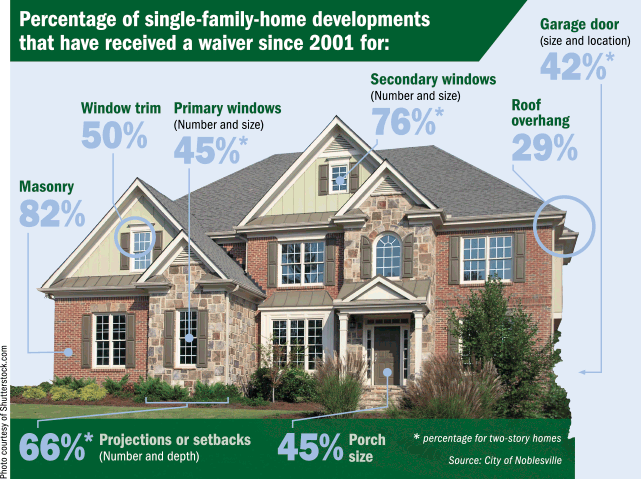 "That's one of the faults of this process that we saw," Reed said. "[Builders] are adopting these standards that they say they'll meet in the future, but at the same time, they're simultaneously bringing through these plans that we are reviewing" because the home designs didn't meet the minimum standards.
Justin Schuessler, senior planner for Noblesville, described the architectural standards as "reduced from already reduced" standards.
And after a development is approved, if a new builder wants to start constructing homes in that neighborhood, it has to receive approval from the board for its specific housing designs, regardless of whether they meet previously approved criteria.
All that would change under the process Reed hopes to have in place before the end of the year.
Developers would be able to build in existing neighborhoods without additional approvals as long as the housing types meet the existing standards—similar to how it works in other communities.
"It's almost like a deterrent for waivers," Reed said, because, under the new rules, it would be easier for a developer to tweak the design rather than go through an amendment process.
And instead of starting at the Architectural Review Board, a project would be reviewed internally by the city's planning department and then head to the Plan Commission and finally the City Council—as occurs in surrounding municipalities.
The other guys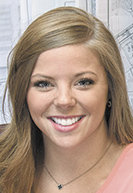 Bailey
In Whitestown, Planning Director Lauren Bailey said she talks to developers about the projects before anything goes before the Plan Commission, and she's not afraid to tell them something won't work.
"Our standards and our zoning ordinance is written for a reason—to preserve a certain type of development," Bailey said.
She recently reviewed a proposal from Atlanta-based Beazer Homes and told the developer it involved too many waivers from the town's subdivision control ordinance.
"They were asking to break the rules a little bit too much," Bailey said. "You don't ever really want to come to a board and ask to break the rules too many times because that definitely puts up that red flag."
Some communities, like Carmel and Fishers, rarely receive waiver or variance requests because the projects are submitted as planned unit developments, which allow for unique zoning and design guidelines.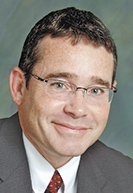 Hollibaugh
Mike Hollibaugh, director of community services for Carmel, said the city doesn't have uniform architecture requirements for single-family homes. The only exception is the Old Town district, which has its own standards and waivers are not allowed. The Old Meridian district also has some restrictions, but they apply only to attached single-family housing.
He said projects often follow a template of design guidelines that his department prepared, but that's not a requirement.
Getting serious
Four elements of Noblesville's design standards are expected to change when they become part of city code—roof ridgelines, porches, windows and masonry.
But the exact changes are still being tweaked by the planning department.
Reed said she wants the standards to be loose enough to give developers room to be creative and respond to market trends.
For example, the craftsman-style home is currently popular, but any subdivision featuring it would require a waiver for roof pitch and masonry. That could change under new standards.
Arbor Homes' Hatchel said developers can adjust to most standards communities impose, but the amount of brick required is becoming a difficult one to follow because it's not necessarily what homebuyers want right now.
"You're really excluding what's kind of the trend in the market," he said. "And that becomes hard."
Once the new standards are in place in Noblesville, Reed said, they will be strictly enforced.
"If you can't meet these standards, then maybe this isn't the right place," she said. "We may have some builders that will be upset, but there will be some that are happy to know what the minimum rules are."
Collins and Hatchel said the new system will reduce the risk that the city will shoot down a design for what appears to be arbitrary reasons.
"I think putting some standards in there kind of takes away that ability for [the city] to go, 'Well, I just don't like that house. Sorry, you can't build it,'" Hatchel said.
Collins cautioned that municipalities' aesthetic controls can sometimes significantly increase the cost of a home, making it difficult for builders to deliver products at certain price points.
"For a developer, if they are denied a variance or a waiver and all their research shows that the price point should be X and the result of not receiving that waiver is X plus $15,000, they'd have to decide whether … they think the market is strong in that price point or if they need to just move on," Collins said.
Hatchel said community design standards can increase the cost of a home as much as 25 percent.
"Where we struggle … is really that, when you are imposing those kinds of standards, it really makes it tough to bring affordable housing to a city," he said.
Arbor Homes recently settled a lawsuit with Greenwood regarding the community's strict home development standards that it claimed made homes too expensive for buyers.
The restrictions would have eliminated some of the floor plans Arbor Homes offers, but the settlement will waive most of those standards for the two subdivisions in question.
Hatchel said every municipality has different standards, but his company can usually use different versions of the same home plan, just by tweaking the lot size, square footage or materials used.
Noblesville—and other communities with design standards—argue the requirements are to ensure the projects include quality housing.
"You want the standards to be flexible enough that you can be creative and get variety, but you also want to project quality," Reed said. "So, really, it's a balance of variety, quality and market."•
Please enable JavaScript to view this content.