Duke Energy Corp.'s massive, $3.5 billion power plant in Edwardsport, billed as a technological marvel, continues to deal with operating and maintenance setbacks, requiring expensive repairs that are cutting into productivity.

The company shut the plant for nine weeks last fall for maintenance work, more than three weeks longer than planned, making it the most extensive outage since the plant went into service in June 2013.

During that time, Duke Energy workers dealt with one surprise after another, including clogged and corroded pipes, leaky valves and faulty thermocouples, according to a filing with state regulators.

The engineering staff is still trying to figure out how to keep the plant—one of the most expensive projects in Indiana history—running smoothly.

"Edwardsport is a complex and highly integrated plant and it will take time to determine the best approach to maintenance at the plant," Plant Manager Garth W. Woodcox wrote to the Indiana Utility Regulatory Commission earlier this year.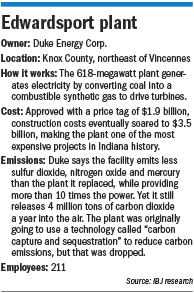 One of the plant's two huge gasifiers didn't return to service until late December, due to leaks and other problems. The other didn't return until mid-January, due to problems with a water pump. The gasifiers are key systems of the 618-megawatt plant, which converts coal into a combustible synthetic gas to drive turbines that produce electricity.

The huge energy company, based in Charlotte, North Carolina, serves 820,000 customers in 69 of Indiana's 92 counties. The local operations are based in Plainfield.

Duke Energy officials declined to make Indiana President Melody Birmingham-Byrd available for an interview, saying she was on vacation.

The utility has hailed the plant as cleaner than older power plants, saying it emits less sulfur dioxide, nitrogen oxide and mercury.

When it proposed the plant in 2006 for the town northeast of Vincennes, Duke Energy praised the coal-gasification technology, saying it had been around for decades and was a proven way to generate power. Even so, the plant was ambitious, larger than any coal-gasification plant in the world.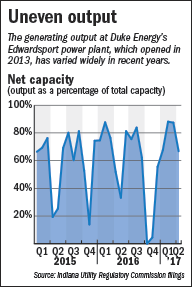 Several consumer environmental groups, including Citizens Action Coalition and the Sierra Club, have repeatedly called the project a boondoggle and tried to stop it in court but lost.

Duke Energy promised the plant would be operating at 75 percent capacity after 15 months of operation.

But it has fallen short of that goal in 17 of the past 28 months, according to company filings. Last October and November, the plant ran at less than 10 percent of capacity, due to a lengthy maintenance shutdown.

In recent months, however, the plant's performance has improved. It ran at 67 percent capacity in January, 88 percent in February, 87 percent in March and 67 percent in April.

"It's taken time, but we believe we have turned a corner with plant performance in 2017," Duke spokeswoman Angeline Protogere said.

Some longtime critics acknowledge the plant is showing signs of improvement.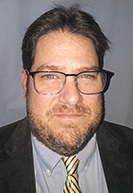 Olson
"It's still not to the levels that had been previously promised from Duke, but better," said Kerwin Olson, executive director of Citizens Action Coalition.

Skeptics remain

But others, such as the Sierra Club, say they are not convinced the plant is a steady performer.

"We have been keeping up with its performance and it has been very uneven," said Jodi Perras, Indiana manager of the group's Beyond Coal movement. "It's fine for a few months and then [there are] unexplained or unplanned outages."

Duke Energy defended the plant's performance, saying it has run at an average of 74 percent capacity in the first four months of this year.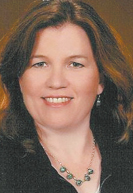 Perras
The company said that, by another measure, called "available capacity," the plant is performing even better. Available capacity measures how much of the time the plant is available to run, as opposed to how much the plant is actually producing.

The latter can be affected by factors outside a company's control, such as when regional grid operators call on the plant to produce more or less electricity based on demand.

By that measure, the plant has had 99 percent available capacity this year, Protogere said. "Edwardsport has continued to achieve milestones and make progress," she added.

In the meantime, expenses from technical problems are adding up. The company spent $45 million on maintenance and additions from April 2015 to December 2016.

But it will have to eat a portion of the costs, due to a settlement agreement last year that caps the amount the company can recover at $36 million.

Duke Energy is asking state regulators to allow it to recover that amount from customers, along with other expenses, including depreciation. If regulators agree, the monthly electricity bill for a typical residential customer would edge up about 30 cents, the company said.

Bills would also rise for larger customers, including shopping centers and factories, by an undisclosed amount.

A state watchdog agency, the Office of Utility Consumer Counselor, said it would not object because the request was not unreasonable.

Both the Sierra Club and Citizens Action said they were not taking a stand on the company's request, citing last year's settlement.

Escalating costs

The state initially approved the plant at a cost of $1.9 billion, but construction costs quickly escalated, due to wildly low estimates on the cost of pipe, concrete and other materials.

A shortage of skilled labor also pushed up costs, and several major accidents shut down work areas for days. The price tag eventually soared to $3.5 billion.

A settlement agreement in 2012 capped the amount Duke Energy could recover from ratepayers at about $2.6 billion, plus millions of dollars in financing costs. The company agreed to swallow $900 million in construction costs.

Originally, the company toyed with the idea of including expensive environmental technology that would remove a huge portion of carbon dioxide and keep it out of the atmosphere.

But company officials later changed their minds, saying the technology was too costly, especially given the uncertainty of greenhouse gas regulations.

That decision probably saved the company billions of dollars, some observers say, because the technology was ineffective.

A power plant in central Mississippi just learned that lesson the hard way. Utility giant Southern Co., based in Atlanta, spent more than $7 billion—up from an initial price tag of $3.5 billion—to build the Kemper Project, a huge plant using the "clean-coal" technology.

Kemper, like Edwardsport, was designed to turn coal into synthetic gas to produce electricity. But unlike Edwardsport, it included a technology called carbon capture and sequestration, or CCS, designed to reduce carbon dioxide emissions.

But the technology never performed as well as promised. Over three years, it captured only 92,000 tons. Many power plants, including the Edwardsport plant, produce 3 million to 4 million tons of carbon dioxide a year.

Last month, Southern Co. pulled the plug on the CCS technology, and said the plant would burn natural gas instead.

Some environmentalists called the technology "greenwashing"—a derogatory term used to describe a highly visible but ineffective program companies adopt to appear environmentally friendly.

"At least Duke had enough common sense to abandon CCS at Edwardsport after the enormous costs and technical challenges were understood," Olson said.

"As we said 10 years ago, CCS is nothing but greenwashing, and Duke will never capture a single ounce of carbon dioxide at the plant. Had they moved ahead, Edwardsport would be Kemper right now."•