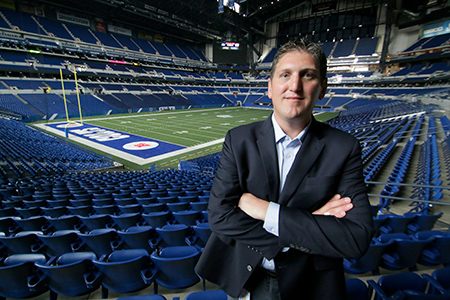 Eric Neuburger thinks Lucas Oil Stadium is an incredible asset for Indianapolis, and he's making it his mission to make sure more people get to experience it.
Neuburger, the 37-year-old son of former Indiana Sports Corp. president and IUPUI Natatorium Director Dale Neuburger, left his job as senior associate athletic director at Indiana University in April to become director of the $720 million stadium on the southwestern edge of downtown.
Neuburger has big shoes to fill. He replaces Mike Fox, who was Lucas Oil Stadium's director for its first nine years and director of the RCA Dome for almost a quarter century before that. Fox, who left to head facilities for the Indianapolis Motor Speedway, was hailed nationally as one of the best stadium directors in the business.

Making matters more challenging for Neuburger is the fact that Lucas Oil Stadium—about a month from kicking off its 10th season as home of the Indianapolis Colts—is at an interesting, some would say tricky, crossroads.
"Around 10 years is when some stadiums begin to show their age," said Marc Ganis, president of SportsCorp. Ltd., a Chicago-based sports-business consultancy that counts several NFL teams as clients. "Lucas Oil Stadium is in terrific shape, but at some point, it gets difficult to keep up with things like technology and other amenities offered in newer stadiums."
And there's a push by Visit Indy and city officials charged with overseeing the venue to bring in more conventions and other non-Colts events.
Neuburger is undaunted.
While he said it will take him a full Colts season to properly assess stadium operations, he stressed the urgency of his task.
"I have the benefit of fresh eyes," said Neuburger, a detail freak who has examined every sign in the facility for clarity and professionalism. "I'll only have fresh eyes for a very short time, and I want to take advantage of that."
Among his observations: "I don't like a lot of clutter. And I don't like [paper] signs made on a word processor."
At the same time, Neuburger has been thinking big.
Less than two months into the job, he signed a deal to bring U2 to the 67,000-seat stadium for the first time. The concert is the Irish rock band's first in Indianapolis since 2001—when the group performed at Bankers Life Fieldhouse—and its first of this size here since it rocked the RCA Dome in 1987.
Neuburger is aiming to bring a lot more concerts—perhaps two a year—to the venue.
"I've made it known to promoters that we're looking to find the right type of concert here, and we're willing and able to put on a first-class event," he said.
The U2 concert is only Lucas Oil's sixth stand-alone concert ever. Its last major concert was One Direction, in July 2015.
One small step Neuburger has taken to spread the word about Lucas Oil Stadium is to increase the number of weekly tours—from six to 15. More than 7,500 people took the tour in the first five months of this year.
"Maybe it is a small way to give people more access. But it's important," he said. "This facility is one of this city's amazing assets, and I want people to be able to experience that and realize what a jewel it is."
Melina Kennedy, president of the city's Capital Improvement Board—which owns Lucas Oil Stadium, the Indiana Convention Center, Bankers Life Fieldhouse and Victory Field—is impressed.
"Eric is certainly off to a great start," she said. "We're looking forward to big things."
But it won't be easy for Neuburger to achieve his lofty goals—in part because of the full city block between the stadium and the Indiana Convention Center, said Debbie Locklear, president of locally based Meeting Services Unlimited Inc., a meeting-planning firm that represents several national clients. The two venues are connected by an underground corridor.
"They have to be creative," Locklear said. "There's still the perception that there's a disconnection between the convention center and stadium. Some meeting planners and exhibitors still have questions about that."
Plan, plan, plan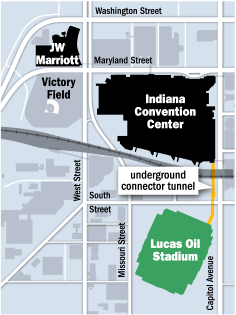 About 80 people work full time to operate the stadium. The number of workers increases to 1,300, including contracted concessionaires and security personnel, on event days.
In a typical year, Lucas Oil Stadium hosts 200-plus events—from small corporate meetings and wedding receptions to football games and monster truck rallies.
In recent years, a growing number of conventions—including the Fire Department Instructors Conference, Gen Con, Do It Best Corp. and Primerica Inc.—have expanded south from the convention center into the stadium.
No matter the size of the events—which range from a dozen people to 70,000—the planning regiment is the same.
"Everything gets broken down here, no matter if it's a 12-person meeting or a Colts game," said Neuburger, who was in charge of game-day operations for 24 varsity sports at IU, including all events at Assembly Hall and Memorial Stadium. "The level of detail for event planning doesn't compare to anywhere else I've ever been."
Neuburger and stadium staff have to sweat the small stuff in part because they know competition is fierce.
Since the ribbon was cut on Lucas Oil Stadium in September 2008, six new NFL stadiums or big renovations have opened or been announced, from the $1.2 billion AT&T Stadium that opened in Dallas in 2009 to the $2.6 billion Los Angeles Stadium at Hollywood Park set to house the Rams and Chargers in 2019.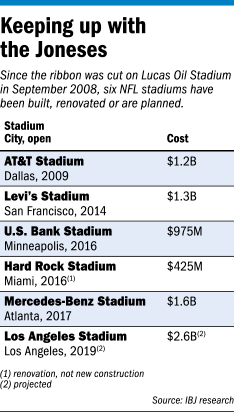 Lucas Oil's predecessor, the $77.5 million RCA Dome, didn't face such a competitive onslaught after it opened in 1984, said David Frick, who helped oversee construction of both buildings.
Each venue built since Lucas Oil seems to feature something new. AT&T installed a bigger video screen than Lucas Oil Stadium's, which at the time was the biggest in the NFL.
Some of the newer stadiums have more TV screens, escalators and common space, have better lighting and are made with more renewable resources and powered by more environmentally friendly means.
Newer stadiums also boast advanced Wi-Fi capabilities and other communications tools from day one.
"With a stadium, it's not just, 'Build and sit back and wait for them to come,'" Frick said. "You have to constantly update as best you can."
And update CIB has, Kennedy stressed. In the last year, the stadium has added new flooring and paint, updated lighting and the heating and cooling system, installed new televisions in the club areas, and upgraded Wi-Fi and security. This year, for the first time, Lucas Oil Stadium will have walk-through metal detectors at all entrances, she said.
But Frick conceded, "You can only retrofit to a certain extent. But newer stadiums have those things built in."
That by no stretch means Lucas Oil Stadium is out of date, Neuburger said.
"I'd put this stadium up against any," he emphasized as he stood surveying the mammoth venue from the concourse. "There's nothing better. It's clean and everything is well-maintained. There's nothing out-of-date about it."
Lots of life left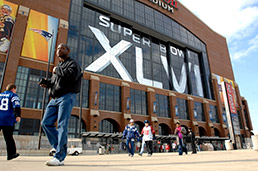 Lucas Oil Stadium hosted the Super Bowl in 2012. Although the city has no immediate plans to bid for the event again, officials are confident the stadium is up to the challenge. (IBJ file photo)
Neuburger's former boss, IU Athletic Director Fred Glass, said there's no doubt Lucas Oil Stadium will last longer than the RCA Dome, which was laid to rest at age 24.
Glass, who was CIB president when Lucas Oil was built, said its anticipated longevity is reflected in the 30-year lease the Colts signed to play in it.
"We thought it was important that this stadium not be the last of the previous generation but be the first of the next generation," he said. "We wanted something that looked different and said, 'We're setting the trend for the next generation.' And we wanted something that was going to last—for at least 30 years."
Marc Viquez, regional correspondent for Stadium Journey magazine, said Lucas Oil's architectural firm—Dallas-based HKS Inc.—and city planners accomplished that mission.
"The minute you set your eyes on this facility, you know you're looking at something very different," Viquez said. "When everyone else is shooting for being ultra-futuristic—like stadiums in Dallas, Minnesota and Atlanta—this place looks like a fieldhouse or an old barn. It's immediately become a landmark."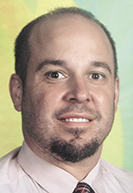 Viquez
Despite its rustic look, he said, "Once you come inside, it's like, 'Wow! This place is an amazing center for commerce.'"
Stadium Journey named Lucas Oil best U.S. stadium from 2011 to 2016.
"For approaching 10 years old, it's still in a class by itself," Viquez said. "In light of the new stadiums, it still measures up nicely in terms of corridor widths, number of concession stands and restrooms. And the sightlines in this venue are without equal."
Neuburger's predecessor, Fox, said Lucas Oil's amenities equal or exceed those in newer stadiums.
For instance, U.S. Bank Stadium in Minnesota—home of the NFL's Vikings, which opened in July 2016 and is set to host the 2018 Super Bowl—has 8,000 club seats and 116 suites. Lucas Oil has 7,245 club seats and 140 suites.
Lucas Oil Stadium has 1,500 toilets, 50 percent more than the Minnesota stadium, and 59 permanent and 90 portable concession stands, slightly more than the newcomer.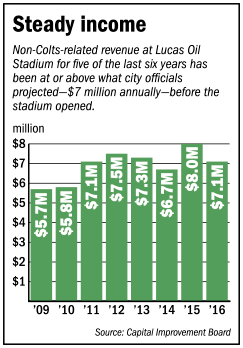 Both measures are key, since no one wants to miss on-field action while they wait in lines for restrooms or beer.
Other details in planning Lucas Oil Stadium continue to pay off.
The massive retractable window on the stadium's northeast end gives guests a clear view of the city skyline. Project designers placed the building diagonally on its 13-acre site, to maximize that view. The stadium was one of the first with a field-level suite and lots of social gathering space.
Glass said the retractable roof is a big asset, and has helped attract events to the venue. (It's also been criticized, however, because of its cost and because it's closed far more often than it's open for Colts games. It can't be open when there's a threat of rain because the interior is not waterproof and lacks drainage).
It all adds up to a great environment, Viquez said. "When you experience a game in this stadium, you know you've been treated to one of the best stadiums in the NFL."
One area in which Lucas Oil falls short is number of escalators. At 14, it has 20 fewer than U.S. Bank Stadium and 16 fewer than Levi's Stadium in San Francisco, which opened in 2014 and hosted the 2016 Super Bowl. That can cause traffic jams and delays in fans getting to their seat.
"We took one set of escalators out on the north end and one on the south end due to budgetary constraints," Frick said. "I now wish we hadn't done that. But compromises have to be made. It's just like building your home. Our wants and desires always outweigh our ability to pay for them."
Despite concessions, he said, "this stadium is still highly regarded by football and non-football event holders. That's a testament to good foresight and planning by a lot of people here."
"We see the life of Lucas Oil Stadium being much longer than 30 years," CIB President Kennedy added.
Another Super Bowl?
And no one seems to doubt its capacity as repeat Super Bowl host.
"If Indianapolis doesn't get another Super Bowl, it won't be because of Lucas Oil Stadium," Viquez said. "It might be because of the cold winter weather there, NFL politics or the city's desire not to expend the energy and resources to go after and to host another Super Bowl. But it won't be because of Lucas Oil Stadium."
Colts Chief Operating Officer Pete Ward said the stadium "is fully capable" of hosting another Super Bowl.
It "was a key element in the incredible job this town did in hosting back in 2012," he said. "It's been ranked among the top stadiums by at least one entity or publication pretty much every year, and our marketing studies with our customers validate the accolades."
There are no immediate plans to bid for another Super Bowl, however. For now, the focus is on finding additional events to stage in the venue, bolstering the amount of revenue it generates outside of Colts games.
When the city signed its lease deal with the Colts more than a decade ago, it anticipated Lucas Oil Stadium would generate $7 million annually in non-Colts revenue. Thus, the city agreed to give the Colts $3.5 million annually—or about half that projection.
The first two years the venue was open, it fell more than $1 million short of the non-Colts-game revenue projection. But since 2011, it's hit that target every year but 2014, when it generated $6.7 million. The high-water mark was $8 million in 2015. The total slipped to $7.1 million last year.
"We think we've had success generating non-Colts revenue … but we'd like to strive for more," said Kennedy, who was deputy mayor in Bart Peterson's administration when the stadium plan was crafted.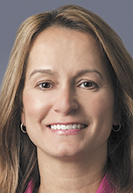 Kennedy
"We want a good range of events," she added. "We want to look at outside sporting events, conventions, and more local and youth events."
Lucas Oil Stadium has frequently hosted basketball, even two Final Fours. City officials said if the NBA All-Star Game comes to Indianapolis, it likely will be at the stadium.
But in 2013, USA Swimming torpedoed the idea of holding the 2016 Olympic Swim Trials there, with one official telling IBJ the stadium lacked "the intimacy and energy" sought for the event.
Visit Indy Vice President Chris Gahl said Lucas Oil is just hitting its stride.
"Every time we get feedback, it's been positive," said Gahl, who often walks meeting planners from the convention center to the stadium to show them the distance is no greater than from the JW Marriott to the convention center's main exhibit halls. "From a tourism and convention standpoint, the stadium has no shortcomings."
Lucas Oil is in the minority in even being connected to a convention center.
Neuburger said he's eager to dispel fallacies about the distance.
"I'm pretty sure I could hit the convention center with a tennis ball," he said, looking out his office on the stadium's upper level. "It's a perception thing. I think Lucas Oil Stadium is a difference maker for a number of conventions we have here. That's a message I'm eager to get out."•
Please enable JavaScript to view this content.