If a sports team stops winning games, maybe it needs new leadership, an improved playbook or stronger teamwork to get back on track.

Carmel-based Seven Corners Inc. can confirm that these same strategies also work with an ailing company.

In 2014, the travel-insurance company had a lot of problems. Revenue growth had stalled, customer service was faltering, and founders Justin Tysdal and Jim Krampen were flat worn out. The company had a couple of hundred employees, but the founders were trying to run it the same way they had when it started in 1993 as a two-man shop.

Seven Corners lacked the structure and leadership to allow the founders to step outside of day-to-day concerns; they were still making all the decisions.

"When there's 20 people, that's one thing. When you have 200 people, it just gets exhausting," Krampen said.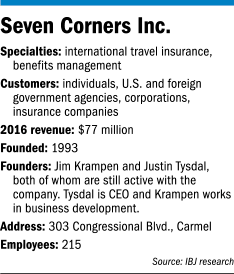 So the partners took a radical approach. With the help of an outside consultant, they have spent nearly three years on a corporate overhaul. They've stepped into new roles—including, for Krampen, a move outside the executive suite.

Over the past year, they hired three executives for roles as chief operating officer, chief revenue officer and, last month, chief financial officer. The company also added eight directors and created structures that emphasize corporate culture and employee training.

Company officials are hopeful the changes will usher in dramatic growth. For the past three years, annual revenue has been around $77 million. With the new leadership and structure, Tysdal and Krampen said they're aiming to grow that number tenfold—to $770 million—over the next decade through organic growth and acquisitions.

"It's a big, hairy, audacious goal, but it's realistic," Krampen said.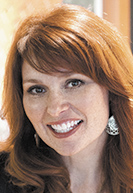 Elsey
The changes have taken place with the help of Susan Elsey, president of Indianapolis-based Elsey Consulting Group. She started working with Seven Corners in the fall of 2014 and continues to advise the company.

During that first meeting, Elsey recalled, Tysdal and Krampen said they wanted to re-energize the company's culture and encourage innovation.

Elsey saw that the company would need to build a leadership team that would allow the top executives space to focus on big-picture strategy.

"You can't have your executive-level leaders working on front-line tactical things. That means no one is really working at the executive level," she said.

Another challenge: The company's sales and training practices were haphazard and inconsistent. Seven Corners lacked key expertise in certain roles, and employees weren't necessarily doing things the same way.

"We had no vetting, we had no skill set, we had no training," Krampen said.

As a result, customer service suffered. Claim processing time was too long, and customers often didn't get timely service when they called with questions.

Some disgruntled customers aired their frustration online, leaving Google reviews that included phrases like, "Worst service ever" and, "Always denies claims, does not respond to calls."

The company had developed departmental silos, with managers more interested in protecting their own departments than acting for the greater good.

New perspectives

As Seven Corners brought in new leadership, Tysdal and Krampen took on new roles. The two had considered themselves co-CEOs but hadn't had official job titles.

Their first try at these new roles wasn't perfect. Krampen started out as chief revenue officer, and Tysdal took the title chief strategy officer. As it turned out, Krampen wasn't well-suited for his responsibilities, including staff training and administrative duties.

"I was terrible at it," he said. "As much as it's important to know your strengths, I think it's more important to know your weaknesses."

So in December 2016, the two shifted roles again. Tysdal is now CEO and Krampen is business development director. He focuses on sales, and travels internationally to develop new areas of business for the company.

The company developed five core values that include, "Customers come first" and, "We are precise." In addition, it invested in training so existing employees and new hires understood the company's goals, and instituted quarterly "culture workshops."

The company also went through a talent-review-and-assessment process for existing employees. Each employee's skill set was assessed to see how it matched his or her job requirements and what gaps needed to be addressed.

In some cases, employees were "coached up" to address those gaps, Tysdal said. In other cases, people were reassigned. Other employees chose to leave the company, and some were let go. Of the company's 215 employees, he said, more than half have been hired in the past 2-1/2 years.

"They made a huge investment in employee development at all levels," Elsey said. "They really invested heavily in culture, because that's really where strategy dies. You can have the best strategy, but if you can't get your team to execute it, it doesn't do anything."

Turnover is common when a company makes as many changes as Seven Corners has, she said—and that's not necessarily a terrible thing. Executives learned how to evaluate job candidates for cultural fit. That meant new hires were excited about the company's vision and direction, making cultural change easier to effect.

Those changes were part of what drew in Chief Operating Officer Amy Brown, who joined Seven Corners in May 2016.

Brown said she likes working at small and midsize companies with an entrepreneurial spirit, and she liked what she saw at Seven Corners.

"I really was attracted to the growth plan and the strategy and the ambition," she said.

She was also impressed that Tysdal and Krampen had been willing to put their egos aside to make massive changes for the good of the company. That told her, "This was a great company to make a bet on with my career."

Crossroads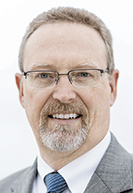 Landis
The challenges Seven Corners has been working through are common among companies that hit a certain size, said Brian Landis, managing director of the Butler Business Consulting Group, part of the Andre B. Lacy School of Business at Butler University.

When a company hits a certain point in revenue, size or complexity, it needs new management and structures to keep growing, said Landis, whose group has worked on some 150 consulting projects for 80 companies in 21 industries.

"Every one of these companies, as they go through their growth curve, they hit an inflection point," Landis said. "Unless they learn these new techniques and these new roles, they're not going to grow beyond that."

Fewer than half of such companies are able to break through and continue to grow, Landis said. The others might just "languish along" or even go out of business.

Seven Corners' leaders are encouraged by early signs of improvement.

The company formalized and expanded its summer internship program this year. It reached out to colleges, held an on-site intern fair, and brought 17 interns aboard.

Its Google ratings had been consistently below two stars on a five-star scale, but, as of early July, the company had an average rating of 4.2 stars, based on 299 ratings.

These ratings are important, Krampen said, because travel-insurance companies are all basically selling the same product at similar prices. High ratings might well be the factor that drives customers to choose one business over another.

The company also has made improvements in the number of looks it's getting on Glassdoor.com, a corporate rating site used by job-seekers. Seven Corners used to get 30-40 looks per month, and that number has recently topped 3,000 per month, Tysdal said. The ratings themselves—what current and former employees are saying—also have improved.

Tysdal said the company hasn't tallied up the costs of its corporate restructuring, but, "We can see that it's worth it."

Elsey said she sees a bright future for Seven Corners.

"They turned the culture around completely, and they brought the right talent. Now it's time to buckle down and execute … which I have every confidence they will," she said. "It really is amazing what they've done."•