Everything was going great at the Excel Center, Joe White said. The program Goodwill developed to teach older youth and adults who had dropped out had grown to nine schools—including locations in Austin, Texas; Memphis, Tenn.; and Washington, D.C.—with two more set to start.

"There was absolutely nothing that could have taken me from Goodwill—except the church," White said.

In May 2015, that's what happened. White got involved with the I-town church in Fishers, and when the pastor asked him and his wife, Michelle, to join the staff and build a leadership school, they went. The intent of the school was to create a leadership pipeline for the church, which was adding staff members at a rapid rate to support growth. White also served as pastor at the church's Castleton campus, and when I-town decided to launch into Carmel, he took on that responsibility.

"It was an incredible series of events and experiences," White said, and toward the end of the first year, he felt like they had accomplished the assignment. He started having conversations with people in education, and in June 2016, one of them, Brandon Brown at The Mind Trust, offered him a position.

The goal of The Mind Trust is to provide every Indianapolis student access to a high-performing school. White's role is to help implement a strategy to support each school.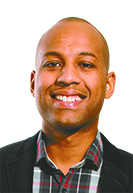 White

"We'll successfully launch four schools this fall with a robust menu of support to wrap around those school leaders to ensure their success," White said. "For the existing schools, we are targeting specific and acute needs there to make sure they sustain the success they've achieved. That's what I'm most proud of."•

—Marc D. Allan