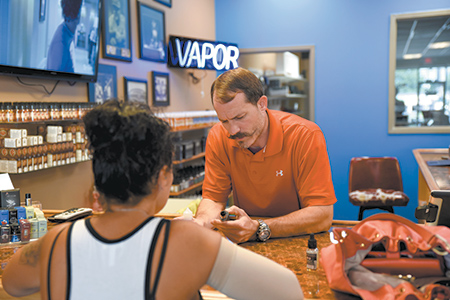 Indiana's once-struggling vaping industry is expanding again now that a new state law has eliminated a monopoly that strangled manufacturers' ability to sell their products here.
At Vapenindy on the city's far-south side, owner Greg Niece is one of nearly 100 manufacturers who are now allowed to produce e-liquid—the juice used in electronic cigarettes—to sell in Indiana. He and others had been shut out under a controversial law passed in 2016 that essentially gave one private firm the ability to determine who could participate in production of the juice sold here.
Gov. Eric Holcomb signed the legislation in late April that opened up the e-liquid market again, meaning business owners like Niece can more easily obtain permits and restart what was once a profitable endeavor.
Before the 2016 law took effect, Niece both produced and sold e-liquids. After, he couldn't get a permit to manufacture and was forced to purchase the products from one of just seven companies allowed to make them. The limited market drove prices up.
"It hurt us big time," Niece said, estimating that his business lost $10,000 to $20,000 a month during the time he couldn't manufacture. He didn't want to divulge the exact revenue of his business but said the change reduced it by "almost one-third."
"We went from making our own juice to paying five times the amount for each bottle," he said. "We had to really pass that onto our customers to survive and what that did was diminish our customer count. We're starting to come back. It's going to take time."
Since April 27—when the new law took effect—95 companies have applied to the Indiana Alcohol and Tobacco Commission for manufacturing permits. Five applications are pending and none have been denied.
That's a big uptick from the year before. From July 2016 through this April, just seven companies were allowed to produce e-liquids for sale in Indiana. Six had been permitted by the state under the monopoly law, while the courts ordered the ATC to give a seventh a license in a case challenging the rules.
"The changes have been fairly easy to implement and have resulted in more manufacturers being approved," said David Rothenberg, executive secretary for the ATC.
Head
State Sen. Randy Head, R-Logansport, who authored the 2017 bill, said he hasn't heard any complaints about the rollout of the law, which also requires producers to comply with federal laws and include child-proof caps and identification codes on bottles.
"It's been all quiet on the western front," Head said, which he deemed a good sign.
Industry leaders say the updates have ushered in positive change.
"The influx of companies we have seen come back in, and the quality of companies we've seen, is exciting," said Amy Lane, president of the Indiana Smoke-Free Alliance, which helped lobby for the fix. "It opened the market not only to the larger companies but also to the smaller companies."
Lane said the changes have also been positive for consumers and that pricing has returned to "industry-appropriate" levels. Under the monopoly market, she estimated a 30-milliliter bottle of e-liquid cost $25 to $30. Now it is about $12 per bottle.
"We are now out of the cave and we're living in the rest of the nation," Lane said. "We can now access wholesale pricing that is competitive with the nation. Those are all positive changes."
Currently, about two dozen of the permitted manufacturers are in-state companies, while most are out-of-state.
Lane said she expects the number of permitted manufacturers to grow. By the end of the year, she said, "it wouldn't surprise me if we were at approximately 300."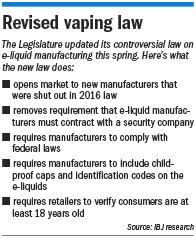 In recovery
Meanwhile, the Indiana producers who have secured permits say they are "trying to recover" from the past year.
Jake Handy, store manager at Kokomo Pure Vapor, estimated the shop lost more than $50,000 in revenue as a result of the monopoly.
"It was pretty astronomical," Handy said. "Our prices went up about 20 percent but even that was … just enough to keep us afloat. It was a roller coaster from beginning to end."
Joey Raney, co-owner of Sir Vapes-a-Lot, which has locations in Indianapolis and Avon, said the ability to produce e-liquids again has increased selection and lowered prices. He estimated he lost "about $20,000" per month while he was forced to purchase e-liquids elsewhere.
"It killed the profits, hardcore," Raney said. 
Some, including Joe Barton, owner of Club Cotton Vapor Academy in Whiteland, are getting into the e-liquids game for the first time.
"We decided to move forward this year because the market is under-saturated right now because of what happened, so we're wanting to make inroads and supply product," Barton said. "We wanted to be in the game."
Others who previously produced e-liquids have decided to give it up, despite the fix.
Mason Odle, owner of Fishers-based Just Vapor, said he invested $150,000 to open a manufacturing facility before the 2016 law went into effect. After the law, he couldn't get a state permit, which idled his manufacturing operations.
Odle said he feels "lucky to be able to weather the storm" by continuing his retail operation, but he doesn't want to go through the trouble of manufacturing again.
"I believe I could get that manufacturing permit under these current rules, but I've been burned once," he said. "I feel good about the retail side of things but not so much the manufacturing. It's only going to get harder from a federal standpoint. I'm not willing to risk losing that much money again."
More challenges
Other producers and store owners say they are also dealing with uncertainty over federal regulations, which could require manufacturers to go through a lengthy and expensive permitting process through the Food and Drug Administration. Raney said the rules "could put us all out of business next year."
Also troubling for local shop owners: Many of their customers turned to the internet to buy unlicensed products when prices spiked locally last year.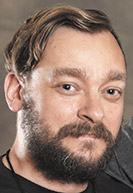 McMahon
Evan McMahon, chairman of advocacy group Hoosier Vapers, said "stores are doing a lot better than they were, but they're still battling the companies that sell online and don't have retail or manufacturing permits."
"Slowly, people are realizing it's better to come into a store instead of buying blindly online," McMahon said. "There's still a large portion that hasn't come back."
Head said he was not surprised to hear about consumers buying juice from online retailers in violation of the law while the monopoly was in place.
"I'm sure that was going on last year," he said. "I'd hope the state would be proactive … in making sure [unlicensed producers] pay severe penalties."
Most producers interviewed by IBJ said the series of controversial laws and changes—and impending effects on the industry—could have been avoided if lawmakers had listened to people on the ground.
"There were a lot of people who told them exactly what was going to happen," Niece said. "It happened."•
Please enable JavaScript to view this content.