Safeway is a survivor.
The local grocery chain hatched during World War II has outlasted other homegrown competitors such as Marsh Supermarkets and Double 8 Foods, at a time large nationals are increasing their market share.
In fact, Safeway has new owners who are determined to step up the chain's game. Brad Cross and Scott Weaver, who bought the company in September, are spending $500,000 to improve the five existing groceries, and they reached a deal this month to open an outpost in the former Marsh at 1815 Albany St. in Beech Grove—the first of what they hope will be multiple new locations.
Former grocery executive Danny O'Malia is impressed with Safeway's staying power.
"They serve the niche that is appropriate for that neighborhood, and I admire them for surviving," said O'Malia, who sold his O'Malia Food Markets chain to Marsh in 2001.
Safeway has stores at 2176 Shelby St. on the south side; 5602 N. Illinois St. and 3008 Kessler Blvd. on the north side; and 2435 N. Sherman Drive and 5040 E. 16th St. on the east side.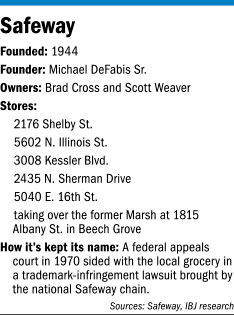 The cozy stores are throwbacks to a bygone era, before Walmart, Target and Meijer began dotting central Indiana with supercenters that approach or exceed 100,000 square feet.
The Safeway stores range from just 11,000 square feet (56th and Illinois) to 34,000 square feet (the former Marsh in Beech Grove).
The new owners have no grand ambitions to take on those retail goliaths. Instead, the key to a prosperous future, they believe, is for Safeway to stick to its knitting.
"We're trying to make them more neighborhood-friendly," said Cross, before carefully adding, "not that they weren't."
Cross, 60, and Weaver, 58, aren't saying how much they paid for Safeway—which, by the way, has no affiliation with the giant West Coast grocer with the same name. The pair also wouldn't identify the previous owner nor disclose sales, beyond saying they "continue to inch up."
Besides a brief week-long stint selling shoes in the 1970s, Cross always has been in the grocery business. He graduated from Indiana University in 1978 with a degree in management and excelled to become one of the youngest Kroger store managers in Indiana.
Cross left after five years to work with a cousin, who had a few independent stores in Tipton, before going to work for Zoltan Weisz, a Holocaust survivor who founded Seven-Eleven Supermarkets (the name changed to Double 8 in 2000). Cross spent 24 years with the company, leaving in 2014 to join Safeway. The former owners had recruited Cross to groom him as a possible successor.
It was then that Cross met Weaver, a Greenwood native who attended Ball State University and spent 15 years as a tax consultant at the former Geo. S. Olive (now BKD) accounting firm. He left in 1997 to pursue a career in venture capital and was a partner at Indianapolis-based AGS Capital LLC from 2002 to 2010.
Weaver left ACS to buy Grocers Supply Co., a local wholesale distributor of grocery products. Safeway was a customer and, in 2016, Weaver sold Grocers Supply to Winkler Wholesale Grocers in Dale to become a co-owner of Safeway.
Wi-Fi coming
Weaver also owns three Heartland Market stores in Greentown, Francisville and North Judson, and three R&M Food Market groceries in Brookston, Monticello and Rensselaer.
"It's a good company," Weaver said of Safeway. "We serve a really niche market. All of our stores are what I call neighborhood stores. That's what attracted us to the store in Beech Grove."
That location, about a block west of the old St. Francis hospital, should open by September.
In the meantime, Cross and Weaver are embarking on their initiative to modernize the Safeway stores by installing Wi-Fi and adding coffee shops, starting with the store at 56th and Illinois in the Butler-Tarkington neighborhood.
So far, they've repaved that store's parking lot, replaced the fluorescent street lamps with brighter LED lights and started selling plants. They also plan to widen the produce aisle and relocate the service counter to further open up the entrance.
"That's the trophy store, in my opinion, because of the income and the demographics," said Frank Swiss, a retail broker at Swissco Real Estate who represents North Carolina-based The Fresh Market.
The owners also are improving store lighting and adding more refrigeration. At Beech Grove, an area that seats 25 will be available for patrons who want to sit and eat the hot, prepared meals the store will offer.
In addition, Cross and Weaver in September will roll out a new website, customer loyalty program and smartphone platform that will disseminate advertisements and coupons.
It's also possible they could add a few stores.
"We have a couple of projects that we're looking at around the city that fit our niche," Weaver said.
Safeway has 180 employees, 70 percent of them full time. What's unusual for a small, independent grocery is that the workers are members of a union. Nearly all the former Marsh employees in Beech Grove will be coming on board, including store manager Carl Glaze.
He worked 38 years for Marsh and, although employees could "see the writing on the wall," the company's demise was still heartbreaking, he said. Of the 44 Marsh stores that remained at the time of Marsh's May bankruptcy, 15 were purchased by Fresh Encounter Inc. and 11 by Kroger Co., both Ohio-based companies.
'Price and quality'
Glaze knew little about Safeway but so far has been impressed with what he's seen. The biggest hurdle, he said, will be breaking Marsh's image of a high-priced grocer.
Safeway belongs to a co-op and should be competitive with other grocers, especially with its private-label brands, he said.
Glaze might be surprised to learn that Cross and Weaver not only write Safeway's advertising but also sweep store parking lots and retrieve shopping carts.
The two acknowledge the challenges they face in making Safeway more competitive but think they have a few advantages. For instance, they buy their chicken fresh and package it themselves.
"Shoppers will drive for price and quality," Weaver said. "We think we offer both of those."
Safeway has managed to remain a stalwart in the city for nearly 75 years, despite constant shifts in shopping trends.
Safeway was founded in 1944 by Michael DeFabis Sr., who operated the stores with his three brothers (Phil, Julio, Ernest) for more than 40 years.
They opened their first store at Lafayette Road and Tibbs Avenue on the west side and grew the chain to more than 20 locations. It merged in the 1970s with another local grocer, to become Preston-Safeway, before reverting to Safeway under different ownership in the 1980s.
The Safeway name, however, almost didn't survive due to a trademark-infringement challenge dating to 1963 from the large Safeway chain based in California. That's when the corporation first demanded in writing that the local company stop using Safeway.
At the time, the California Safeway had more than 1,800 stores, but only three east of the Mississippi River, and boasted sales of $2.6 billion, according to court documents. The subsidiary of Albertson's since has contracted to 1,300 stores.
Safeway in California ultimately sued in federal court and lost. It appealed the decision to the Seventh Circuit Court of Appeals in Chicago, which in 1970 agreed that the local Safeway could continue using the name, but only in Indiana.
"We agree with the district court that more than one person is entitled to use the mark 'Safeway' in commerce," wrote the appellate judges, noting that the two do not compete in any market.
Any confusion among consumers that might exist today is virtually non-existent, Cross said, save for the occasional "gift certificate" that an ill-informed patron might try to pass.•
Please enable JavaScript to view this content.