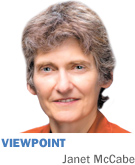 Despite the reality-show suspense ahead of President Trump's announcement in June that he was withdrawing the United States from the Paris Climate Accord, the decision should have surprised no one. What would have been surprising would have been a decision to stay in, given the administration's many steps to rescind, delay, reconsider and defund policies put in place during the Obama administration to address emissions of greenhouse gases and the Trump administration's actions that will speed up extraction of fossil fuels.
What difference will our country's withdrawal really make? There's both good news and bad news.
On one hand, there is strong reason to believe that reductions of greenhouse gases will continue in the United States, even without federal policies to drive them. The energy market is moving away from coal and toward natural gas and no-carbon wind and solar power. There are now more solar jobs in Indiana than coal.
Withdrawal has galvanized commitment across the country to address this serious challenge even if our federal government won't. Since the announcement, more than 1,400 mayors, corporations and academic institutions have affirmed a commitment to the goals of Paris and to taking steps within their power to curb emissions. And you can be sure that companies like Microsoft and Target and cities like New York and Houston can make a difference by demanding renewable energy, moving to electric vehicles, increasing energy-efficiency and taking other common-sense steps. These actions are not just good for the climate—they save money and create jobs and positive investment in American communities.
On the other hand, the withdrawal brings at least three significant downsides.
First, we have now isolated ourselves on an issue of international significance and handed leadership to China. We're not entirely alone. Syria and Nicaragua didn't join the Paris Accord, either, though Nicaragua's beef was that it didn't go far enough. That's not where American companies want to be.
Second, we have given other countries plenty of reason to take their own commitments less seriously. Fewer resources in the Green Climate Fund will make it harder for undeveloped countries to figure out how to reduce emissions while working to increase their standard of living to something within spitting distance of ours here in the United States.
Third, one of the critical roles for the U.S. in the accord was to ensure that countries used credible and transparent approaches to accurately track their emissions reductions. With our scientists out of the picture, we can expect loose or uninformed accounting practices and we won't be there to call foul.
One final point. I am embarrassed that my country would take this step. We have built our success on our drive to invent, innovate, make scientific discoveries and take those accomplishments into the wider world for the improvement of society globally and economic prosperity here at home. We are a country that cares about the billions of souls living elsewhere in the world, not just because it is important to our own economic well-being and national security, but because it is the right thing to do.
No one thought the Paris Accord would "fix" global climate change, but it was a huge step in the right direction, and it came about in large part because of U.S. leadership. As someone personally involved in EPA's climate work, I know how important U.S. leadership was in getting to the accord and how our absence will inevitably inhibit its success. This step does not reflect the America I know.•
__________
McCabe worked as acting assistant administrator at the Environmental Protection Agency's Office of Air and Radiation until January and spent six years as assistant commissioner for air quality at the Indiana Department of Environmental Management.
 
Please enable JavaScript to view this content.