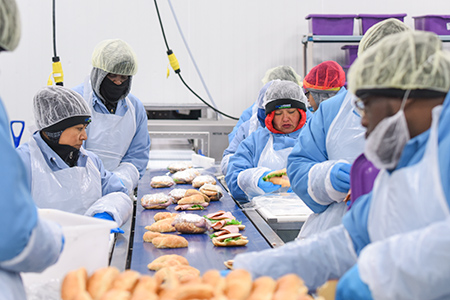 As the line blurs between grocery stores and restaurants, Indianapolis-based Caito Foods LLC sees a clear path of opportunity.
Until this year, Caito's business was built around only fruits and vegetables. The company began as a produce wholesaler in 1965, and in 1998 expanded into cut produce—selling packages of watermelon chunks and mixed-vegetable trays to retailers and food producers.
But in January, the company opened a $32 million facility designed to cook and package meals and side dishes such as salads, pasta, deli meats and pinwheel sandwich wraps.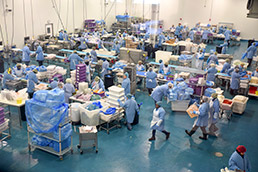 The 120,000-square-foot Fresh Kitchen facility employs about 200 people, all on a single production shift. (IBJ photo/Eric Learned)
Caito calls this addition its Fresh Kitchen facility. Located on Caito's North Post Road campus, Fresh Kitchen encompasses about 120,000 square feet of production space. The facility started shipping products in February.
It's part of Caito's strategy to get in on a rising trend in the food industry: takeout prepared foods sold at grocery stores, convenience stores and other outlets.
"You're going to see more and more retailers looking at getting into selling fresh foods," said Caito President Bob Kirch. "We knew that was a space we could capture and take advantage."
According to the Chicago-based consumer research firm NPD Group, the purchase of prepared foods from grocers grew nearly 30 percent from 2008 to 2016, accounting for $10 billion of consumer spending in 2015.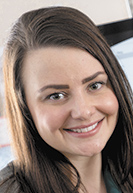 Oliver
The food industry has even developed a name for groceries that dip into the restaurant business: "Grocerant" is the term given to stores with offerings like hot food bars and salad bars, a large variety of deli-type items like sandwiches and roasted whole chickens, and even seating areas so customers can eat their food on site.
"That whole market has been increasing over the past five years or more, and I think we're going to see that increasing," said Haley Oliver, an associate professor of food science at Purdue University.
Here's the opportunity, as Caito sees it: In the world of prepared foods, the barriers to entry are high. Producers must invest in the right equipment, and they need the know-how and resources to comply with a host of food safety and security regulations. Grocers probably won't want to produce their own prepared foods—but they might be interested in buying these products from Caito.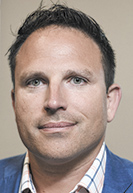 Kirch
"We were trying to look for things that we knew retailers didn't necessarily want to get into," Kirch said.
That was the same strategy that launched Caito into the cut-produce business in the 1990s, Kirch said. As retail operations consolidated back then, the largest chains set up their own in-house produce-distribution networks, which squeezed Caito out of the picture. But those retailers were less interested in chopping produce. By stepping into that niche, Caito could retain the big guys as customers. Now, Fresh Kitchen is pushing that idea a step further.
It's a strategy that makes sense to John Talbott, associate director of the Center for Education and Research in Retailing at Indiana University's Kelley School of Business.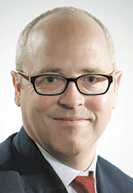 Talbott
Food production is a tricky business, Talbott said. "You're going into a whole set of different regulatory environments."
A producer like Caito, Talbott said, can capitalize on this fact. Caito already knows food distribution and production, and it can use this expertise as it ventures into prepared foods.
Another factor, Talbott said: Caito should be able to get higher margins for its prepared foods because of the extra work involved.
"They're taking over tasks that might have been done by someone else, and they're going to get paid for that," he said.
Caito distributes produce to 23 states in the eastern half of the country, including the Midwest. Because of shelf-life limitations, the distribution area will be a little tighter for Caito's prepared foods; the company is targeting customers within a 500-mile radius of Indianapolis.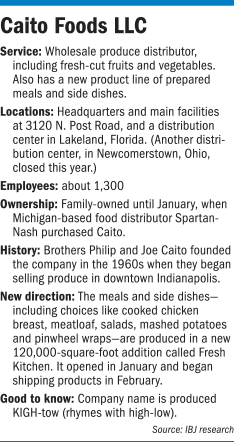 Within this smaller footprint, Caito is looking at convenience stores as another opportunity for Fresh Kitchen.
Kirch offered Sheetz Inc. and Wawa Inc. as examples of convenience-store chains that emphasize fresh foods. Wawa's website touts breakfast items, salads, soups, sandwiches and other foods. Sheetz's website describes a made-to-order menu of items available 24 hours a day. Both chains are based in Pennsylvania and their stores are mostly in East Coast states.
The fresh-food convenience-store trend hasn't hit the Midwest like it has the East and West coasts, Kirch said, and Caito hopes to fill the gap.
This strategy, too, seems reasonable to Talbott, who called it "an opportunity to be that supplier of choice within this region."
Caito could also develop products that cater to Midwestern food preferences, Talbott said.
Caito's Fresh Kitchen currently employs about 200 people, and it's producing 20,000 to 25,000 items per day in a single production shift.
The facility also has a separate test kitchen to develop new products.
Production is still ramping up, and the facility was built with expansion in mind. There's ample floor space for additional equipment.
"We want to be able to grow and add without much impact to the existing operation," said Bill Brock, Caito's president of operations.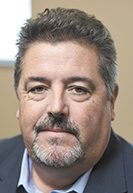 Brock
Caito's Fresh Kitchen investment is also related to another major change at the company. In January, Michigan-based food distributor SpartanNash acquired Caito for $218 million in cash.
SpartanNash, which generates more than $7.7 billion in annual revenue, distributes grocery products to more than 2,100 independent retail locations nationwide. The company also operates more than 150 company-owned retail stores and distributes grocery products to U.S. military commissaries around the world.
SpartanNash, which approached Caito in early 2016, said Fresh Kitchen was part of what made the company attractive.
"Caito's service area is complementary to our current distribution footprint," SpartanNash interim Chief Financial Officer Tom Van Hall told IBJ in an email. "And through our combined network, we have the ability to serve some of the fastest-growing categories in grocery, including fresh on-trend produce, fresh-cut fruits and vegetables, protein-based prepared meals and side dishes."•
Please enable JavaScript to view this content.