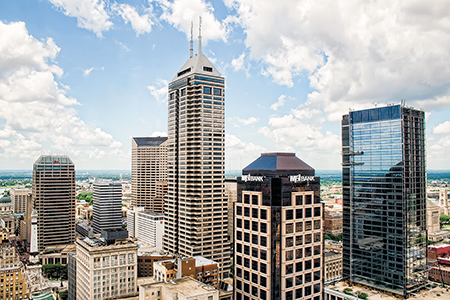 The Indianapolis-area office market continues to show signs of improvement and particularly in the large downtown submarket, where vacancy is steadily shrinking.
Through the first six months of the year, office vacancy for the entire Indianapolis area stood at 14.5 percent. That's down slightly from 14.8 percent at the end of 2016 and from 15.1 percent in the second quarter of 2016, according to a report from Cushman & Wakefield.
In downtown, which boasts 10.6 million square feet of inventory, vacancy dipped to 16.2 percent from 17.1 percent at the start of the year and from 17.5 percent in the second quarter of 2016, Cushman said.
Cushman & Wakefield's overall vacancy rate for the latest quarter (14.5 percent) is lower than estimates from other office brokerages. JLL pegs the number at 15.1 percent, while NAI Meridian says it's even higher—16.9 percent.
What's more certain is the recovery of the downtown office submarket, where vacancy hovered about 20 percent in 2014. A big contributor to the improvement is the expansion of Salesforce.com, which in May began moving into its namesake tower and absorbing vacant floors.
The San Francisco-based tech giant announced in spring 2016 that it would add 800 workers by 2021, boosting its downtown employment to 2,200.
"Salesforce has begun to take more occupancy of their building, which has contributed to the rise in absorption downtown," Cushman & Wakefield said in its report. "Salesforce has not taken full occupancy of their space in the tower, so expect to see continued absorption as they continue to phase into the building."
Salesforce eventually expects to occupy 11 floors in the 48-story building—the city's tallest.
Through June, the entire downtown submarket posted positive net absorption of 57,866 square feet, to offset any tenant losses the submarket might have suffered.
NAI Meridian also credits the local tech sector for downtown's upswing.
"The CBD (central business district) submarket continued to show strength and depth as tech companies continued to lease space," NAI Meridian said. "This factor, as well as positive net absorption, has given landlords the confidence to invest new capital into updating their buildings' common areas and amenities."
Indeed, the owner of Salesforce Tower, California-based Hertz Investment Group, is embarking on a second-floor renovation that includes adding an 8,000-square foot tenant lounge in part of the space formerly occupied by Urban Market.
The owners of Market Tower and BMO Plaza have made improvements to their common areas as well.
In turn, the higher occupancies are having a positive impact on rents downtown. The average asking rent stood at $20.72 per square foot through the end of June, climbing from $19.35 per square foot at the start of the year, Cushman & Wakefield said.
The average asking rent for Class A office space downtown is $22.15 per square foot, up from $21.50 per square foot at the start of the year.
Since buying Market Tower in 2014, Chicago-based Zeller Realty Group has spent more than $7 million on renovations to the 30-story building. The efforts are paying off, as occupancy has increased from 58 percent to 80 percent, with new tenants that include software firms Mimir Corp., Emarsys North America Inc., DemandJump and Return Path Inc.
Zeller now is shopping Market Tower after spending millions on the upgrades to increase occupancy and make it more appealing to younger companies.
Elsewhere around the city, vacancy in the North Meridian corridor rose slightly to 10.2 percent, compared with 9.9 percent at the end of 2016, due to new office inventory coming online.
The Keystone submarket was relatively flat—declining from 14 percent vacancy to 13.8 percent through the first six months of 2017.
Please enable JavaScript to view this content.