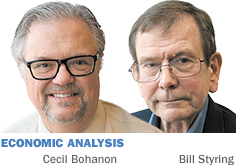 Import tariffs are always sold as job creation programs. The Trump administration, for example, is currently considering a 25 percent tax on imported steel. Domestic steelmakers will grab a larger share of the U.S. market. Steel imports will decline. American steelmakers will then hire more American workers. What could be better? Especially for Indiana, as the Hoosier state produces 27 percent of all American steel and employs 27,000 workers.
However, before we all jump on the protectionist bandwagon, consider one simple fact: In the United States, for every worker employed in the steel industry, 60 are employed in steel-using industries. For every steel worker, 60 others now must make and sell a more costly product.
Forcing steel-using firms to substitute high-cost U.S. steel for low-cost foreign imports makes those businesses less competitive. They export less, are subject to more import competition and, in all likelihood, shed workers from their payrolls. It has happened before: The short-lived Bush-II-era steel protection cost something like 200,000 jobs in U.S. steel-using firms. Compare this to 145,000 workers in today's domestic steel-making industry.
But steel-heavy Indiana "wins, wins, wins," right? Not so fast. Bad things happen in low-profile places. Just one example: Red Gold Tomato in Elwood has 1,400 employees, buys 100 percent of Indiana's processing tomato crop, and produces millions of cans of tomatoes sold worldwide. We don't usually think of a tomato company as a steel-user, but those "tin cans" are tin-coated steel.
Consider some important details. The steel used in food canning is a special variety made from only virgin steel produced in continuous-operation blast furnaces. This means it's not easy to expand or contract tin-plate steel-making capacity. Only two U.S. facilities make tin-plate steel, and they provide around 50 percent of all the tin-plate steel used by commercial food canners. The rest is imported. Slapping a 25 percent tariff on imported steel will clearly hurt Red Gold's sales and payroll. As it will every other Indiana-based steel-using firm. We don't know for sure, but the net job count from steel protection in Indiana could be negative.
Yes, steel tariffs are wonderful for domestic steelworkers. But think also about the employees of all the Red Golds out there. You should, because no politician will ever mention them. They're forgotten in this deal.•
__________
Bohanon is a professor of economics at Ball State University. Styring is an economist and independent researcher. Both also blog at INforefront.com. Send comments to ibjedit@ibj.com.
Please enable JavaScript to view this content.