From pool tables and pinball machines to trivia nights and Texas Hold 'Em tournaments, bars and restaurants have long offered amusements to keep customers around for another round or two.

But now board games—the kind you played as a kid as well as a new breed of the sort that lures tens of thousands of players to Gen Con—are becoming an increasingly common part of the eat-and-drinkery mix.

Standards such as Monopoly, Scrabble and Yahtzee can be found on shelves at Big Lug Brewery, Tin Roof, Thirsty Scholar and more. And it's not uncommon for Apples to Apples or its X-rated cousin, Cards Against Humanity, to be available to aid in socializing with your tablemates.

But some venues have gone even further—making tabletop games the centerpiece of an evening out.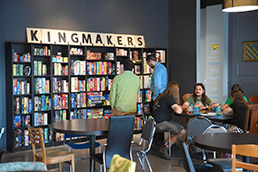 At Kingmakers, below, staff members recommend games and teach the fundamentals. (IBJ photo/Eric Learned)
The concept has been fully embraced by Kingmakers, which opened in February. Its Mass Ave digs are the second location for the Columbus, Ohio-based company.

"We are riding a wave of entertainment bars," said owner Malika Jacobs, pointing to places like Tappers Arcade and Fountain Square's duckpin bowling. "People are looking for something to do while enjoying a beverage."

At Kingmakers, patrons pay a $5 "library fee" akin, Jacobs said, to an entertainment charge in a bar that provides live music.

What do you get for the money? A curated collection of about 300 games and a staff of board game sommeliers (her term) who help guide you to a game you might enjoy. Tell one that you like Scrabble and she might suggest another word game such as Letter Tycoon. Want something a little more involved? You might be steered toward Ticket to Ride or Stone Age.

Trained not only in the rules of the game but also in how to teach in a welcoming, non-intimidating way, the staff will also bring you drinks or snacks ordered from the bar. The drinks are limited to beer and wine, served in stable glasses to avoid spills. Snack offerings are based on how well they go with games.

"We're very deliberate about that," Jacobs said. "We don't have salsa but we do have hummus, because it sticks to chips."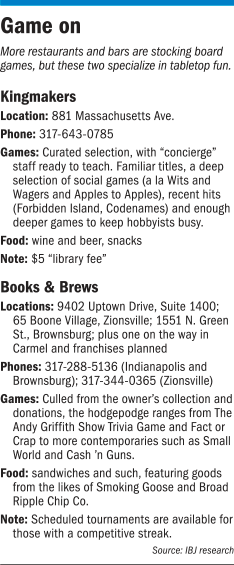 Even though many retail stores such as downtown's new Good Games or the northwest side's Family Time Games offer space to play games for free, Jacobs claims not to have experienced resistance to the entry fee. About one-third of Kingmakers' revenue comes from the library fee; the rest from food and drink sales.

"If you know anything about board games, you know how much they cost. When they realize our sommeliers are teaching games, they see that it's a deal," Jacobs said.

Also unlike those stores, Kingmakers doesn't allow patrons to bring in games of their own. She explained, "It would be like going into a restaurant and seeing [another patron eating] a delicious-looking entree and wanting to order it, but the restaurant doesn't have it on the menu. If you have something in your home library you like playing, that's awesome. But come in and try something different."

Traffic patterns have fluctuated so far, with heavier bar tabs on weekends, while weeknights tend to bring in more dates and smaller groups. The space is available for parties and corporate events—but not during regular business hours.

Jacobs got the idea for Kingmakers when she visited Toronto-based Snakes and Lattes, the store that pretty much defined the game cafe concept. So many would-be entrepreneurs have contacted the Canadian groundbreaker—now with three locations—that its management supplies whimsical but instructive videos outlining best practices for such establishments, including how to deal with the person in a party who has zero interest in gaming.

The goal is to help the already-expanding hobby get even bigger, said Snakes and Lattes Chief Operating Officer Aaron Zack.

"We see it exploding all over the U.S.," he told IBJ. "Board games are very visceral, very tactile. They are a social connection tool and let you engage in an experiential way. That's the zeitgeist we're seeing. It's not just playing the games; it's having an experience."

Appealing to that same need but taking a different tack is Books & Brews, which recently opened a third location, adding Brownsburg to its existing spots in Zionsville and northeast Indianapolis.

While the title points to volumes for sale and beer for indulging, Books & Brews also has a menu of basic entrees and a collection of board games available to borrow. It welcomes customers to bring in games from home. Board games aren't the only hook. The tabletop fun is supplemented by a steady stream of programming including book groups, classic movie nights, and open-mic music and poetry. Admission is free.

"A core principle of ours is about disconnecting from technology and reconnecting to each other," said CEO Jason Wuerfel. "Board games are a big part of that. All the programming is to get strangers to engage with each other."

Wuerfel isn't looking to engage the largest crowds—hence the off-the-beaten-track locations. Instead, he targets his marketing toward potential customers who could become regulars.

"We don't have to be available for walk-in traffic," he said. "People will find us. In an era of GPS, I'm not worried about that."

Books & Brews locations, while each physically different, are designed to encourage people to get up and explore, whether that's to browse used books, play on a vintage video console, or try a board game.

"The most accessible [games] obviously get the most play," he said. "The one I always see out is Battleship."

While games are available anytime, each Books & Brews location has a dedicated tabletop night. They run tournaments for Catan and other games as well.

"We try to find the middle ground for tournaments," he said. "Ones that appeal to people who are into games as well as those who can play it with core competency relatively quickly. We also do fun, quick games like Connect Four and Yahtzee."

The success of Wuerfel's role of the dice can be seen in the expansion. A fourth company-owned Books & Brews will open shortly in Carmel. And five franchise deals are being inked, including one for an out-of-state operation.

At Kingmaker's, Jacobs is hoping to develop the same loyal following. "We want to create an engaging social experience for people who don't necessarily know you can do this all year long, not just during Gen Con or on family vacations."•