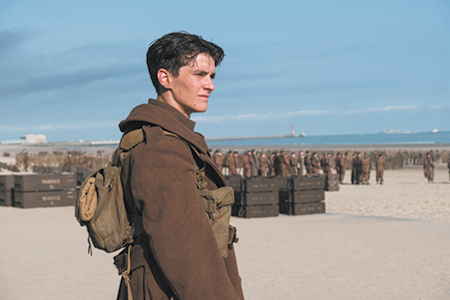 The highest-profile movies of the summer featured a woman who could do wonders and a teen who swung from self-generated webs. While much has been written about those—and the reaction of both critics and audiences has been overwhelmingly positive—frankly, I'm a little tired of save-the-world scenarios involving folks with superpowers. I'll get to them eventually, but here are the summer films I opted for instead:
"Detroit"
Harrowing is hardly the word for this intense drama from director Kathryn Bigelow. Unlike her taking-out-bin-Laden film "Zero Dark Thirty," this one, for many people, won't have a foregone conclusion. I went in ignorant of the details of the real-life event, in which a group of unarmed, innocent people was terrorized by police during the 1967 riots. Some have objected to the movie's relentlessness and brutality. Others to its shifts in style. But I found the powerlessness of its characters and the lack of excess context beneficial to the overall impact. It's as much a war-zone film as "Zero Dark Thirty" or "The Hurt Locker." And I wish anyone who thinks America is a level playing field would see it.
"Dunkirk"
War movies tend to focus on victories or, at least, attempted victories. But how about an epic about retreat? Christopher Nolan's characters, for the most part, are deliberately not memorable. We aren't given back stories about the lives of these soldiers nor much insight into a master plan. We just know that they need to survive long enough to make it back home to England to regroup and fight again. Apart from a high-impact soundtrack from Hans Zimmer and an occasional too-on-point line from Kenneth Branagh, this is a remarkably subtle film whose impact might not hit you completely until long after the credits roll.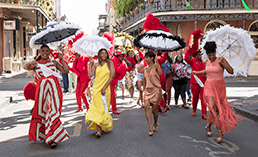 "Girls Trip" (Photo courtesy of 20th Century Fox)
"Girls Trip"
Can you have it all? That's not only a question raised by one of this film's characters, it's also a challenge to the filmmakers, who have attempted to fashion a raunchy comedy that's also a rom com and a woman power flick. Surprise! The result actually works, with Regina Hall, Jada Pinkett Smith, Queen Latifah and Tiffany Haddish (in a potentially career-making part) adventuring, breaking up and making up at an Essence fest in New Orleans. Even at its silliest, "Girls Trip" never pushes us away from the relatable humanity of its core quartet, and there's never any doubt that these women have one another's back. As such, it satisfies audiences that yearn for such connectiveness. Here's hoping Indiana Black Expo invites all four of these talents to next year's Summer Celebration for a sequel.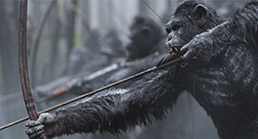 "War for the Planet of the Apes" (Photo courtesy of Universal Studios)
"War for the Planet of the Apes"
Has Hollywood ever produced a more satisfying, smarter, more exciting movie trilogy than the reboot Planet of the Apes cycle, which concludes with this winner? Except for the "Toy Story" trio, I can't think of any. Andy Serkis continues his remarkable, SPFX-enhanced performance as Caesar, an ape trying to lead his species in a complex, crumbling world. I could have done without the obvious "Apocalypse Now" references. And Woody Harrelson is a bit too familiar in what could have been a richer role in the hands of an unknown. But even with elements of "The Great Escape," "Spartacus" and the Biblical story of Moses, this is a remarkable original, providing a terrific climax to the trilogy while opening the door to even more sequels.
"Valerian and the City of a Thousand Planets"
This science fiction extravaganza marginalizes its lead female character right in its title. It's based on the "Valerian and Laureline" French comic book series. Removing Laureline's name from the title only heightens the sexism rampant in the film. Outstanding world-building and truly fascinating alien creatures and cultures can't make up for characterizations and casting that make you root for the cringe-worthy hero and the much-cooler heroine not to get together.
"Wind River"
I found myself rooting for this gritty contemporary Western thriller, which opened the Indy Film Festival this year. But the strength of its early elements made its last reel that much more disappointing. Elizabeth Olsen is a rookie FBI agent pulled into a murder investigation that also includes a sharpshooting local, effectively played by Jeremy Renner. All fine and atmospheric (as one would expect from the writer/director who also penned last year's outstanding "Hell or High Water") until Olsen's character is pushed to the back seat in order for Renner's to take control of the action. Well-meaning but ultimately too macho for its own good.
"Baby Driver"
I hate to sound like a broken record, but couldn't the women in this oddly whimsical action film have been given a bit more to do? Ah well, if you're looking for a fairly brainless heist adventure with a fun soundtrack, you still might find this one in area theaters. I started to zone out a bit once I realized that none of the crimes were particularly creative and that the ending was just going to resort to more chases and fights. I prefer a little more brain with my brawn, even when it comes to high-octane action.•
__________
This column appears weekly. Send information on upcoming arts and entertainment events to [email protected]
 
Please enable JavaScript to view this content.