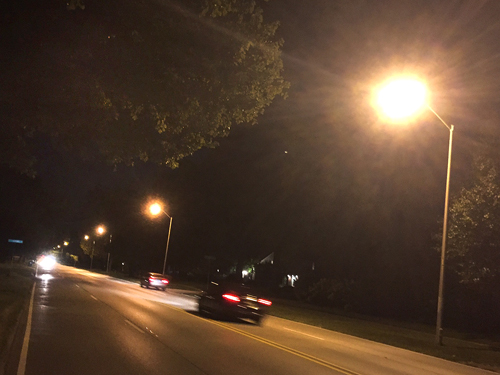 Indianapolis announced plans Wednesday to spend $12 million to update more than 27,000 streetlights in the city and use the energy savings from the new lights to pay for 4,000 more.
Under the plan, the city would pay Indianapolis Power & Light to retrofit 27,240 conventional street lights with light-emitting diode, or LED, technology over the next three years.
The city says the conversion to the more energy-efficient lights will save an estimated $800,000 per year. Those savings will be spent on adding at least 4,000 additional lights.
The city said it would submit the plan to Indiana Utility Regulatory Commission this week for approval.
If approved, IPL expects to begin the three-year conversion project in early 2018.
"Through this investment … our city will join the cutting edge of new street light technology, reducing our carbon footprint and improving our public safety efforts by investing those tax dollar savings into thousands of new lights on long-darkened streets," Mayor Joe Hogsett said in an emailed statement.
IPL said it will use a study by the Indiana University Public Policy Institute that was commissioned by the utility to help determine placement of new street lights.
"This is a major transformation for our city, and IPL wants to ensure that all neighborhoods and communities benefit from the advantages that sufficient lighting can provide, such as greater safety and an improved quality of life," IPL CEO Rafael Sanchez said in written comments. "By securing the agreement with the city and completing the street light study, we are making significant strides and tremendous progress toward a brighter, more efficient future for everyone we serve."
Indianapolis ended a 35-year moratorium on new streetlights last year by installing 100 lights in areas with high accident and crime rates, and in growing neighborhoods.
Indianapolis has 92,000 streetlights, but most are paid for privately. The city pays to light only 29,000 lights, spending $5 million a year to do so.
Please enable JavaScript to view this content.