Steve Braun, the state's Department of Workforce Development commissioner, plans to resign from his post at the end of August.
Gov. Eric Holcomb's spokeswoman confirmed the news Wednesday to IBJ but declined to say why he was leaving.
"You'll know soon," said Stephanie Wilson, the governor's press secretary.
Braun, a former state legislator, was hired to lead the agency in late 2014 by former Gov. Mike Pence and retained by Holcomb earlier this year.
Braun's resignation will be effective Aug. 30, Wilson said.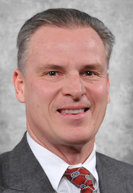 Steve Braun
She said she did not have a resignation letter she could immediately provide and said it was up to Braun to explain his reasons for leaving. Braun's spokesman did not immediately reply to IBJ's request for comment.
Indiana politicos have floated Braun's name as a possible contender to run for the U.S. House seat being vacated by Rep. Todd Rokita, who is running for U.S. Senate. Braun previously represented Zionsville as a state legislator and before that led a data company in the private sector.
His brother, Mike Braun, is also running to be the Republican nominee in the U.S. Senate race against Rokita and U.S. Rep. Luke Messer.
Please enable JavaScript to view this content.