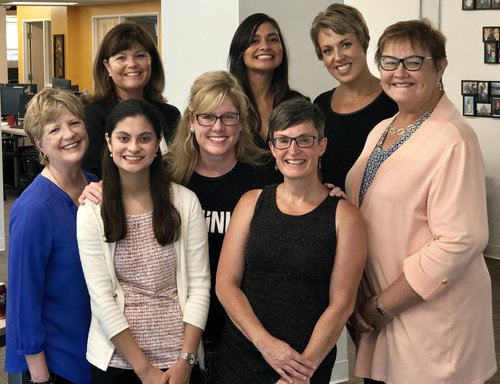 For three years, The Startup Ladies has been hosting free workshops and near-free networking meetups aimed at supporting current and aspiring women entrepreneurs.
Its mission—to identify, educate, connect, and increase investment in women entrepreneurs—isn't changing, but its mechanism is. On Aug. 29 the organization is shifting to a paid-membership model. 
Founder and CEO Kristen Cooper said the new model will allow her to bolster the offerings of Startup Ladies, which she ultimately hopes to expand to other cities. One new program, for instance, is aimed at cultivating female angel investors and venture capitalists, an industry largely dominated by males.
Cooper, who ran Startup Ladies outside of her full-time gig at the tech-product-development shop Sticknleaves, didn't originally set out to make it a for-profit business. But last summer, attendees at its "Startup Study Hall" workshops recommended she start charging. Originally an informal organization, Startup Ladies incorporated as a limited liability company last year.
"People would say: 'You should charge for this. Do you know how much value you're providing?'" said Cooper, who quit her Sticknleaves job in May to focus full time on Startup Ladies.
She later added: "I'm proud to say we've built traction, and I'm proud to say I'm devoting my time to make this even more valuable."
Monthly meetups and bi-monthly Startup Study Halls have been Startup Ladies' two main offerings over the years, The latter have attracted hundreds of people across 55 events since their debut in July 2015.
The new subscription model will usher in changes for both, as well as new programs. 
The meetups, whose fee essentially covers food and drinks at the venues they're held, will remain open to the public. But they'll be four times a year now.
And the Startup Study Halls—which feature local business leaders, investors and innovators as guest speakers—will, going forward, only be available to members and those who pay for non-member tickets. Men have regularly attended past events and are welcome as members, Cooper said. 
There are three membership categories: Entrepreneurs, startups and scale-ups ($400 a year); investors ($500 a year); and support-services vendors ($1,000 a year).
Also, Startup Ladies is rolling out three new members-only events:
-She Suite (a play on C-suite): a forum for discussing mental health issues related to entrepreneurship. It will feature two licensed therapists and will be a place for members to talk through emotional, psychological and social issues.
–Startup Investing 101: monthly workshops aimed at educating people with an interest in investing in startups. They will target people who have check-writing capacity of $5,000 or more, but they need not be accredited investors. "There are a lot of independently wealthy individuals who are very philanthropic but don't know really anything about investing in startups," Cooper said.
-Founders and Funders: a quarterly networking event for budding companies and potential investors to get to know each other. "The members working on startups searching for funding will get to spend time with people who are looking for opportunities to invest," Cooper said.
Another new offering: The Startup Ladies Fund—a pool of money that will help member entrepreneurs prove out a concept, which could entail prototyping a physical product or "wireframing" a tech idea. The pool is sourced by $100 from each investor and vendor membership—as well as generous people or businesses willing to contribute—and will issue two grants per year.
Cooper said she's looking to have 25 entrepreneurs, 25 investors and 10 vendors as members by December. 
Cooper said she already has raised $18,000 in sponsorships for the revamped Startup Ladies before any membership revenue. She's not drawing a salary yet but has been paying two part-time staff members—Jasmine Wong and Nancy Ni.
The Startup Ladies is based out of co-working spaces Level Office, which is downtown, and The Hatch, which is in Broad Ripple. Its events will be at a rotating cast of places, including those venues, The Speak Easy co-working space and area businesses.
"I've never been more excited about a business in my life," Cooper said about the revamp. "And that's because I've seen so many positive changes from women who are building scalable businesses. And I think we've played a role in that … and it drives me to keep going."
Please enable JavaScript to view this content.