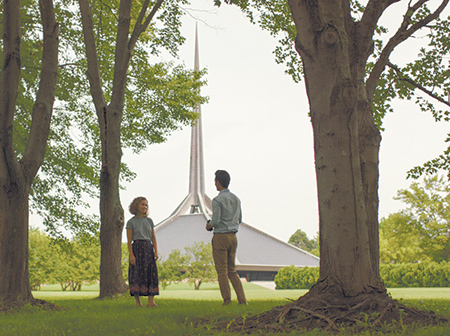 About 15 minutes into "Columbus," the Indiana-shot and -set feature film being released nationally Sept. 1, there's a discussion about attention spans.
Why, asks a character, do we say that a kid who doesn't read books has a short attention span but don't apply the label to an adult who isn't into lengthy video games?
"It's not a matter of attention," one of the characters in the movie answers. "It's a matter of interest." That conversation happens immediately after another in which a mother suggests a dish should have more spice while her daughter argues the advantage of subtlety and a better aftertaste.
"Columbus" certainly puts demands on the attention span of filmgoers. And it lacks the kind of spice Hollywood usually gives to films. But if you go in not expecting traditional pacing and with an appreciation of composition over convention, it has its rewards.
Beautifully shot, the film is filled with extensive wide, lengthy shots focusing on Columbus' landmarks—often dwarfing the people in front of them. It's a movie designed for people who can comfortably and un-self-consciously spend hours in an art museum. And even they might sometimes find it low-key to a point of torpor.
There's a plot tucked away within. John Cho plays Jin, a book translator who comes to Columbus to be with his comatose father, a visiting architecture professor. He meets Casey (Haley Lu Richardson), a young woman rationalizing staying in town after high school because of concern for her recovering addict mother.
He says he doesn't care about architecture. ("You grow up around something and it feels like nothing.") She, on the other hand, is hungry for conversation about aesthetic matters. Yet the film isn't a prettified lecture. When asked about why the Irwin Bank moves Casey, we don't even get to hear her reaction, just see her as she describes it. The result is one of the loveliest moments in the film.
If this were a Hollywood studio film, a romance would develop between Jin and Casey, perhaps followed by an ugly confrontation with a pal clearly enamored with her (Rory Culkin). But since this is far from a conventional Hollywood film, I hope it's not a spoiler to say that's not what one-named filmmaker Kogonada has in mind.
Instead, he's more interested in the relationship of people to place and the influence of one on the other. Does architecture have the power to restore? To heal? Or is that a fantasy architects like to tell themselves?
"Columbus," like the city, tries to make that case for the transformative power of design.
If you're still awake by the end, you might agree.•
Please enable JavaScript to view this content.