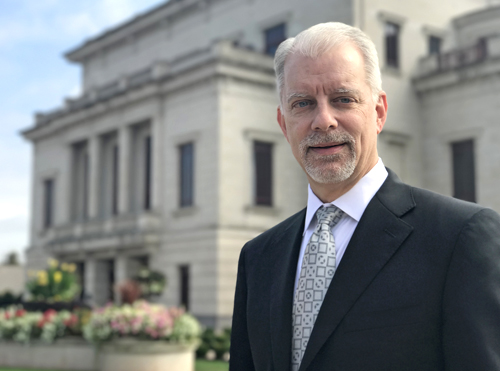 The Center for the Performing Arts in Carmel announced Wednesday that it has named Jeffrey C. McDermott as its new president and CEO.
McDermott, a Carmel resident and longtime partner with Indianapolis-based law firm Krieg DeVault LLP, has been serving as interim CEO and president since August 2016, when Tania Castroverde Moskalenko departed to run the Auditorium Theatre in Chicago.
Prior to that, McDermott had served as chairman of the board for the affiliated Great American Songbook Foundation on the center's campus. His involvement with the center started in 2010—predating the opening of the 1,600-seat Palladium concert hall—when he joined the center's board of directors.
He has since served as the board's legal counsel and a member of its Executive Committee, Development Committee, Audit Committee, Finance Committee and Governance Committee.
"I am humbled and honored to take on a more formal leadership role in this operation, which has become a world-class attraction for central Indiana, a vital component of my city's economic development efforts and a provider of such wonderful entertainment and educational programming for people of all ages in our community," McDermott said in a prepared statement. "We have a tremendous staff and board in place, and I'm excited to work with them in developing the new strategic plan that will elevate our national profile and carry us into the future."
The Center for the Performing Arts is a not-for-profit organization that includes three venues—the Palladium, the Booth Tarkington Civic Theatre and the Studio Theater—and six resident performing groups. The affiliated Great American Songbook Foundation is also located in the Palladium.
The Center's board hired a national search firm to assist with finding a new CEO, and the search committee reviewed more than 40 resumes and interviewed five candidates before making the decision.
"It was imperative for us to conduct an independent search, but Jeff has a stellar reputation in the community and has clearly demonstrated his ability to lead the organization," said Eric Payne, chair of the center's board, in a media release.
"The board has been impressed with the new initiatives in programming, marketing, finance and other areas that Jeff has driven over the past 12 months. We are excited about the momentum at the Center, and with this key piece in place, we look forward to its continued growth and development," Payne said.
McDermott will step down from his partner role at Krieg DeVault, but will continue to be senior counsel at the firm.
His salary was not immediately available, but Moskalenko earned $229,620 in 2014, according to the most recent federal tax filings for the not-for-profit.
Moskalenko joined the Center in 2012 to replace its first CEO, Steve Libman, who resigned in July 2011, after the center's inaugural half-season.
Please enable JavaScript to view this content.