LAFAYETTE—Employees at GE Aviation's new jet engine assembly and overhaul facility here don't lack for elbow room.

The size of the current workforce—87—is dwarfed by the 300,000-square-foot facility. Several work stations stand empty, not yet called into service. Someone so inclined would have space to turn cartwheels across the polished concrete floor.

But if the $110 million factory ramps up as the company expects, it won't stay this roomy for long.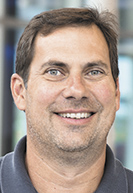 Matteson
The facility, which opened in September 2015 with 21 employees, produces about six engines a week. The goal is to increase staffing and production to a workforce of 230 by 2019 and five engines a day by 2020.

GE Aviation's optimism rests on a couple of factors: The facility—along with factories in Durham, North Carolina, and France—produces the LEAP, a brand-new engine with a backlog of more than 14,000 orders. And, bolstered by low fuel prices and strong passenger traffic, the airline industry in general is on a roll. Airlines are ordering new planes so they can retire older aircraft, increase the size of their fleet, or both.

"It's snowballing forward in a positive way, which is what makes aviation right now so exciting," said Eric Matteson, the site leader for GE Aviation's Lafayette plant. "People are flying again."

The LEAP engine, which stands for Leading Edge Aviation Propulsion, is produced by CFM International, a 50/50 joint venture between Connecticut-based General Electric Co. and France-based Safran Aircraft Engines. CFM launched the LEAP program in 2008, as a more fuel-efficient replacement for CFM56 engines. The first LEAP engines went into service last year.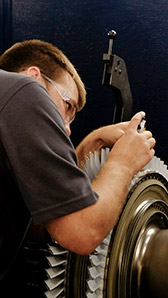 (IBJ photo/Eric Learned)
The LEAP-1A powers the Airbus A320 NEO family of aircraft. In July 2016, Turkey-based Pegasus Airlines became the first airline in the world to take delivery of aircraft powered by these engines. The first U.S.-based airline to take delivery of LEAP-1A-powered aircraft was Denver-based Frontier Airlines, in October.

The LEAP-1B powers the Boeing 737 MAX family of aircraft. In May 2017, Malaysia-based Malindo Air became the first airline in the world to take delivery of LEAP-1B-powered planes.

Lafayette assembles LEAP-1A engine cores, then sends them to France for final assembly at a Safran plant in a Paris suburb. It also assembles complete LEAP-1B engines that it ships directly to Boeing in Seattle. In the future, the Lafayette facility will also assemble LEAP-1C engine cores for the Comac C919, a yet-to-be-launched Chinese aircraft that's in flight testing and verification.

Lafayette is getting into the game at a time of high demand for this type of engine.

LEAP engines are built to power single-aisle commercial aircraft, and both Boeing and Airbus say they see strong demand for this size of plane in the years ahead.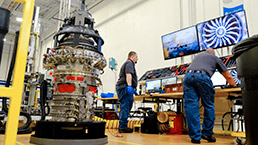 For now, the facility focuses nearly entirely on engine assembly. But it also has a maintenance area that will get busy around 2020. (IBJ photo/Eric Learned)
In its annual Current Market Outlook report, released in June, Boeing said the industry will need 41,030 new airplanes through 2036, mostly single-aisle.

"The single-aisle segment will see the most growth over the forecast, fueled by low-cost carriers and emerging markets," the report said. "29,530 new airplanes will be needed in this segment, an increase of almost 5 percent over last year."

In its own annual forecast, also released in June, Airbus offered a similar outlook. The manufacturer said it foresees a need for 34,900 passenger and freight aircraft by 2036. Of this number, Airbus says, 24,810 will be single-aisle planes.

The Asia-Pacific region will take 41 percent of deliveries during that period, Airbus predicts, fueled by emerging markets like China and India, where air travel will expand as disposable-income levels increase.

Local game plan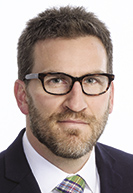 Metzing
The Lafayette plant currently focuses nearly entirely on engine assembly. But that will shift in years to come. The facility's maintenance/repair area, which is mostly quiet now, will rev up starting around 2020, when the first wave of LEAP engines will need scheduled overhaul work—at about 10,000 flights, Matteson said.

Having production and maintenance under roof helps ensure the facility's relevance for decades to come, even after new LEAP engines are no longer being built. (Safran plants in Saint-Quentin, France, and Brussels, Belgium, also handle LEAP maintenance and repair, but GE's North Carolina plant does not.)

"I think it provides more sustainability long term," said Ryan Metzing, executive director of the Indianapolis-based Indiana Aerospace and Defense Council. "That's a stream of business that now keeps the facility relevant and successful."

This part of the Lafayette operation should likely create opportunities for Indiana suppliers that might be tapped to help GE with maintenance and repair work, Metzing said.

Maintenance work also puts the Lafayette facility in direct contact with its end users—airlines and leasing companies around the world.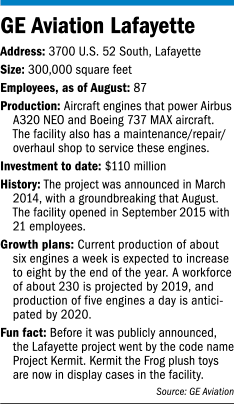 "It creates a global presence for the local area," Matteson said. "At least every other week, we've got a customer in the building from somewhere." That visitation should increase along with increased production, he said.

Competition

Even amid all the positives, GE Aviation still faces challenges—especially in industry competition and worker recruitment.

GE Aviation's main rival for this engine type is Connecticut-based Pratt & Whitney, which recently launched its own fuel-saving engine, the PurePower Geared Turbofan.

Airbus offers its A320 NEO customers the option of choosing either the GE Aviation LEAP engine or the PurePower engine. In October 2016, Spirit Airlines became the first U.S. carrier to put A320 NEOs into service, and Spirit chose the PurePower.

"These are the two competing versions of how to do a new-generation engine," said Seth Kaplan, managing partner of the aviation industry publication Airline Weekly. "The two are kind of competing fiercely."

It's too early to say which engine will be more fuel-efficient, Kaplan said. But so far, the LEAP has had a smoother launch.

"If they've had issues, they haven't been significant enough to bubble up to where the whole airline industry is talking about them—whereas that is the case with Pratt & Whitney," Kaplan said.

In July, Spirit disclosed that it had grounded two of its five new Airbus A320 NEOs because of "various reliability problems" associated with the PurePower.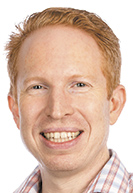 Kaplan
It's not uncommon for new engines to experience hiccups, Kaplan said, but the high-profile nature of the PurePower's difficulties could work in favor of its competitor.

"Right now, if an airline is making a decision [on new aircraft], there's no question they're looking at what's going on—and maybe a bit nervous about what's going on—with the Pratt & Whitney engine," he said. "All of that is probably helpful for CFM."

Staffing challenges

Landing engine orders for the Lafayette plant is only the first hurdle. The next one is finding qualified employees to build them.

"It's been one of our biggest challenges, finding and hiring enough people to work here," Matteson said.

Most of the workers are aircraft mechanics who hold a Federal Aviation Administration credential. It typically takes two years of schooling or equivalent military experience to pass the credentialing test, Matteson said.

In addition, he said, the plant needs workers who excel at soft skills such as teamwork, decision-making and the maturity to discuss problems and resolve conflict.

The facility uses what GE calls a self-directed teaming environment. It's a flat structure, with groups of 15 to 20 employees working out many of their own problems.

Matteson said local schools—Purdue University, Ivy Tech Community College and Vincennes University—have all been a good source of new hires. But the Lafayette facility is also recruiting at other schools, as well as military bases, hoping to snag eligible recruits as they leave the service.

"Our first few waves of technicians came straight from the local market, but after that we needed to start branching out," he said.

About 40 percent of the workforce is military veterans. "When you look at the soft skills needed to really excel here, those out of the military seem to better fit that," he said.

New hires earn $26.50 per hour.

Matteson said GE plans to have about 230 employees in Lafayette by 2019, "with room to grow past that."

But the plant will likely never get bigger than about 400 employees, he said, noting that GE's North Carolina plant, which opened in 1993, has about 330 workers.

GE's strategy nowadays, he said, is to open smaller facilities that can be more nimble and entrepreneurial. And the Lafayette facility's team-oriented staff structure works only for workforces of 400 or fewer.

"The days of the big campuses, at least for General Electric, are gone."•