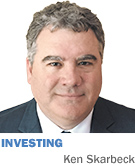 When Amazon.com announced in June that it would buy Whole Foods for $13.7 billion, the stock market reacted by slicing $32 billion in market value off the companies that investors fear will be the next victims of the online retail disruptor. Smart & Final, a food retailer in California, fell 19 percent; Kroger, the largest U.S. supermarket firm, dropped 9 percent; Costco lost 7 percent; and Walmart fell nearly 5 percent.
While Amazon's entry into the food industry creates new competition, the online retailer has been wreaking havoc across the retail universe for some time.
To track Amazon's destructive influence on the retail industry, investment research firm Bespoke Investment Group created the Death by Amazon Index. The 54-company index is composed of firms deemed most vulnerable to Amazon's economic wrath. Today, two months after the acquisition announcement, the bloodbath in retail stocks has accelerated, with the Amazon death index losing more than $70 billion in market value so far this year.
Amid the carnage, the stock market is treating venerable companies like Macy's (-42 percent year-to-date), Dick's Sporting Goods (-51 percent), Target (-25 percent) and Bed Bath & Beyond (-31 percent) like buggy-whip manufacturers in 1910. What's truly remarkable is that this annihilation is occurring in a stock market that is trading at historic highs. So much for the old market saw that "a rising tide lifts all boats."
Conversely, Amazon's stock has rocketed 27 percent this year. That's an incredible gain of $100 billion in market value. Amazon now stands as the fifth-most-valuable company in the U.S. stock market, with a market value of $450 billion.
At the moment, the stock market is obsessed with revenue growth. Investors are assigning a narrow group of revenue gainers with high valuations relative to their profitability. On the other extreme, retailers that fall short on same-store sales, or report a decline in sales, see their stock prices mercilessly punished.
The questions confronting investors: Can the favored revenue growers continue to produce results that justify their high valuations? Are brand-name retailers doomed to long-term decline due to competition from Amazon? Or will there be a "reversion to the mean," where stocks with sky-high valuations fall back to norms and the retail stocks that have been clobbered reverse course and rise back toward their historical valuations?
The argument for reversion to the mean is compelling. Macy's sports a gaudy 7 percent dividend yield. The forward price-to-earnings ratios on Macy's, Dick's Sporting Goods, and Bed Bath & Beyond are in the single digits, as are their free-cash-flow multiples. Alternatively, Amazon's skimpy net income translates to a PE ratio of 180.
Investors tempted to invest in these battered retailers at what appear to be bargain prices should be aware that, if near-term results continue to disappoint, these stocks could fall further.
In a nod to companies that might withstand the Amazon onslaught, Bespoke has created an index of 46 stocks called the Amazon Survivors index. The index is composed of brand-name companies that have some competitive "moat" around their business. Retailers that made the list include Home Depot and Tiffany & Co. This year, the Amazon survivors index has lost 6.5 percent, far less than the Amazon death index, which has fallen 19.4 percent.•
__________
Skarbeck is managing partner of Indianapolis-based Aldebaran Capital LLC, a money-management firm. Views expressed are his own. He can be reached at 317-818-7827 or ken@aldebarancapital.com.
Please enable JavaScript to view this content.