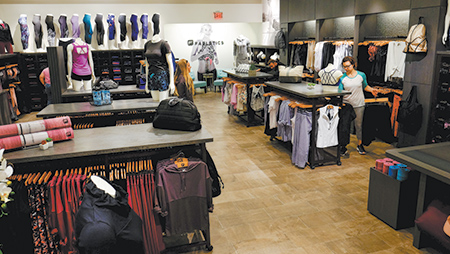 The nation's largest mall owner is getting a big assist from an unlikely source in its bid to backfill wide swaths of space left by failed or struggling clothing chains.
Electronic retailers, or e-tailers, increasingly are branching out from their online roots and establishing a presence in shopping centers in big cities, many of which are owned by Indianapolis-based Simon Property Group Inc.
In an Aug. 1 conference call, CEO David Simon told investors the mall operator has either signed leases or is in negotiations with more than a dozen e-tailers. They include names such as casual men's shirt company UNTUCKit, men's underwear retailer Tommy John, and secondhand clothing retailer thredUP.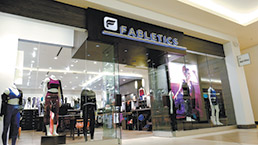 E-tailer Fabletics has 22 stores in 16 states, including this outpost at Keystone at the Crossing's Fashion Mall. (IBJ photo/Eric Learned)
"The news that's important is that, in this cluttered world of trying to get people focused, we are seeing more and more brands that want to gravitate toward where traffic is, and traffic continues to be in a number of centers," Simon said.
Plus-size women's clothier Eloquii and diamond jeweler Blue Nile both have opened stores in Simon malls with plans for more, he said.
That more e-tailers are beginning to embrace brick and mortar represents an ironic twist in the world of retailing, since the trend toward online shopping is widely blamed for many store closings.
But retail experts say the strategy has merit.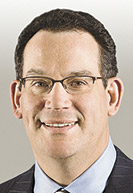 Simon
"Despite all of the problems that the distressed retailers are having and the challenges with store closings and declining profits, despite that going on, consumers still shop more in-store than online," said Anne Brouwer, a retail analyst at Chicago-based McMillanDoolittle.
Indeed, while online sales have grown rapidly, they still account for less than 10 percent of total retail sales, according to research from the Federal Reserve Bank of St. Louis.
Brouwer and others aren't suggesting that e-retailers will be the salvation for malls. Even David Simon acknowledged that some of the e-tailers could open as few as 20 stores. Yet retail experts see the trend continuing, though most of the activity now is limited to cities larger than Indianapolis.
The only e-tailer that so far has an Indianapolis presence is Fabletics. The women's sportswear and accessories line designed by actress Kate Hudson opened a store in the spring in The Fashion Mall at Keystone.
A desire to increase exposure is the biggest factor driving e-tailers to open brick-and-mortar stores. A physical presence also provides a destination where consumers can buy online and pick up by the next day without paying for delivery or, conversely, return items at less expense to e-tailers.
"Best Buy and Walmart and a bunch of others are doing a lot of web business where the customer wants it today or tomorrow and doesn't want to pay shipping," said James Dion, a Chicago retail consultant. "Online retailers are seeing this and saying to themselves, 'Maybe it wouldn't be a bad idea.'"
Online eyewear e-tailer Warby Parker, for instance, generated hype in 2012 when it set out on a nationwide tour using a renovated school bus as a traveling pop-up shop. The company now has more than 50 locations in 24 states and the District of Columbia, though none in Indiana.
More recently, online retail giant Amazon has opened 11 bookstores (the closest to Indianapolis is in Chicago), with two more in California on the way. One, in New York City, occupies space not far from where a Borders bookstore once stood.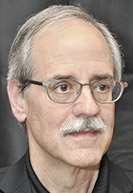 Feinberg
"They're taking a strategic page from catalog companies," said Richard Feinberg, a professor of consumer science and retailing at Purdue University. "There's only so much awareness you can get from being online so, you have to say, 'What's next?'"
Women's clothier Talbots, for instance, takes information from customers who buy from their catalogs to determine where they should open stores, Feinberg said.
Fabletics was among the early e-tailers to embrace the trend. It launched in 2013 and opened its first brick-and-mortar store two years later. It now has 22 stores in 16 states while increasing sales at 428 percent compound annual growth rate, said Adam Goldenberg, general manager of Fabletics and CEO of parent Techstyle Fashion Group.
"While Fabletics is a digital-first brand that has benefited from the growth of e-commerce, the brand sought to capture the attention of many consumers who still enjoy shopping at physical stores," he said in an email.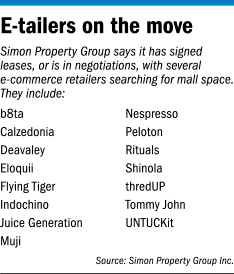 But not all companies have parlayed their success into physical operations. About 10 years ago, Coldwater Creek branched out from their catalog business and began opening stores.
The 362-store women's clothing chain had four in Indianapolis-area malls—the Fashion Mall at Keystone, Greenwood Park Mall, Hamilton Town Center in Noblesville, and the Shops at Perry Crossing in Plainfield—when in 2014 it closed them all.
"They built stores way too big and opened way too many and then they were gone," Brouwer at McMillanDoolittle said.
While Simon highlighted the e-tailers' growing appetite for shopping center space as a bright spot for his company, he acknowledged that the climate overall is difficult.
"I will tell you it's not a very fun environment," he told analysts on the conference call. "We're working extra hard. We're pounding the pavement more than ever. I'd rather we weren't dealing with this environment, but we are, so we just deal with it head-on, do the best we can."
Despite the challenges, Simon increased its quarterly dividend and its full-year guidance for 2017, after reporting second-quarter results that topped analysts' expectations.
Occupancy at Simon's U.S. malls and outlet centers was 95.2 percent as of June 30, down slightly from 95.9 percent from a year ago. Base minimum rent per square foot was $52.10, up 3.2 percent compared with the prior-year period.
Simon's stock price has languished, however, falling more than 28 percent in the past year. Shares closed Aug. 30 at $157.01, down from a 52-week high last September of $219.41.•
Please enable JavaScript to view this content.