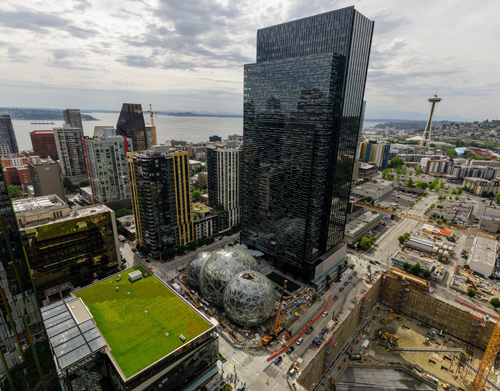 Amazon.com Inc. already has a sprawling Seattle headquarters that attests to its size and ambition. Now, the world's largest online retailer plans to open a second North American campus (dubbed HQ2) that Amazon says could be just as big as the existing one.
And central Indiana—which is known as the Crossroads of America and already has a sizable Amazon distribution presence—would appear to be a viable location for the new headquarters.
The company is asking local and state governments to submit proposals for a development that will likely cost more than $5 billion over the next 15 to 17 years and give the winning city or town an enormous economic boost.
Indiana economic development officials are so far staying mum on whether the state plans to submit a proposal, but officials from the Indianapolis mayor's office are encouraging it.
"Indianapolis continues to receive national attention as a rising tech hub, helping to drive innovation and growth for local and global businesses," the city said in a written statement to IBJ. "That's why we are very excited to engage with state leadership and Amazon to encourage the growth of their current successful presence in our city."
An Indianapolis site selection expert said pursuing Amazon is "too good of an opportunity" for the state, and specifically Indianapolis, to pass up.
Indiana Economic Development Corp. spokeswoman Abby Gras said the state's negotiations with companies are confidential, but she said "you can look at our business rankings and business climate and you can see why companies might be looking at us."
Amazon is already one of the biggest employers in Seattle and expects to the new headquarters to house as many as 50,000 workers, many of them new hires. Cities have until next month to apply through a special website, and the company said it will make a final decision next year.
"We expect HQ2 to be a full equal to our Seattle headquarters," Amazon founder and CEO Jeff Bezos said in a written statement. "Amazon HQ2 will bring billions of dollars in up-front and ongoing investments, and tens of thousands of high-paying jobs."
Amazon recently moved into a new 500-foot-tall office tower in Seattle, complete with 100-foot-tall orbs—Amazon calls them Biospheres—which will host more than 300 plant species from around the world when they open in 2018. The rest of the campus covers several city blocks and is housed in former industrial buildings.
Cities and local governments are expected to compete fiercely for the opportunity to become Amazon's new base. In 2001, Boeing decided to move its headquarters out of Seattle for Chicago, after it was promised a series of tax breaks and incentives worth as much as $60 million—for just 500 employees.
Larry Gigerich, executive managing director of Indianapolis site selection firm Ginovus, said "any time there's a project opportunity like this at a great company like Amazon, everyone including Indiana and specifically Indianapolis" would likely bid.
But he said "it's a little bit of an uphill battle" for the state to land something like this because of the competition.
The location's talent pool is going to drive the decision, "no question," Gigerich said.
Amazon is already the 15th largest employer in Indiana, according to IBJ research. It employs more than 9,000 full-time workers at its five Indiana fulfillment centers, four of which are in central Indiana.
For the new campus, Amazon said it's looking for metropolitan areas with more than one million people—locations with the potential to attract and retain technical talent. While the company has based itself in the heart of Seattle, where employees have access to bars, restaurants and dog-walking services, Amazon said it would consider a suburban location. It also said a multi-building layout similar to its Seattle home was also possible.
Amazon said employees at the new office could earn an average annual salary of more than $100,000. The first phase of the development, scheduled for 2019, will require 500,000 square feet, while the total requirement could reach 8 million square feet beyond 2027.
Amazon said it will let staff from Seattle move to the new campus. In January, Bezos committed to hiring 100,000 people in the United States over the next 18 months.
Expanding rapidly, the e-commerce giant is also opening fulfillment centers across the U.S. and the globe as it broadens its offerings from books and toys to groceries. On Wednesday, the company announced the first such facility for New York, one of 21 new U.S. warehouses announced so far this year that will employ more than 25,000 people.
Last month, Amazon concluded a $13.7 billion deal to buy Whole Foods, accelerating its push into groceries and brick-and-mortar stores. Amazon already operates several college campus locations and has plans to open physical bookstores.
Please enable JavaScript to view this content.