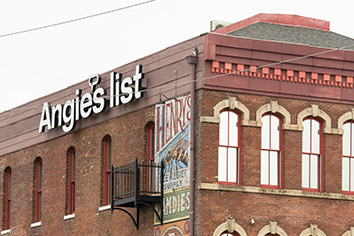 Angie's List Inc. is preparing to cut about 230 jobs, a move related to its upcoming merger with HomeAdvisor, the Indianapolis-based company confirmed Thursday,
The cuts will target areas where there are duplicative roles, company officials said, and will not commence until the deal closes. But Angie's List started informing affected employees Thursday.
"Out of respect for our employees and to allow them time to prepare, we can confirm we have begun notifying employees whose jobs will be eliminated in connection with the anticipated merger," an Angie's List official said in emailed remarks.
"No action will be taken until the deal has closed," the company said. "Approximately 230 roles will be impacted, with nearly half of those employees remaining with the company for a transition period following close. This will not impact customers … We appreciate the many contributions our valued employees have made to Angie's List, and will make every effort—including offering career placement services—to help ensure a smooth transition."
The merger could close as soon as Sept. 29, the scheduled date for an Angie's List shareholder meeting at The Alexander hotel in Indianapolis.
Golden, Colorado-based HomeAdvisor has a little more than 2,200 employees nationwide.
Angie's List officials wouldn't disclose current employment numbers, but in June, after the company slashed 70 jobs, a spokeswoman said the firm's headcount was less than 1,500.
The new cuts, officials acknowledged, would affect "corporate functions," including but not limited to finance, human resources, and marketing.
New York-based IAC, which owns HomeAdvisor, announced May 1 that it would acquire Angie's List and merge it with HomeAdvisor to create a new publicly traded company called ANGI HomeServices Inc.
 At the time, both companies—which have a combined $822 million in annual revenue—said they expected to realize $100 million to $250 million of "annualized synergies" by the end of 2018, but HomeAdvisor CEO Chris Terrill said he wanted to be as "sensitive" as possible when it came to job cuts.
"Invariably, in any merger you do have some overlap," he told IBJ in May. "The good news is that we're growing, our goal is to give the Angie's brand a shot in the arm with some monetization that will be able to help them grow and see where that nets out."
As part of the deal, IAC said it would pay Angie's shareholders $8.50 per-share in cash or convert their stock into shares of ANGI Homeservices Inc. The stock-and-cash offer reflected a 50 percent premium above the average price of Angie's shares over the previous 50 trading days, or $5.68 a share.
Angie's List shares closed at $11.96 each Thursday.
The road to that deal involved many twists and turns, IBJ reported in July. In addition to some price haggling and 11th-hour concessions, the account found in public filings illustrated how activist investors gained influence over time and how Angie's List's turnaround plans lost favor.
Please enable JavaScript to view this content.