In November 2015, Angie's List Inc. rejected an unsolicited, $8.75-per-share acquisition offer from New York-based internet giant IAC, opting instead to explore a turnaround plan.

By October 2016, that mood had changed, according to recent securities filings detailing the backstory, and Angie's List soon found itself reaching out to potential buyers—including IAC.

IAC announced May 1 that it would buy Angie's List for either $8.50 per-share in cash or by converting the stock into shares of a new publicly traded company called ANGI Homeservices Inc., which would be created through a merger between Angie's List and IAC portfolio company HomeAdvisor. The stock-and-cash offer reflected a 50 percent premium above the average price of Angie's shares over the previous 50 trading days, or $5.68 a share.

But the road to the deal involved many twists and turns, securities filings show, including some price haggling and 11th-hour concessions. Among other insights, the account illustrates how activist investors gained influence, how organic turnaround plans lost favor, and how IAC played hardball at the negotiating table.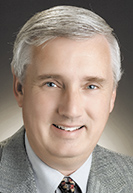 Wright
Angie's List "had a weak hand," said Kip Wright, a senior research analyst with Columbus, Indiana-based Kirr Marbach. "The model that HomeAdvisor used had grown dramatically [since the first offer] and Angie's List had stagnated."

He added: "IAC was going to be fine without Angie's List, but obviously they're better with it."

The rationale behind the deal was simple—combine the two largest home-services-marketplace companies to create an undisputed giant in a $400-billion-and-growing industry. The merger, which will keep the HomeAdvisor and Angie's List brands independent, is expected to close in the fourth quarter.

The top executives at Angie's List, including CEO Scott Durchslag, have been offered severance packages contingent upon their leaving the company within specified time frames, securities filings show. Chief Marketing Officer Angie Hicks, the company namesake who was in on the ground floor of Angie's List's beginnings in the mid-1990s, will remain with the new company and serve as chief customer officer.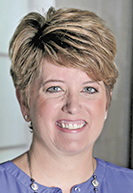 Hicks
Merger conversations between IAC and Angie's List started in October 2015, when IAC CEO Joey Levin reached out to then-Angie's List Chairman John Chuang. That was just under a month after Angie's hired Durchslag to steer a turnaround at the company, which was struggling with slowing revenue growth.

Durchslag engaged Levin, but signaled that Angie's might not be interested in devoting resources to exploring a deal while it focused on turnaround efforts. A late October dinner in Chicago between Durchslag, Levin and one other executive from each company didn't change that sentiment much, and by early November, Angie's List board members directed Durchslag to officially decline the $8.50-per-share offer Levin floated.

On Nov. 11, 2015, IAC went public with an $8.75 offer, and Angie's List responded with another no, saying it was "premature to conclude that a strategic transaction was in the best interest of Angie's List stockholders."

In the months that followed, IAC had no other contact with Angie's List about a deal, the securities filing said.

In March 2016, Durchslag unveiled a strategy aimed at boosting revenue growth. The plan included upgrading the software platform on which the Angie's List marketplace ran and lowering the site's long-standing consumer paywall.

Pressure intensifies

That paywall officially dropped in July 2016, but by November the company announced that it was exploring strategic alternatives. Durchslag's profitable growth plan, as he called it, didn't make it nine months before the Angie's List board started seeking other options.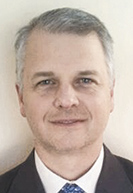 Rice
"In general, I've got to believe that you give your CEO a year" to execute a turnaround plan, said Kerry Rice, an analyst with New York-based Needham & Co.

"And maybe he said, 'Listen, it's not working like I thought it would and it may be better to seek strategic alternatives,'" Rice said. "But that's something I just don't know."

Activist investor pressure from New York-based TCS Capital Management might have played a role in the shift in direction, Rice acknowledged.

The firm began taking an activist position and asking for board seats the summer before Durchslag arrived, and it publicly urged Angie's List to pursue IAC's November 2015 offer. While it didn't get its way then, it won the right in March 2016 to fill three board seats.

Those seats went to TCS Managing Partner Eric Semler and two tech and media industry veterans—George Bell and Tom Evans. On Oct. 3, 2016, two of the longest-serving board members—Chuang and Steven Kapner—stepped down, and Evans took the chairman's seat. Just a few days later, the board formed a four-person committee to explore strategic alternatives, including a sale.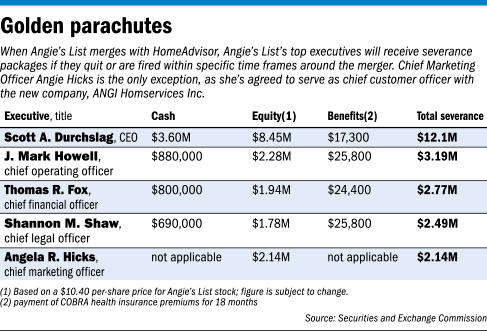 "You become an activist and you win a board seat—the goal is to influence the strategy to what they think is the right direction of the company," Rice said. "You don't want to win a board seat to sit there and listen."

The new-look board moved rapidly, holding three meetings in 11 days with Angie's List management and financial advisers before publicly disclosing its initiative on Nov. 1. Soon after, the company directed its financial advisers to reach out to 62 suitors, including 51 "strategic parties," or companies, and 11 "financial sponsors," likely private equity firms.

Four main suitors

By early January, 27 firms expressed some level of interest, and Angie's List requested initial bids. Later that month, it became clear that only four entities were actively interested, including IAC and three unnamed companies.

The rest dropped out of the running for several reasons, securities filings said, including the fact that "Angie's List was too early in the ongoing process of transitioning its business model."

The securities filings give few details about the three unnamed companies beyond their offers.

Company A offered to merge with Angie's List in a deal that would give Angie's List shareholders 42 percent of the new company. Under the deal, there would be $100 million in cash consideration for shareholders interested in selling for cash.

Company B's final offer was for $8 a share, but at one point said it would consider advanced talks only "if a deal was not consummated with another party." Company C dropped its pursuit in February for reasons not clear to Angie's List.

Rice said interested parties might have included Yelp, Amazon and Google, but he had no inkling who the three unnamed suitors were. Company B probably had deep pockets or access to outside capital, Wright said. Company A might have been closer in size to Angie's List, given its final offer.

While it considered suitors, Angie's financial condition prompted managers in January to inform board members that "absent additional financing or a potential sale transaction, Angie's List would be required to make substantial reductions in its cost structure."

In response, the board directed managers to craft a strategy for operating on a stand-alone basis, and in March approved a plan that included "cost-cutting initiatives in certain areas" and a "narrower focus on Angie's List's core business."

The dance with IAC

Angie's had more back-and-forth with IAC than with any other suitor, public filings suggest, and IAC appeared to have the upper hand. On Feb. 23, IAC presented an offer that would result in Angie's shareholders owning 10 percent of the resulting company. Angie's List countered with a 22 percent ownership stake.

IAC officials balked at that counteroffer, which was presented by intermediaries, and asked to speak directly with someone from Angie's board. In mid-March, IAC's Levin met with Angie's chairman, Evans, and offered to sweeten the deal by throwing in additional assets, including HomeAdvisor's European business. But Levin said everything else in the 10-percent offer remained the same.

Several days later, Angie's List countered by asking for 18 percent, which IAC also rejected. By the end of March, Angie's List asked for 13 percent.

IAC countered with offers of 12 percent and 12.5 percent before agreeing to 13 percent.

"There are companies that can shop themselves around, and if they don't have to get a deal done, they can be very choosy about who they partner with," Wright said, noting that Angie's List seemed to need a deal.

Even though the two sides agreed in principle on a price by the end of March, there were still several sticking points. And at one point, it looked as though the deal was in jeopardy, with senior Angie's List and IAC officials holding an April 15 conference call to "to determine whether there was a basis on which to continue negotiations," according to securities filings.

One issue was the treatment of equity awards for both HomeAdvisor employees and Angie's List employees following the merger and how that would affect the number of outstanding shares.

Another dealt with prohibiting "squeeze-out" transactions by the new company, in which minority shareholders are forced to sell their stock for cash.

Down to the wire

And even after some of those details were ironed out, unnamed "significant stockholders" in Angie's List still had reservations about the price in the last days. On April 28—the Friday preceding the Monday the deal was announced—three major shareholders said they wanted more value in the deal and greater downside protection.

Later that day, IAC said it would be open to offering a portion of the transaction in cash for downside protection. The next day, Angie's List requested that, of the 13 percent offer, 3 percent be allocated in cash at $8.50 a share. IAC agreed but said it would cap cash payments at $130 million.

Angie's List said its officials reviewed the three final bids on the weekend before its agreement with IAC. It said Company A's final offer (42 percent of new company and $100 million cash consideration) undervalued Angie's List and that Company B's offer ($8 a share in cash) didn't provide as high an upside as IAC's offer.

Even though the IAC deal has yet to close, Angie's List shareholders already are benefiting from investor optimism that ANGI Homeservices will thrive. Angie's List shares now fetch around $12.70, more than double their price before the deal was struck.•