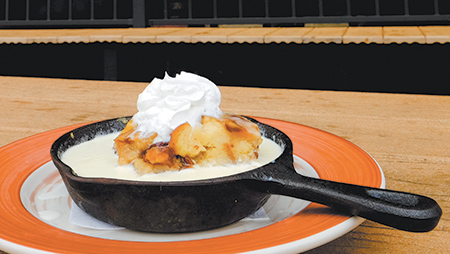 While much has been made of the restaurant resurgence on Virginia Avenue since the creation of the Indianapolis Cultural Trail, there's been less commentary about the equally remarkable development of Main Street in Speedway.
Oh, sure, the street might not have an eatery with the prestige of Bluebeard or Milktooth. But Main Street has been transformed from a stretch that once held Charlie Brown's Pancake and Steak House—and pretty much nothing else—into a thriving spot with a wide range of dining choices, most of them local.
Two newcomers in the mix have ties to other local establishments.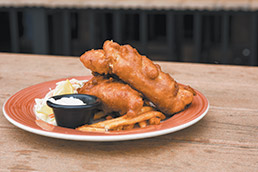 Fish and Chips and Stella's Irish Whiskey Bread Pudding, above, are among the staples at O'Reilly's Irish Bar & Restaurant.
O'Reilly's Irish Bar & Restaurant (1552 N. Main St., 317-802-1760) is cousin to a trio of other O'Reilly's in Greenwood, Fort Wayne and downtown Indy. The new spot holds onto the same menu and extended hours (until 3 a.m.) of its relatives while adapting to its new space in a way that doesn't feel cookie-cutter.
Your experience will, in part, depend on where you take a seat. A tight patio offers sidewalk dining with a view of the Indianapolis Motor Speedway. The bar area just inside the door includes stool seating as well as a few tables. And a dining area in the back provides a bit more elbow room.
We started with Delena's Buffalo Chicken Dip ($8.99), which deftly mixed slow-roasted, hand-pulled chicken with Smithwick's buffalo sauce and an array of cheeses—cream, cheddar, blue and jack—into a gloppy, tortilla-scoopable pleasure.
Any place that calls itself an Irish bar should be able to handle Shepherd's Pie ($12.99), and O'Reilly's offers a satisfying version of the staple featuring corned beef, house-made meatloaf, a veggie mix and champ (mashed potatoes with scallions, butter, milk and cheese). Better still was the Fish and Chips ($9.99 for two pieces, $12.99 for three) with thick cod pieces fried to a proper gold with equally crisp and meaty fries.
Parked in a Hawaiian bun, the Pulled Apple Butter BBQ Pork ($9.99) could have used more pulling—the slow-roasted hog was more of a piece than the title would suggest. The menu called for onion straws on top of the pork, but mine showed up with onion rings, neither really being a necessary addition to the hefty sandwich.
Mandatory is Stella's Irish Whiskey Bread Pudding ($6.69), a thick block with sweet dried cranberries and fire-roasted apples softened with 2 Gingers Irish Whiskey cream. If you have a need for a chocolate rush, there's the insensitively named Irish Car Bomb Cake ($6.69) with three layers of Guinness chocolate cake packed with Irish whiskey filling and topped with Bailey's Butter Cream frosting. Suffice it to say the flavors here aren't shy.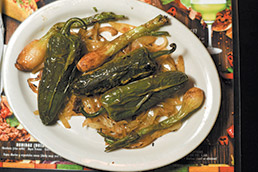 Jalapeno Toreados are a simple highlight at Tacos & Tequila.
Just a few doors down, Tacos and Tequila on Main (1502 N. Main St., 317-992-2193) adds another flavor to the Speedway lineup.
The candied jalapenos in the Tex Mex Nachos ($8) lent an unexpected grace note to what can be a cliche of an opener. Jalapeno Toreados ($2.25) offered milder-than-expected roasted peppers, served simply and pleasingly. Both raised our expectation on other offerings.
Alas, the tacos themselves ($2.50 each) were unexceptional, with overcooked and underseasoned beef, chicken and pork, respectively, simply filling them out. Rather than optional add-ons, the sauces on the table became mandatory. A Burrito ($8.50) was equally unexciting.
After finishing off my Horchata ($3.50 for a large), I decided it best to give T&T a little more time to see if it rises to the level of its sister Speedway restaurant, Barbecue & Bourbon. In a Speedway restaurant field that's suddenly more crowded, just showing up isn't enough.•
Please enable JavaScript to view this content.