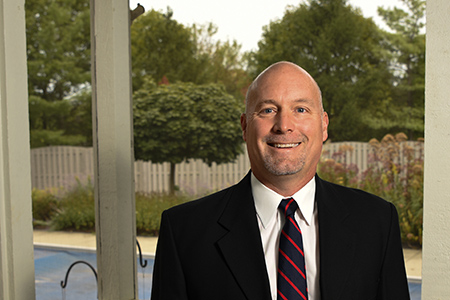 Developing and selling cutting-edge products is tough. Doing so for the marijuana industry, which is illegal at the federal level, is even tougher.
That's the situation Indianapolis entrepreneur Joe Finkam is in with his company iAire, which sells HVAC systems that allow for the control of both temperature and humidity. That latter feature—which is not found on traditional HVAC systems—is a big deal for marijuana growers, and iAire started selling to them early last year.
Things have not been rosy, though. The marijuana-related product, called UltraGrow, has been a drain on the 40-person company's resources, especially for engineers tasked with troubleshooting, tweaking and educating. Building codes, rules and regulations vary from state to state. And marijuana growers can pay only in cash, complicating a core business process that's an afterthought with most vendors.
The challenges are great, Finkam said, but the upside could be greater.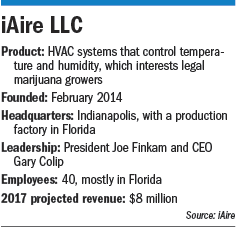 "The entire state of California, sooner or later, is going to be growing millions of pounds of this stuff a year," he said. "Somebody is going to be selling a lot of equipment around it."
He added: "The upside in this business is somewhere around four or five times my annual revenue now every year for the next bunch of years until this market gets saturated."
iAire expects to generate $8 million a year in sales in 2017, with just 5 percent coming from UltraGrow.
Finkam founded iAire in February 2014. While the firm is based in Indianapolis, most of its employees work at its manufacturing plant in Orlando, Florida.
Finkam graduated from Purdue University in 1990 with a degree in mechanical engineering and has served in roles at construction, manufacturing and mechanical contracting firms. His business partner, Gary Colip, is also a Purdue alumnus.
The company's flagship offering is called UltraDry, whose end users include schools, hotels, hospitals, military bases and more. It ranges in price from $6,000 to $50,000 per unit. UltraGrow units, meanwhile, sell for $15,000 to $75,000. 
The idea for UltraGrow was sparked by Nicolas Maderas, an engineering consultant in California who was familiar with UltraDry. In 2015, he suggested Finkam develop a specialty version for legal marijuana growers in the state.
"While there are a number of crops that require careful environmental controls, the cannabis plant is … more sensitive to environmental fluctuations," Maderas said about the importance of controlling humidity to produce "top shelf" marijuana that sells for about $2,000 a pound.
Less-nurtured plants, without "bag appeal," he said, sell for only $500 a pound.
Maderas still works with iAire to fine-tune and sell the HVAC systems.
California is among 26 states that have legalized marijuana at least for medicinal usage. Eight also permit recreational use. Last November, voters in California, Nevada, Massachusetts and Maine allowed recreational usage also, joining Washington, Oregon, Colorado and Alaska.
So far, iAire has sold 28 units, which have been installed at six facilities in California, Oregon, Washington and Maine.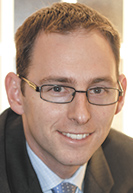 Seaborn
New growers and formerly secretive growers are building large facilities in states like Colorado, driving up demand for industrial-grade equipment. University of Denver assistant professor Paul Seaborn, who taught a class about the business of marijuana, said most available equipment was not specially designed for cannabis production.
"There's not a lot of specialized equipment for this industry," he said, "so everyone here was sort of experimenting with modified equipment for other industries in terms of HVAC, purification, lighting and fertilizer."
For iAire, the challenges go beyond securing customers and providing systems that meet their needs. Collecting payment also has been a headache.
Marijuana growers deal in cash because federal laws prohibit banks from moving money associated with contraband across state lines. 
To address that, iAire sells its equipment to distributors or leasing companies, which then own the product and are able to sell to growers within that state for cash. But that mechanism isn't always possible.
"There were a couple of times when I thought I was going to have to go on a plane and bring a couple hundred thousand dollars' worth of cash back," Finkam said. (He was able to find a third-party reseller, he said, so he never had to fly with cash and risk TSA confiscation.)
Another challenge for iAire has been the high stakes associated with failure. Some growers have hundreds of cannabis plants on site, which require changing temperature and humidity levels over the course of a two- to three-month grow cycle.
Even the slightest malfunction can affect growth cycles, and Finkam doesn't want his system to be blamed for crop losses.
"Normally, if you're not heating or cooling the building right, people may complain a little bit, but there's usually not a big cost tied to it. If you can't control humidity where they're growing pot, and you kill a series of plants, now you're talking, potentially, hundreds of thousands of dollars that you impact."
Finkam said that's the main reason he's been taking it slow—he wants to make sure he gets it right.
"We're finally to the point where we feel fairly comfortable with the equipment and our logic," he said.•
Please enable JavaScript to view this content.