Zionsville resident Sarah Agee launched her wedding-planning business, Plum & Poppy Weddings and Events, about five years ago on the suggestion of a friend who photographed weddings. Agee, who had a culinary and catering background, decided to give it a shot. She planned a dozen weddings for free her first year, then the business took off. Her company plans about 35 weddings a year now, plus she owns a Zionsville event venue called The Barn. It hosts about 35 weddings a year for clientele that, for the most part, doesn't overlap with Plum & Poppy.

IBJ: Pinterest and social media have kind of changed the landscape of weddings—for better or for worse. What kind of impact do you think those platforms are having on wedding planning?

Agee: Honestly, most of my clients are making a collaboration of five to 10 ideas—a little bit of this from here and that from there—bringing together elements like that.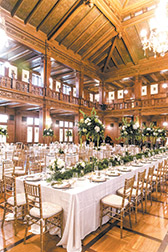 But it's so different from how it used to be, because people used to come and go, "What can you do? What's possible?" You know, they hadn't seen thousands of other weddings. They maybe picked up a bridal magazine and saw a dozen in each magazine.

Whereas now, I think we do a lot more diverse weddings because clients see a wedding that happened in California, they see a wedding that happened in France, they see a wedding that's from Australia, Georgia, Chicago. They just see much more than they used to be able to. So I actually think it's kind of neat because it gives more inspiration for people to draw on.

I think we do better weddings in Indianapolis—more interesting, more unique—than probably 10 or 15 years ago just because there's more to show people.

Is it easier or harder when clients come in and already have pictures on their phones and know what they want versus not having any idea?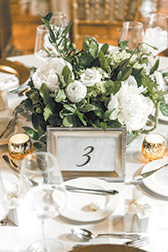 I don't have a huge preference one way or the other. … It's just fun in different ways if people come to you with it or if you help them find it, but both are really fun. But it's two types of brides—people either come knowing what they want or they have no idea. They just have thought about it a bunch or they haven't, and both are perfectly fine with me.

Have you ever had a client come to you with an idea from Pinterest that ended up just being unrealistic?

Most of the time … the reason why they can't have something is budget-related. Luckily, there's amazing vendors in Indianapolis, and we can pretty much do anything, but it all has a price.

A lot of times, we do a take on something. People come with an inspirational picture and I'm like, "That's awesome. That's $30,000 in flowers on those three tables you're looking at." And they're like, "OK, that's a lot more than we wanted to spend on flowers." So we're like, "How do we get that look or feel or do a riff on that in the price point that you want to be in?"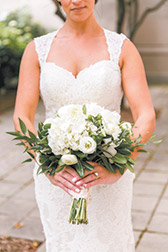 A lot of times, Pinterest is like a great big idea kind of thing, but we're not usually replicating an exact picture. And I'm glad we're not because that would be super boring to just re-create exactly what someone else has done before. It's more an inspiration platform, which I think is really helpful.

How important has social media become for your job in particular?

It's really helpful to me. I have clients who will say, "Oh, I loved how so-and-so did that," because they'll see our pictures.

They will name other clients' weddings, and at first it kind of freaked me out. Sometimes you feel like you do all this stuff that's free like Instagram or Pinterest or Facebook and you're like, "Is anybody else looking at it?" Clients really do use our past work as inspiration for their own weddings.

And for me, it's a helpful tool. … People say, "I have such a hard time picturing what that's going to look like." So I can pull up [pictures] on my phone: "Do you like this napkin folded like this or do you like it folded like that? Do you see this draping—do you like that?" I can point to a flower: "Do you like that one or this one?"

It helps people bring the idea to life in their mind.

What trends did you notice this year and what can we expect to see next year?

I think people are personalizing things more and more, which is great. Thanks to the way you can order things on the internet and Pinterest … you can do it on pretty much anything, which is really fun.

We have sort of seen a move from sparklers to glow sticks. … Glow sticks are awesome because they're much safer. That is such a tiny detail, but it is something I've seen more and more people moving to.

And just moving toward more and more specialty products. People want specialty linens. They don't want standard. They want something a little different.

A lot of times when there's a planner involved, too, we kind of help people to be more detailed like that because they're not overwhelmed by all of it.•