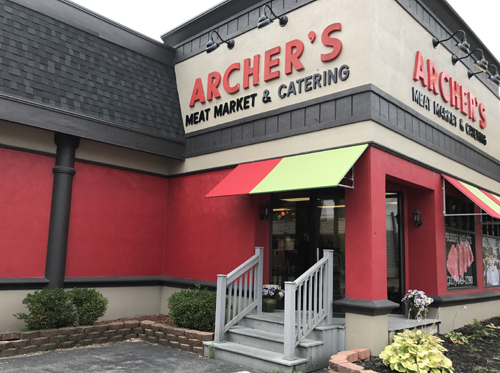 For years, the north side of 116th Street in Fishers has seen all the action.
Since 2014, developers invested nearly $90 million between three projects on the busy corridor, bringing housing, office, retail and restaurant options to the suburb's once-sleepy downtown.
Soon the other side of the street, which is mostly lined with small, one-story retail buildings and parking lots, could see a similar boom. Archer's Meats & Catering, one of the city's oldest businesses—located on the south side of 116th Street just east of the Nickel Plate Railroad—closed Sept. 2, opening the door for redevelopment.
And a developer is already trying to seize the opportunity. Boomerang Development LLC has a contract with the owners of the meat shop to purchase the 1-1/2-acre property and is drawing up plans to replace it with a mixed-use complex.
Boomerang President Corby Thompson said a total of 4 acres are under contract for the project, but he declined to specify the other parcels that would be involved out of respect for their owners.
The $60 million development would include apartments, office space and restaurants.

The project could spark a wave of activity on the south side of the road—something Fishers Mayor Scott Fadness always believed wasn't a question of "if" but rather "when."
"We've been eyeing the south side of 116th Street for some time now," Fadness said. "This is an opportunity to start setting the vision for what the south side of 116th Street is like."
And that's exactly what the city should do, along with finding a way to connect both sides of the heavily trafficked street in a pedestrian friendly way, according to Shelby Bowen, vice president of development for construction management and development firm Envoy Inc.
"I know the south side of 116th really was the next iteration," Bowen said. "We've pretty much run out of room on the north side."
About a decade ago, Fishers officials thought they had a deal to redevelop the area. A $100 million proposal from Ohio-based Fairmount Properties would have brought 400,000 square feet of office and retail to both sides of 116th Street to the east of the railroad tracks. But the developer and the town called off the project in November 2008 as the economy weakened.
This time, should the deal between Boomerang and Archer's fall through, the city is ready to step up and acquire the property.
"We want to make sure this opportunity doesn't go away," Fadness said.
Changing quickly
When Thompson heard that Archer's might be closing, he knew it would be a prime piece of property to redevelop.
He said he's watched the progress in downtown Fishers and still remembers when there were only a handful of businesses, including Archer's. That makes the situation a little bittersweet, he said.
"I was a little skeptical, but I've really embraced what's going on up there," Thompson said.
Archer's owners Michelle and Ron Archer, who closed the business to retire, said they're sad to shut their doors after 48 years in the community but are not upset about the changes occurring in downtown.
"We're very supportive of the mayor developing the downtown area," Michelle Archer said. "It's been great for the families, and it's been great for the community."
The first major downtown redevelopment project, the Depot at Nickel Plate on the northwest side of 116th Street and Municipal Drive, opened in July 2015. It features 242 high-end apartments, 17,000 square feet of retail space and a 430-space parking garage.
The Edge and the Switch developments followed shortly after that.
The Edge includes a three-story, 50,000-square-foot retail and office building and 330-space parking garage on the northeast corner of 116th Street and Lantern Road.
The Switch, which includes a three-story 33,000-square-foot retail and office building, a four-story, 120-unit apartment complex and 400-space parking garage, is located on the northeast side of Municipal Drive and 116th.
All three are open now and almost completely occupied.
And just north of 116th Street, at the intersection of North Street and Lantern Road, a $47 million project that will include a three-story, 30,000-square-foot office building, 500-space parking garage and a four-story mixed-use building with 240 apartments and 5,000 square feet of commercial space, is now under construction.
"It is a lot of development in a short amount of time," Bowen said. "Fishers just moves a little bit faster."
The first of several?
Few details have been nailed down for Boomerang's development on the Archer's site, but it will include multiple buildings that are likely to be two or three stories tall, a parking garage and future trail access.
City officials announced earlier this year their plans to replace a 9.2-mile section of the Nickel Plate Railroad with a paved pedestrian path that would run from Fishers to Noblesville.
Thompson said he's watched the impact that the Monon Trail has had in Carmel and thinks a trail in Fishers could have the same effect, which made the Archer's property even more appealing.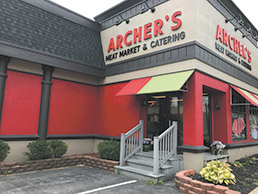 A $60 million project is slated for a 4-acre site that includes the former Archer's. (IBJ photo/Lindsey Erdody)
He said more specific plans could be ready by early next year, but he envisions a complex with housing, offices and restaurants that can be used as a gathering area similar to Italian piazzas.
Fadness said the city isn't looking for specific uses in the project and is excited to work with Thompson on the vision.
"He has a passion and believes in what we're doing downtown," Fadness said. "We were excited, frankly, when we heard he had a relationship with the Archers."
Fadness said the city would consider providing incentives for infrastructure, like a parking garage, similar to what has been offered on other downtown projects.
What's next?
As for more development along the south side of the street, no plans have been made public, but Fadness said "there's a degree of chatter going on."
"I think there's people actively talking about it," he said. "It's a natural conversation for anyone owning real estate on that side of the road."
Bowen said two other projects—the new 106th Street interchange on Interstate 69 and a custom home development just south of the Archer's property—are helping make the south side of the corridor more attractive.
The 106th Street exit, which opened at the end of 2016, gives residents and businesses on the south side of 116th access to the interstate via Lantern Road, allowing them to bypass congestion.
The $30 million custom home development is led by Joe Nixon Properties LLC and Gradison Design-Build. The project is expected to bring 60 single-family custom homes to the neighborhood near Fishers Elementary School.
"It's a desirable place to be, and I think Corby's going to likely do a great job," Bowen said. "It's just creating a place where it sure beats the heck out of a long commute. People want to spend more time where they live and work and less time in the car."
Bowen said he thinks Boomerang's project will likely start a ripple effect for more mixed-use developments similar to what's already finished in downtown.
"My opinion is it's the right thing for Fishers for the next 100 years to redevelop downtown," Bowen said. "It can be a little uncomfortable at this pace … but it's a worthy investment."•
Please enable JavaScript to view this content.