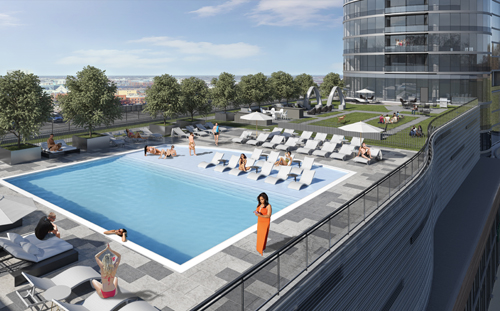 The largest units in the 27-story 360 Market Square apartment project that's been rising on downtown's near-east side will command rents higher than $2,000 per month.
Indianapolis-based developer Flaherty & Collins Properties has released its rental rates for the 300-unit project at 360 E. Market St., which is expected to be completed by the end of the year. It would be anchored at street level by a Whole Foods grocery.
Monthly rent for a 570-square-foot studio apartment will run roughly $1,300. One-bedroom units ranging in size from 729 square feet to 980 square feet will fetch $1,600. The two-bedroom units, topping out at 1,289 square feet, will lease for $2,300.
The rates compare favorably with other new downtown apartment projects and don't seem out of line, said Hannah Ott, a senior managing director of the Indianapolis-based Tikijian Associates apartment brokerage.
She cited Flaherty's Axis at Block 400, Milhaus Development LLC's Mosaic at Artistry, and Deylen Realty's Slate as among the few that boast $2,000-plus monthly rental rates.
"360 Market should have the highest rents, because it's going to have the best amenities, it's going to be the newest thing, and there's been so much anticipation for the project," she said. "Those rents don't scare me at all, and I think they'll achieve them."
Advertised amenities include a heated saltwater pool, a fifth-level deck for lounging and grilling, a rooftop terrace, a business center, 24-hour fitness center, bike storage, bike repair shop, pet grooming spa and electric-car charging stations.
The downtown apartment market has remained strong despite a deluge of construction, with overall occupancy hovering at about 95 percent, according to the most recent statistics from Tikijian Associates.
At 360 Market, Flaherty & Collins is experiencing strong interest and so far has compiled a list of potential renters from 1,650 prospects, said Jim Crossin, the company vice president of development.
The $120 million mixed-use building sits on the old Market Square Arena site just north of Cummins Inc.'s new distribution headquarters. The 42,000-square-foot Whole Foods on the ground level should open in the spring.
Please enable JavaScript to view this content.