Sometimes a small loan can have a big impact.

That's been the case for dozens of small businesses that have taken out microloans—smaller than $50,000—from the Indy Chamber's Business Ownership Initiative.

Small businesses can have a tough time obtaining loans that small from banks or credit unions, as such loans aren't worth their while. And sometimes collateral or credit scores pose problems for small-business owners.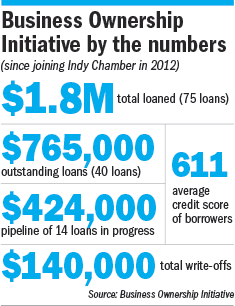 BOI has been making high-risk loans as a not-for-profit since the late 1990s to help underserved businesses. But it got some serious muscle when it merged in 2012 with the Indy Chamber. Since then, it's become a U.S. Small Business Administration-affiliated lender (giving it access to up to $5 million in capital) and has made 75 loans, some as small as $500, totaling $1.8 million.

IBJ spoke with three business owners who have borrowed from BOI about what the money meant for their businesses. The following are excerpts of those conversations, edited for brevity and clarity.

Loan helped kick-start home-health agency
Beverly Johnson, 64
At Home Health Services LLC
6525 E. 82nd St., Suite 216
Annual revenue: $3.3 million
Johnson needed $4,000 to buy computers for her expanding home-health care operation.
I started off with Loving & Caring Home Inc. as a personal service agency in fall 2008. My parents were elderly at the time, and after taking care of them, I realized that other elderly and disabled people also needed home-bound community care. I was a first-time entrepreneur.

That business grew, and as a result, we realized that some of our patients needed more than a homemaker and attendant care … they needed skilled nursing. So we branched out and, in 2010, started At Home Health Services, which provides skilled nursing and a home-health aide.

At the time, we only had two computers, and I realized that in order to keep up with operations, we needed more. So, I was able to get a microloan from BOI, and that helped me get three or four computers. And that really gave me a boost in terms of being able to stay on top of daily administration, records and being compliant with state regulations. It was a much-needed tool, and BOI's coaching and assistance were invaluable.

The loan was for $4,000, and we were able to make payments back on time. I didn't consider other financing options because we were small at the time and I wasn't sure if I would qualify. We started the business with three employees and we have around 112 employees now.
Venezuelan native runs high-end car-repair shop
Carlos Aleman, 41
Autopotenza LLC
10651 E. 59th St.
Annual revenue: $500,000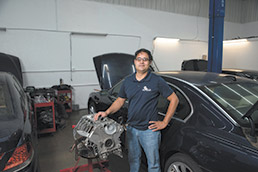 Aleman has tapped BOI twice for equipment, and is two payments away from retiring the first loan.
This is an auto-repair shop. We specialize in BMWs, Mini Coopers and Mercedes. We're going to be opening a new line, which is going to be Porsche. It's a pretty small operation. We only have four guys working here, and we only work on the high-end cars, 10 years or newer. In September, we reached the eight-year business mark.

I've been working on cars since 1993. I'm originally from Venezuela, and I came to Indianapolis to work for racing teams. I came to the U.S. for good in 2003. My dream was always to come to Daytona or to Indianapolis, and the first time I came to the Brickyard, I broke in tears. It was a very powerful experience for me. That was in 2006.

We reached out to [the Indy Chamber] to get this loan. We're getting some new equipment, and it was very convenient for us because I don't have a very long credit history. I needed a new compressor and a new diagnostic system. Actually, this is the second time that I got money from BOI. The first time was to get alignment equipment. That was about 34 months ago—because I have two months left on this loan—and the second time was May of this year. The first loan was for about $13,000. The second loan was for $40,000, and it has a five-year-term.

I had a couple of experiences going to banks, but they made everything complicated, with high interest rates. These loans have been important because it gave me the peace of mind that I was getting a loan that was not aggressive and that I could have longer terms to pay. Otherwise, I was going to have a quick loan with high interest rates with daily withdrawals.
Grocery store looks to expand operations
Ebenezer Ossei-Boateng, declined to share age
KB International
5425 N. Keystone Ave., Suite 400
Annual revenue: $400,000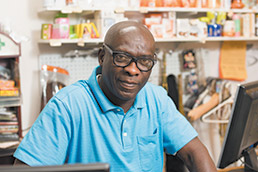 Before finding BOI, Ossei-Boateng used cash-advance loans.
It started in June 2007, and basically what we do is sell mostly African and Caribbean foods. We deal with authentic international foods. For example, we have different types of flour that are organic—plantain fufu flour. We have cocoyam fufu flour. We have other stuff, too, like baked beans, sour cream, digestive biscuits, condiments. We do goat meat, fresh lamb, fresh turkey. Most of the fish, we sell it whole. It's not a fillet; it has the bones in it and everything.

My wife [Mercy] wanted to do it. There are not a lot of international stores in Indianapolis, and there are no international stores on the north side. So, we are the closest to the north side. Everything else is on the west side. Basically, my clientele, I would say, is Caribbean, African. But I have a lot of customers from the Philippines, Spanish customers, and even people from here.

Right now, it's just me and my wife, but one of my goals of this loan is to hire one more employee. I was looking for a loan to expand, but I haven't gotten a good loan until now. Mostly I was doing the cash advance loans, but those were charging too much. The interest was so high it was taking a toll on me. I've been doing that for about four or five years. For one cash advance loan, I borrowed $10,000 and they charged me $2,800 in interest for six months.

I took out $45,000 from the chamber. That was August. It was the biggest loan I've ever taken out. The interest rate is 7 percent. For the cash advance loans, I was paying $3,000 a month. This one, I'm paying less than $1,000. It has a five-year term. And there's no prepayment penalty.

We used the money to buy a freezer, which was about $21,000. Inventory, hire somebody and buy a freezer—those were the three major things. The inventory, we've already done that, but most of our highest-selling products are meat. We had a freezer, but we'd run out of items because we didn't have enough freezer space. For hiring, I'm already talking with someone about coming in three days a week.•