High-deductible health plans are booming in popularity, now covering nearly one-third of Americans who get health insurance through employer-sponsored plans.
The high annual deductibles—an average of $4,647 for families—encourage consumers to think twice about running to a doctor every time they get a cold, and to shop around for the lowest prices on drugs, X-rays and surgeries.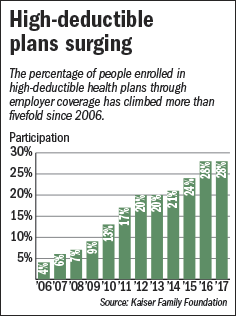 But there's a big flaw in the way the plans are playing out. In an effort to save money, too many people are skipping preventive care—including exams, immunizations and cancer screenings. That's even though such visits are covered 100 percent without any out-of-pocket costs.
According to a new national study conducted by researchers at IUPUI, people on high-deductible health plans are cutting back on preventive care, and need to be educated on the fact that such care does not incur out-of-pocket costs. The research was published in the October issue of Health Affairs.
The skimping on preventive care could be a huge problem, as health officials routinely encourage people to get regular exams and screenings to catch problems early before they become serious and expensive.
The 100 percent coverage is required by the Affordable Care Act. It mandates that private insurance plans cover a broad swath of preventive services—from flu shots and colonoscopies to mammograms and prenatal care—without any patient cost-sharing, removing a barrier that once prevented many people from getting routine, preventive care.
Yet, too many people are still going without, not realizing they aren't on the hook for such services.
The IUPUI researchers said they did not expect to find that people were avoiding exams and flu shots for fear of having to pay out of pocket.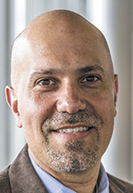 Menachemi
"We just wanted to see if high-deductible health plans were working," said Nir Menachemi, professor of health policy and management at the Richard M. Fairbanks School of Public Health at IUPUI. "Much to our surprise, we found that people were utilizing less preventive care. It's a serious problem."
The researchers reviewed 28 in-depth studies on high-deductible plans, to see if the plans were reducing the cost and use of care, one of the goals of high-deductible plans.
High-deductible plans are usually coupled with health savings accounts, so consumers can pay for health services with pretax contributions from employers.
The plans have lower monthly premiums than traditional health insurance, making them attractive to people who don't expect to need a lot of health care. But there's a trade-off: Consumers usually have to pay a lot more out of pocket for many services—such as visits to an urgent care center, hospitalization or chronic care—before the insurance kicks in.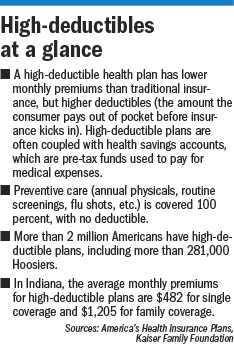 The Internal Revenue Service defines a high-deductible plan as one with a minimum deductible of $1,300 per year for individual insurance coverage and $2,600 for a family. But they can be much higher, and the average today for family coverage is nearly $5,000, according to the Kaiser Family Foundation.
Those steep deductibles are meant to encourage people to shop around for the best price on health services. In addition, people who don't spend all the money in their health savings accounts can roll it over.
But in reality, the high deductibles sometimes discourage people from seeking the care they need, including free preventive care.
The IUPUI study found that high-deductible health plans were associated with a significant reduction in preventive care in seven of 12 studies and a significant reduction in office visits in six of 11 studies.
The study did not say how many people avoid preventive care, or whether people were aware that high-deductible plans offered free preventive care.
"Our study was not designed to find out why high-deductible health plans are working or not," Menachemi said. "Our study was designed just to find out whether the plans are working [in reducing use and cost of care]."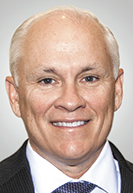 McGoff
Some Indiana doctors said they weren't surprised by the findings, since they often encounter patients who don't know preventive care doesn't have an out-of-pocket cost.
The findings show that more patient education is needed, said Dr. John McGoff, an emergency room physician at Community Health Network and president of the Indiana State Medical Association.
"Preventive care is key," he said. "Too often, people don't realize they have hypertension or high blood sugar until they have big health problems and we see them downstream in the emergency room."
Another snag: Primary care visits are not always the same thing as preventive care visits, said Dr. Teresa Lovins, president of the Indiana Academy of Family Physicians, who has a practice in Indianapolis. Some visits to a primary care physician, such as for managing chronic conditions, will require out-of-pocket costs.
"Over time, patients confuse the two, and just avoid office visits altogether," Lovins said.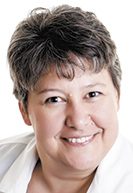 Lovins
State statistics show patients are visiting the doctor less for many types of preventive care. The percentage of females age 50 to 74 who got a mammogram in the previous two years dropped from 75.4 percent in 2012 to 72.5 percent in 2016, according to the Indiana State Department of Health.
Likewise, the number of adults in that age group who got a blood stool test within the past year dipped from 8.8 percent in 2012 to 7.8 percent in 2016.
But in some other categories—such as adults getting routine checkups or colonoscopies—the number actually climbed slightly over the four years.
That information was collected as part of the state's Behavioral Risk Factor Surveillance System survey of several million residents. The survey did not say why the numbers changed.
Insurers say they are trying hard to educate their customers about the importance of preventive care—a message that becomes even more important as the ranks of Americans with high-deductible plans swell.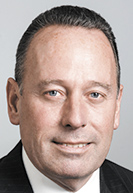 Krajnovich
In 2006, just 4 percent of people with employer coverage had high-deductible plans. Now the proportion is 28 percent, according to Kaiser Family Foundation.
Minnesota-based UnitedHealthcare, the nation's largest health insurer, said high-deductible plans now account for about 40 percent of the people it covers.
"We want people to have those physicals," said Dan Krajnovich, UnitedHealthcare's president of Indiana operations. "That's where a doctor can identify certain things at an early stage, before they become more costly and lead to poor quality of health."•
Please enable JavaScript to view this content.