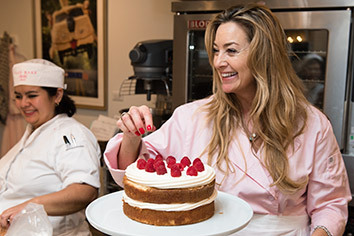 City Center in Carmel is about to get a little sweeter.
Cake Bake Shop, located at 6515 Carrollton Ave. in Broad Ripple, plans to open a second location, in the Baldwin/Chambers building that is currently under construction on Rangeline Road near City Center Drive.
Owner Gwendolyn Rogers said she's been considering an expansion for a while, with her 1,900-square-foot high-end Broad Ripple bakery regularly filled to capacity.
"I can't accommodate enough guests," Rogers said. "In this tiny little house I'm in, it's too difficult."
The City Center store will be 3,600 square feet and feature an outdoor covered patio. Rogers said she's designing the space to have separate rooms so it feels more like a home, and it will feature old French windows to provide a romantic aesthetic.
The existing menu, which features soups, salads, sandwiches, quiche, cake, pie and other desserts, will be available. Rogers plans to also offer dinner and weekend brunch. The menu also has beer, wine, champagne, English tea and Italian sodas.
Cake slices on the current autumn menu come at a premium, running from $10.95 to $13.50. A bowl of the soup of the day is priced at $12.50.
The cost to build out the Carmel space and provide equipment is expected to be $1 million.
Rogers said she expects to hire 40 employees for the new store. She has about 60 currently.
She said she had been approached by other local developers and considered the possibility of opening an out-of-state store, but decided it wasn't feasible. Rogers said she chose Carmel because it's close to the Broad Ripple location, and she likes working with Pedcor Cos., the Carmel-based company developing City Center.
"I need to be on-site at all times," Rogers said. "I'm very hands-on."
The Carmel location is expected to open in fall 2018.
Rogers opened the first Cake Bake Shop in November 2014 after winning the prestigious London Cake & Bake Show in 2013. Future expansions are possible, but nothing has been finalized.
"I do have some pretty fabulous plans for the future, but I can't talk about it yet," Rogers said.
Please enable JavaScript to view this content.