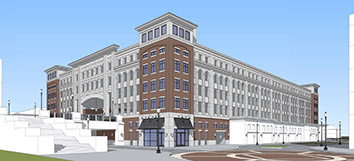 After years with little construction activity at City Center in Carmel, four projects are expected to break ground this year that will bring more parking, housing and retail to the city's core.
The overall vision for the massive $300 million, mixed-use development has greatly evolved since it started as a $77 million idea from Mayor Jim Brainard nearly two decades ago. But details for the $100 million second phase have remained relatively unchanged since proposed by Pedcor Cos. in late 2013.
Pedcor, which has developed a majority of City Center and has its headquarters on the campus, still plans to add 10 structures with 575,000 square feet of mixed-use space.
In December 2014, the Carmel City Council approved a $20 million bond to support the projects and fund a public parking garage, and design work has been under way since then, according to Corrie Meyer, executive director of the Carmel Redevelopment Commission.
In the meantime, the only construction within the development in the past few years has been Anderson Birkla's The Mezz/Monon Lofts and The Nash building by Pedcor.
Anderson Birkla's $7.7 million project included a pair of buildings—one on each side of the James Building/Tarkington Theater—with 42 residential units and 8,500 square feet of office space. It opened in 2015.
The Nash, a three-story building with 10,000 square feet of retail space and 30 apartments, also opened in 2015. It technically kicked off Pedcor's ambitious second phase of City Center in 2013.
Construction on several other buildings had been scheduled to start last fall, and the timeline for specific projects has been shuffled throughout the past two years.
Two five-story structures with 63,000 square feet of space each, known as the Holland and Playfair buildings, had been expected to break ground in fall 2015, but neither have started nor are on the schedule for 2016. An 88,000-square-foot mixed-use building named The Wren was also once slated for fall 2016 construction, but has been bumped to 2018.
Hamilton County Economic Development Corp. President and CEO Tim Monger said pursuing a big development project like City Center can be like renovating an old house: Unforeseen setbacks postpone progress.

Meyer
"Going from plans to implementation, there's a lot of things you'll discover," Monger said. "I think the implementation is always the challenge."
Part of the delay has been finalizing details of all the pieces, including the proposed hotel.
Meyer said the city couldn't move forward with plans for the parking garage until it had a better understanding of the size of the hotel and whether a conference center would be included, both of which would use the garage.
Last year, the CRC hired Washington, D.C.-based David M. Schwarz Architects Inc. to create designs for the potential hotel and conference center. Meyer said the city has since decided to proceed with a smaller, boutique hotel without a conference center.
Dirt mounds behind the first phase of City Center and The Nash building are scheduled this summer to see early construction of the Park East parking garage and the Baldwin/Chambers building. (IBJ photo/Eric Learned))
She said she doesn't consider any of the projects delayed because Pedcor is still chasing an overall completion date—the end of 2019.
Melissa Averitt, senior vice president of marketing and sales for Pedcor, said the company has been continually working with the city to get the second phase started.
"They're very complicated deals," Averitt said. "It just took time to negotiate those agreements."
The city has pledged tax increment financing revenue for the projects' debt, so if they aren't completed on schedule, Pedcor will be on the hook to make the bond payments.
"We're right in line with what our expectations are," Meyer said. "They are on track. They're on schedule. There's nothing that's raising a red flag."
The nearly $14 million Park East parking garage is scheduled to kick off the construction season early next month, followed by a four-story mixed-use building, a two-story office building, and two three-story luxury apartment buildings.

Monger
The city is financing the $13.9 million, five-deck garage that will have at least 725 spaces. That's an increase from the originally proposed $11 million structure with 625 spaces.
"We knew 625 would work. … But the 725 really would accommodate all of the retail users and you're not creating as much conflict as there would be," Meyer said. "We just wanted a little bit of a cushion."
Pedcor can reserve up to 25 percent of the spaces for future City Center residents and for offices that want parking for employees, but 75 percent of the spaces must remain open for public use.
The garage, which is expected to take 12 months to complete, will also be connected to 28,000 square feet of retail and possibly five residential units. The retail will be along the south and west sides of the garage.
"We wanted to have an active space at the ground level," Meyer said. "This is the center of the development. We need that really to be activated from a pedestrian and usability standpoint."
Averitt said the retail and residential portion attached to the garage should open in 2017.
The 64,000-square-foot, four-story Baldwin/Chambers building could break ground this summer. It will include two stories of commercial space and two stories of residential units and will be north of The Nash.
Meyer said the project is being marketed and branded as two buildings but will be constructed as one.

Averitt described Baldwin/Chambers as an "intricate" project because it will have two different levels of entry points.
On the east side of the building, visitors will enter from the street off Rangeline Road, and on the north side, retail users will have access from the existing plaza that connects to the first phase of City Center. The south side of the building will also have entrances.
Baldwin/Chambers is expected to take 18-24 months to complete.
Two three-story buildings known as The Kent—which would be west of The Mezz and would house high-end apartments—and the two-story, 20,000-square-foot Pedcor office building within Pedcor's existing campus are also expected to break ground this year.
"We'll have a lot happening here within the next year," Averitt said. "Those are all still on deck for spring-summer of 2016."
The new commercial space attached to Park East and the Baldwin/Chambers building will be geared toward boutique stores and independent restaurants, similar to existing retail at City Center.
"We have some national tenants and we're open to discussions," Averitt said. "It still remains to be seen exactly."
Commercial space at The Nash is about 75 percent occupied and includes Cincinnati-based Graeter's ice cream; residential units are also 75 percent leased. The other City Center buildings are about 85 percent leased, Averitt said.
Pedcor has had a lot of interest in the Baldwin/Chambers building, she said, but nothing has been finalized. Nearly two years ago, Pedcor was in negotiations with two financial institutions, one service provider and a retailer; Averitt said those deals are still on the table.
"Deals can take so much time to do," she said. "It's hard to say if it would be leased before the building was built."•
Please enable JavaScript to view this content.